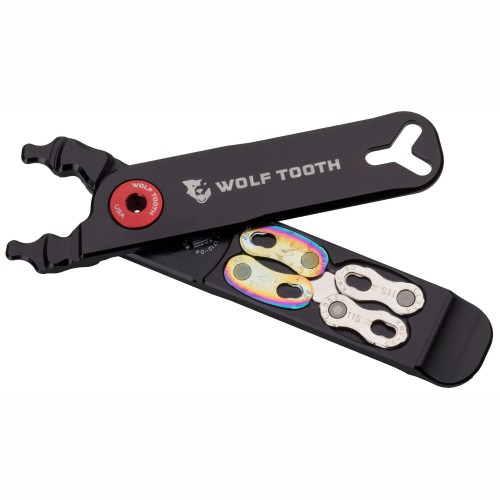 Wolf Tooth Master Link Combo Pliers
Thu 11th Jan, 2018 @ 12:30 am
Win a Peaty's Complete Bicycle Cleaning Kit this issue in our FREE subscriber prize draw.
Master links are undoubtedly a great idea and can mean the difference between making a successful trail fix or not. Modern 11 and 12 speed chains, however, can prove tough to split, even with a master link (think cold, wet slippery hands and muddy chains!), but this new tool from Wolf Tooth is about to change all that suffering and hassle!
While we love the convenience and strength provided by modern chains' master links, we have learned the hard way that they're not always easy to install or remove on the road or trail. So we set out to create a set of compact master link pliers – and tucked in a few extras while we were at it.
The latest product in our new Pack Tools series, the 38g Master Link Combo Pliers pick up where most compact multi-tools leave off, completing your repair arsenal with a pair of master link pliers, storage for two spare link pairs, a valve core remover/installer, pliers to hold valve locknuts, and a tire lever. And because they're awesome, we use a pair of permanent rare earth magnets to keep everything tidy.
Wolf Tooth's Master Link Combo Pliers are CNC machined from 7075-T6 aluminum and assembled at our new facility in Minneapolis, Minnesota.
Compatibility:
Compatible with 9-, 10-, 11-, and 12-speed chains
Holds two pair of most brands' replacement links (sold separately)
Compatible with most tubeless valve and presta tube locknuts
Compatible with most standard (5mm) Presta valve core flats
Tech Specs:
38g tool weight
CNC machined from 7075-T6 aluminum
Type II anodized in red or blackChoice of five pivot bolt colors on black pliers
Designed and manufactured in Minneapolis, MN USA
Featured in this Post
Comments