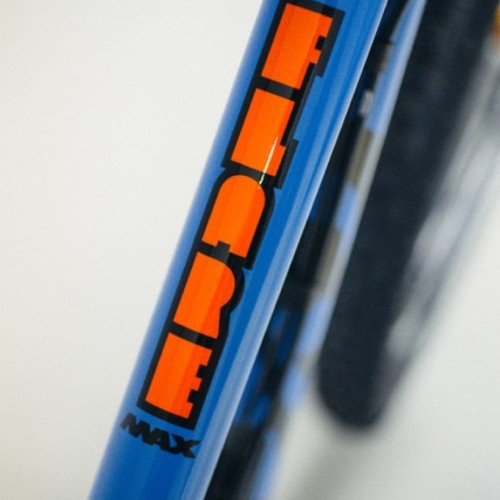 Cotic FlareMAX 2018 with Longshot Geometry
Sat 3rd Feb, 2018 @ 6:30 pm
Steel, it's still real! For some years now, Cotic has been continually testing and refining their big wheeled prototypes. Changes to angles, stem lengths and BB heights have resulted in his smile getting wider and wider till he was ready to present you with the new FlareMAX, featuring 'Longshot' geometry. He realised a very long time ago that one change effects another and they don't work in isolation. The new FlareMAX is longer, lower, slacker; but it all works in harmony, creating an even more intuitive rider experience.
"FlareMAX is a proper sweet-spot chassis; the perfect trail bike. It's the only bike you'll need for ripping through the woods and conquering mountains. Light and responsive, yet fiercely capable."

– Cotic
As a bonus we can now offer a small size frame, opening up the world of 29 or 27.5+ wheels to shorter riders. With 120mm of rear travel, the FlareMAX will trounce all trails from local hillocks to the Himalayas. The adjustment in sizes and geometry has changed our own approach to riding. The whole team has been attempting (and cleaning) climbs they've previously failed on, PB's have been broken and the tidal waves of loam (well, mostly mud) have got bigger and bigger. Just like Cy, our smiles have got wider too. Any bike can be fun but the FlareMAX make that feeling last, long after you put it back in the shed. We can't express how excited we are to share these new frames with you.
Extra changes include
– Extended fork range (from 120-140mm)
– Integrated chain guard, using a One-up device
– 1x only, meaning we can stiffen up the swingarm and provide more clearance
– Larger main pivot bearings
– Relocated bottle mounts to accommodate all shocks
– Smoothed swingarm machining and captive bolts for a cleaner look
– Improved cable routing and clearance for wider tyres
The product page with all the info can be found here: http://www.cotic.co.uk/product/flareMAX
Featured in this Post
Comments