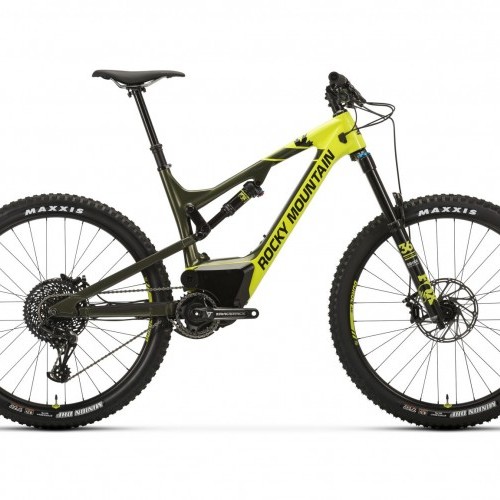 Rocky Mountain: Altitude Powerplay Now Available in Canada
Thu 8th Feb, 2018 @ 3:30 am
We first launched the Altitude Powerplay™ in Europe back in July, and after an incredible season abroad, we're proud to bring it home and announce its availability in Canada. Sharing the same geometry and suspension performance as the renowned Altitude, the Altitude Powerplay™ is an e-MTB meant for aggressive trail riding.
This 3rd generation of drive system was designed and developed by Propulsion Powercycle and Rocky Mountain Bicycles in Canada. The Powerplay™ is a patented mid-drive system that's under exclusive license from Propulsion Powercycle. We spent several years developing and testing the system together. What we were seeking is true mountain bike performance, while providing class-leading torque, massive battery capacity, and a bike with aggressive all-mountain bike geometry and ride characteristics. The Altitude Powerplay™ has been recognized with both the Eurobike Award in the category of E-bikes and Pedelecs, as well as a Design & Innovation Award in E-mountain bikes.
"I've been on the Altitude Powerplay for over 6 months now, so I've had the chance to put it through its paces. When I try to describe what my favourite part about it is, all I can say is "It's like I'm riding in my dreams". The Powerplay is not a new chapter in mountain biking for me, it's a whole new book and the story is epic." – Wade Simmons
The intended use of the Altitude Powerplay™ is the same as its EWS winning namesake, the Altitude. It's an aggressive trail bike that can handle any descent you can throw at it, while still maintaining the ability to climb technical terrain with ease. However, in the case of the Powerplay™, the added power from the motor allows you to push your own potential that much further.
The 48v system provides super short charge times taking only two hours to reach 80% capacity of the available 632Wh lithium ion battery in our Carbon 90 and Carbon 70 level models. Our Carbon 50 model uses a 500Wh battery and charges to 80% capacity in just over 1.5 hours. All of our components are easily serviceable by our dealers, and we pride ourselves on providing strong dealer service support in Canada.
Altitude Powerplay Technologies
Powerplay™
This 3rd generation of drive system was designed and developed by Propulsion Powercycle and Rocky Mountain Bicycles in Canada. The Powerplay™ is a patented mid-drive system that's under exclusive license from Propulsion Powercycle. The Powerplay™ drive system is a sleek, lightweight, and powerful electric assist that pushes the boundaries of electric bikes with its smooth, instant power response and intuitive ride feel. The Powerplay™ was designed in parallel with our frame, allowing us to produce an e-MTB with the same geometry and suspension kinematics as our unassisted altitude. The system provides class-leading torque, ultra-quiet operation, instant power response, and super-fast charging.
Smoothwall™ Carbon
Our carbon bikes, including the Altitude Powerplay™, uses one of the world's most sophisticated carbon processes to deliver industry leading stiffness-to-weight, ride quality, and durability. We eliminate excess resin and fibers by using rigid internal molds instead of traditional air bladders. We then utilize
different types of carbon in specific frame areas to maximize stiffness and impact resistance while minimizing overall weight.
FORM™ Alloy
The Altitude Powerplay™ has a FORM™ alloy rear triangle, engineered to ensure optimized strength, weight, and ride quality.
RIDE-9™ Ready for Any Trail The RIDE-9™ adjustment system allows riders to quickly fine-tune their geometry and suspension with a pair of Allen keys. Nine configurations are possible thanks to two interlocking chips.
Smoothlink™
Smoothlink™ suspension is efficient yet supple when you're on the pedals and across a wide range of gears. It features a controlled end-stroke and a rate-curve that feels more capable than the travel would suggest. This four-bar suspension design philosophy is centred on ride characteristics; each bike platform we develop balances variables like anti-squat, axle path, chain growth, rate curve, anti-rise, etc. to achieve the legendary Rocky Mountain ride feel.
Size Specific Tune
Size Specific Tune ensures that riders of all sizes get the right balance of small-bump compliance, mid-stroke support, and end-stroke progression. Our design team creates custom shock tunes based on real world field testing and adjusts each tune for specific frame sizes.
"The most exciting part of riding the Altitude Powerplay for me is pushing my own boundaries. I'm not going to ride this bike on my every-day loops, it's a tool I'm using to push my mountain bike boundaries even further – push to a point I wouldn't have otherwise realized existed. I live to ride, and I've been fortunate enough to see a lot of major movements in mountain biking. The introduction of e-mountain biking is definitely the most exciting." – Wade Simmons
The Altitude Powerplay™ was designed and built with the same passion and enthusiasm for mountain biking that has pushed Rocky Mountain Bicycles forward for the last 37 years.
Pricing
Altitude Powerplay™ Carbon 90 : $12,999 CAD
Altitude Powerplay™ Carbon 70: $9,999 CAD
Altitude Powerplay™ Carbon 50: $8,399 CAD
Featured in this Post
Comments