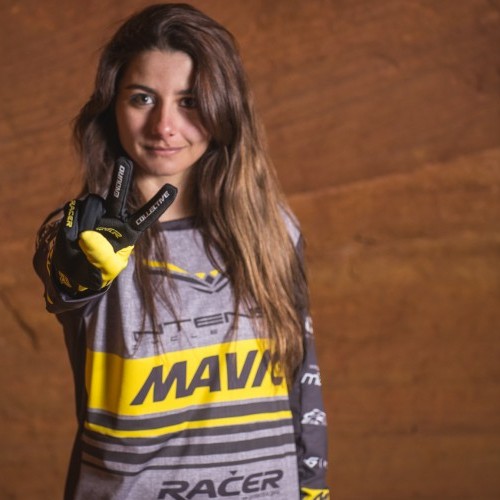 The Intense-Mavic Collective
Sat 24th Feb, 2018 @ 12:30 am
Win a GO3 Camera by Insta360 this issue in our FREE subscriber prize draw.
If you were putting together your dream EWS team, and bike and wheel sponsor, who would it be? Well how about Intense Cycles, Mavic wheels and the dream team combo of EWS slayers, Isabeau Courdurier and Kilian Bron for starters? Get the low down on the details right here and check out these cool-ass images!
About the team:
The idea to create the Enduro Collective was made after Eurobike. I had noticed that Kilian and Isabeau wanted to get out of their 'simple' role of rider. They wanted to get closer to the brands in order to be in contact, to exchange more and to participate actively in their development.
Also, in discussions with my long-time partners, Intense Cycles, Mavic but also with Racer, (brand for which I am team manager and head of the cycle unit), I started to see the possibility of setting up a structure where all the ingredients would be gathered.
So here we are today all three partners on this private structure, where everyone will have a role to play.
Kilian, while exploring the most beautiful summits during his trips and shooting will be in charge of the media part. Isabeau will host and create some events and focus in priority on the Enduro World Series of course. For my part I would have to manage the logistics, organizational and partnerships matters.
I am delighted with the work we have done these 6-last months and today we are very proud to present you officially, the Intense-Mavic Collective powered by Racer.
Kilian Bron:
After three great/unforgettable years with the SUNN team, it's time to move on. I spent these three seasons focusing on my media projects and Enduro/Mass start downhill races. While Thomas and Isabeau were full-time racers, I was constantly juggling with races and my media projects I found myself well in this program, as if i had two jobs and seasons in one. But new year means also new season and goals, it was a great time for change.
I was looking for a structure which is totally aligned with my goals, with more direct interactions with partners. That's why we came with the idea of this structure The Intense Mavic Collective, with two pilots & two different skills.
I already spent two years with Isabeau in the same team. Beyond her performances on races, she is a great woman ambassador and she is also really implicated, organising her own event like "Ride and smile". She will be a great support for me on races and, in return, I will help her managing her communication and all media aspects.
Unlike other classical teams, we all have a specific role in our Collective, with our personal skills. Cedric Carrez is managing our structure, especially our parterships and will assist and support Isabeau on races.
Isabeau stays focus on her EWS goals but she is also dealing with our main partners.
On my side, i'm working on my own Webserie "MISSION" this season, with a simple concept: riding around atypical spots, all around the world. You will discover it soon! I will be also the media manager of the Collective, as I'm already in charge of it for some or our partners like Mavic.
To sum it up, our new bikes are amazing, the season is coming and we can't wait for the first trips and races!
Isabeau Courdurier:
After evolving for 4 years in Factory Teams, I've learned a lot and met incredible people along the way, but I always wanted to be more involved in the life of the team. I always had in mind this crazy idea of creating a different structure and to get to know the behind the scenes. When I knew that Kilian and Cédric had the same willing, I made the decision to join them on this new adventure. The fact that I will work directly with the brands will help me to discover a new professional world. The Enduro Collective is the opportunity to work closer with my sponsors. Especially since I graduated with a Master in marketing, I wanted to get closer to the mountain bike industry.
I will mostly work with Mavic to promote their women line. I will also focus on growing a community of women the same passion for riding around the brand.
By choosing this new team and combining my athlete and professional career, I prepare my future. Thus, I am way more calm and ready to enjoy the season.
I am happy to team up with Cédric and Kilian. They are longtime friends and a big support for me. Kilian will help me to develop my social media while Cédric will be my main support on every Enduro World Series.
My main goal is the Enduro World Series overall. Besides racing, I aim to develop a project I created last year, the Ride and Smile days: some events 100% girls! It is a packed program and I am excited for the season to start.
Featured in this Post
Comments