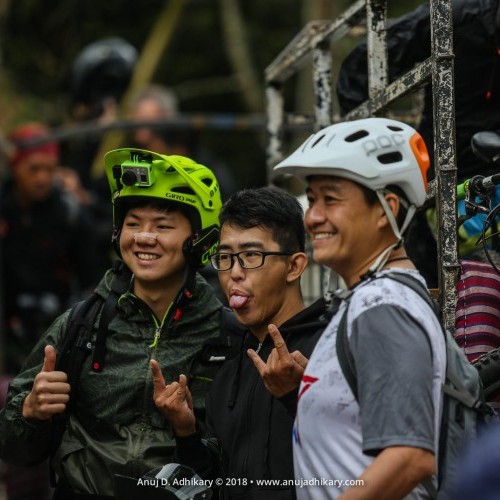 AES Nepal 2018 – Done and Dusted
Fri 13th Apr, 2018 @ 3:30 am
Asian Enduro Series Nepal 2018 successfully concluded in the hills of Nagarkot, along the eastern rim of Kathmandu, Nepal on Sunday. Almost a hundred international participants and half as many Nepalese riders took part in the action on 8 special stages.
After two days of practise, racing got under way on the Saturday morning. Riders were greeted by some unseasonal rain which added to the challenge and made for some interesting racing. By the end of the day the top 2 elite men were separated by just 15 seconds!
Race day two saw the riders wake up to some similar weather and riding conditions from the previous day. The trails were tricky and the action plenty! Last years winner, Rajesh Magar, had what is takes to repeat, taking out the win in elite men by a small margin to Yoris Sohara of Indonesia.
Defending the title of Men Elite category Rajesh Magar stated he was thrilled to be racing many fast international riders. "I felt confident on the stages but other riders were amazingly fast," said Magar talking about his performance on the first day. "The margin on the first race day was only 15 seconds with the next participant, which made me reconsider my approach on the second day. Luckily, everything went smoothly despite some unplanned skidding on slippery trails."
Pelden Dorji from Bhutan successfully defended his title in Master A category, and mentioned that the race was bigger, better and more competitive than last year. "It's heartening to know that many bikers around the world now consider AES Nepal as one of Asia's most exciting enduro races in this series! We've been quite excited for participation of young Bhutanese riders as well, who could do with some exposure." Indonesian bikers Fitriyani Riyanti and Chandra Ariavijaya took the Women's and Master C title respectively, while Karma Sherpa bagged U18 title. Speaking about the race organization and stages, winner of Master B category Herman Mann from Singapore said, "This is my third time racing in AES Nepal, and each year there has been improvements, especially on the trails and marking. They are amazing this year and just the way I love to do enduro biking."
Nagarkot's weather throughout the race was windy, chilly and light rain, quite uncommon for this time of the year. Despite all odds, almost 130 participants championed the trails of Nagarkot, making Asian Enduro Series Nepal 2018 a massive success. Everyone is looking forward to round 2 in Malaysia, 14-15 July.
See you there!!
Winners of AES Nepal 2018
Master A
1st Pelden Dorji / Bhutan / Team Bhutan / 28:53.42
2nd Mark Alexander Beedham / UK / 30:03.05
3rd Akkharadej Chantema / Thailand / Trailhead / 30:18.30
4th Septian Hermansyah / 30:52.94
5th Dan Ben Wallace / UK / 31:24.20
Master B
1st Herman Mann / Singapore / YetiBT-Seven7 / 28:59.76
2nd Tsang Chi Kong / Hong Kong / 30:30.83
3rd Amir Jamin / Brunei / Brunei Enduro Racing Team / 32:06.05
4th Suryanto Penthil / Indonesia / 32:17.78
5th Mutakin Takin / Indonesia / Batik Air Racing Team / 32:52.25
Master C
1st Chandra Ariavijaya / Indonesia / 35:27.09
2nd Nirakar Yakthumba / Nepal / Pump / 40:29.15
3rd Upendra Rana / Nepal / LifeCycle / 43:20.92
4th Stephane Marcel Yanne Yver / France / 45:12.49
Men Elite
1st Rajesh Magar / Nepal / Yeti Fox Team / 26:43.73
2nd Yoris Sahara / Indonesia / Batik Air Racing Team / 26:59.99
3rd Yadi Mulyadi / Indonesia / INDURO – Indonesia Enduro / 28:05.81
4th Suman Tamang / Nepal / Gravity Nepal / 28:15.18
5th Prabin Rai / Nepal / 28:30.76
U18
1st Karma Sherpa / Nepal / Gravity Nepal / 30:28.45
2nd Kiran Rai / Nepal / Himalayan Single Track / 30:30.39
3rd Deepak Jimee / Nepal / 30:52.36
4th Rinku Thakur / India / 30:52.78
5th Tandin Wang Ghaley / Bhutan / Thimphu Mountain Biking Club / 32:13.38
Women
1st Fitriyanti Riyanti / Indonesia / Batik Air Racing Team / 33:46.29
2nd Resti Nova / Indonesia / Batik Air Racing Team / 34:55.13
3rd Nishma Shrestha / Nepal / 35:54.79
4th Usha Khanal / Nepal / Himalayan Single Track / 44:24.56
5th Liyana Binti Zakaria / Brunei / 47:20.16
Full race result: http://gnarlymtb.com/aes2018/result
Comments