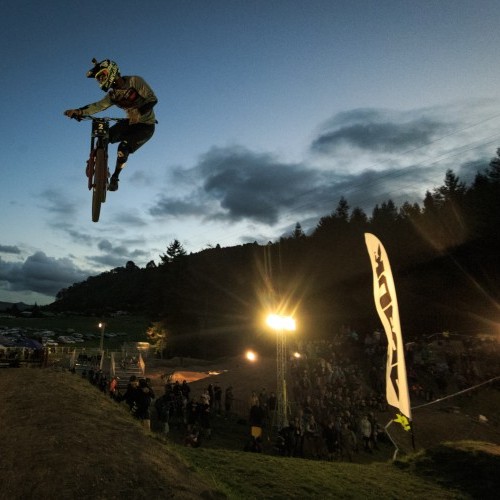 Crankworx Innsbruck 2018 – Next-Level Mountain Bike Action
Sat 5th May, 2018 @ 3:30 pm
For 15 years Crankworx Whistler has celebrated the very best of gravity mountain biking. In 2017, Innsbruck joined the Crankworx World Tour and will this year once again welcome the heroes of the scene as they ride faster, fly higher and jump further than ever before. Get ready for five days of next-level mountain bike action at Crankworx Innsbruck and save money by booking your ticket today!
Without the crème de la crème of Whip-Off, Pump Track, Dual Speed & Style, Slopestyle and Downhill Crankworx would not have become the world's biggest gravity mountain bike festival. In 2018 we are celebrating these heroes – the superstars, legends and newcomers – who have all made Crankworx and the sport of mountain biking what it is today.
"Crankworx Innsbruck was a massive success in its first year. Now we are looking to build on that success for the second edition this summer. We don't want to give away too much, but we can say that in 2018 the event will be even bigger, more spectacular and more exciting for visitors," reveals Georg Spazier, head of the Crankworx Innsbruck organizing team.
Legendary course designer Tom Hey and his crew will once again be responsible for preparing and shaping the Crankworx Innsbruck courses and kickers to perfection. Working alongside them in the Bikepark Innsbruck will be the team from Gravity Logic, as well as local builders. This year will also see more side events including a dedicated Ladies' Programme, an even bigger range of Kidsworx activities (sessions for children and teenagers) presented by Tiroler Tageszeitung and new food and beverage options.
Tickets for Crankworx Innsbruck on sale now
Early birds keen to experience five days of all the best Crankworx Innsbruck has to offer can buy a festival ticket now at a special discounted price. This ticket includes access to the whole festival as well as all on-site side events, Kidsworx activities and free bike transport (13-17.6.2018) using the cable cars at Crankworx Innsbruck. Admission to the Whip-Off on day one of the festival is free for everyone, but holders of a festival ticket can use the cable car (on 13.6.2018) at no extra cost.
Tickets are available now at crankworx.com and from selected sales points – Innsbruck Information (Herzog-Friedrich-Straße 21, 6020 Innsbruck) and all Raiffeisen banks throughout Tirol. From 18 May tickets can also be purchased in the bike shop at the Bikepark Innsbruck(bottom of the Muttereralmbahn cable car).
Admission to the event is free on all days for children under 12 years of age. Visitors aged 18 years or over can now secure a festival ticket for just €15 (€20 on-site), while youngsters from 12 to 17 years of age pay just €12 in advance (€15 on-site).
Downhill fans of all ages have the option of purchasing a single ticket valid only for Sunday (Götzens) for a price of just €5 (for those purchasing the full Festival Pass, access to Götzens is included). The shuttle buses from Innsbruck to the festival (Mutters, Götzens) and back are this year once again free of charge for all visitors.
"Of course we would have liked to make access to Crankworx Innsbruck free once again this year. However, the high cost of organising and carrying out an event of this size – and the fact that we want to make Crankworx an annual highlight in Innsbruck – mean that it is necessary to ask visitors to make a small contribution," explain the head of the organizing committee, Georg Spazier, and the director of Innsbruck Tourism, Karin Seiler-Lall.
Comments