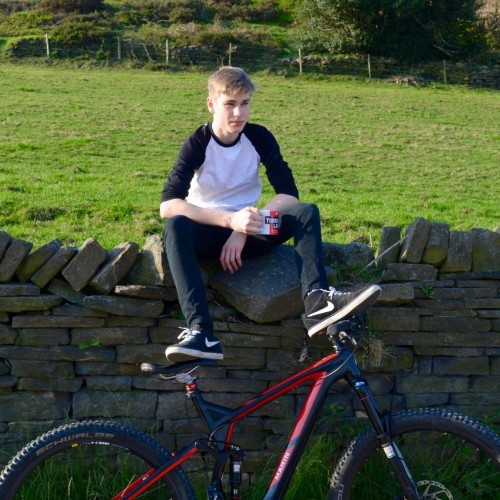 The Big Border Crossing – Yorkshire, Bikes and Tea Done Proper
Sat 26th May, 2018 @ 9:30 pm
Amazing work by this young guy – if there's one thing better than riding a bike, it's riding a bike for a good cause. Jake Brettle explains how he will be attempting to raise money for a great cause through bikes and tea! Read on to find out more…
I love riding my bike and using that love to help others makes it that bit better, so in August of this year I'm going to attempt a 4 day ride in aid of Overgate Hospice. I'll set off from my South Pennines home and head west to the Yorkshire border, I'll then head north up the backbone of the Pennines towards the Dales and then into Cumbria for my end point in The Lakes. The goal of the ride is to cross the Yorkshire border as many times as possible and to drink as much tea as possible in the process!
I'm a 16 year old amateur mountain biker and photographer with a love for riding my bike, a passion for tea (milk, two sugar), an uncanny ability to ride unconventional things and a dream to ride everywhere. Being born and bred in Yorkshire is a massive help to my riding with the hills as my playground and the moors just feet from my bedroom window. It's almost impossible not to be motivated to get on my bike and put down the miles. Riding the moors is fantastic as they're constantly shifting and changing so no two rides are the same and is impossible to have dull rides.
I ride a 2015 Marin Mountvision 7 with a RockShox Revelation (140mm) up front and a RockShox Monarch at the back. The Shimano SLX 2×10 crankset along with a KS Dropzone seatpost makes the moors and hills roll with ease under my wheels.
Overgate Hospice is an independent and local charity who ensure that their patients, and those close to them, live with the best possible quality of life. Overgate do this by providing the highest standard of compassionate and evidence-based specialist palliative and end of life care for adults in Calderdale who have active, progressive, life-limiting illnesses.
If you want to donate go check out http://www.justgiving.com/thebigbordercrossing, or if you want to support in other ways message me on Instagram (@the_big_border_crossings). Make sure you keep up to date with everything about the ride and how it's going. A big part of this ride is having people come and join me so make sure you keep up to date with the route and come out on the ride with me (preferably with a cup of tea).
Featured in this Post
Comments