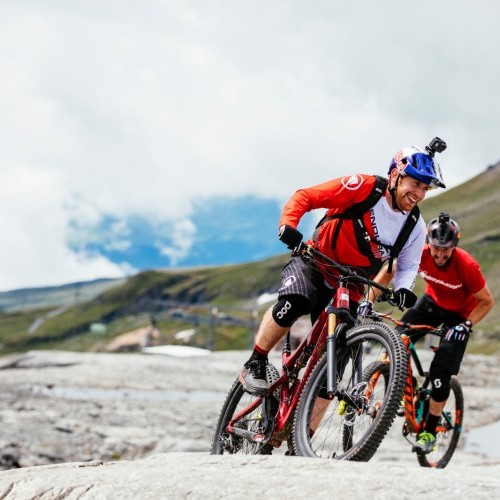 Danny MacAskill & Claudio Caluori's Treasure Map of Trails
Thu 28th Jun, 2018 @ 6:30 pm
Win a GO3 Camera by Insta360 this issue in our FREE subscriber prize draw.
There's really only one thing that makes a day out mountain biking on flowy trails in alpine terrain even better: enjoying the ride with your buddies. Two-wheeled trips such as these always make for the best stories, to be told in the evening after a great day outdoors with a cold beverage in hand. Riding buddies Danny MacAskill and Claudio Caluori experienced this in "Home of Trails", when they discovered the best trails in Graubünden, Switzerland. These spots have now been revealed.
Win a GO3 Camera by Insta360 this issue in our FREE subscriber prize draw.
With its 1,000 summits, 615 lakes and 150 valleys, it's quite easy to feel a bit lost in Graubünden. To make things easier when trying to find out which trails the "Trick-King" and "Edelweiss-Expert" hit in "Home of Trails", check out the "treasure map" on http://www.homeoftrails.com, which highlights the locations in Arosa Lenzerheide, Flims, Engadin St. Moritz, Davos Klosters and Scuol Samnaun Val Müstair. It has never been easier to follow the tire tracks of the pros and discover Graubünden for yourself. Here are a few of the most prominent spots and trails from the video:
House in Müstair
There aren't many people who would take a glance at the wooden roof in the small mountain village of Val Müstair and consider doing a Frontflip off it, much less on a mountain bike. However this rustic nest is also worth a visit; even without acrobatic ambitions. Three tours lead you to this iconic location of "Home of Trails". If 22 kilometers / 13.7 miles paired with 1,200 meters / 3,937 feet of descent sound enticing, then the "Tras la Val Müstair Singletrail" and "Alp Tabladatsch" tours will certainly get those endorphins gushing. If you are looking to challenge your fitness level, then you have to check out the "Passo Gallo" tour that combines plenty of up- and downhill over 53 kilometers / 33 miles.
Vorab Glacier
Danny and Claudio raced each other on the trails around the Vorab Glacier. Over centuries ice and water have formed a piece of natural artwork and two tours take you through this insane landscape. A highlight full of flow is hidden in this part of Flims as well: The "Green Valley" trail is a 1.8 kilometer / 1.1 mile long singletrail with tricky and rooty sections through the woods.
Piz Nair and Corviglia
Two key scenes in the video originate from the destination of Engadin St. Moritz. Starting off with the eye-boggling sunrise on the summit of Piz Nair, where Danny majestically scopes the lines of the region below, a trio of tours takes mountain bikers to this elevated spot at 3,000 meters a.s.l. / 9,842 feet a.s.l.: The "Piz Nair–Val Bever–Celerina", "Piz Nair over 3 Fluors to Samedan" and "Piz Nair–Val Schlattain–Chantarella" tours all boast what feels like endless kilometers of technical descents. This part of Graubünden is also home to the "Corviglia Flowtrail". Claudio spotted the Edelweiss here during their flowy high-speed descent and Danny described the trail as "an endless ride on a flying carpet".
Jakobshorn
The Jakobshorn is the starting point for a lot of trails, including the "Alps Epic Trail Davos", which was baptized as one of the best trails in the world by the IMBA (International Mountain Bike Association). This epic ride takes bikers for a 40 kilometer / 24.8 mile long adventure with a descent of 2,400 meters / 7,874 feet. When you reach the bottom at the train station in Wiesen you are only a stone's throw away from the iconic bridge in "Home of Trails" where Danny balanced on the wall, with the river rushing through the deep gorge 84 meters / 275 feet below. We wouldn't recommend you trying it, but you can still enjoy the view from the bridge and look forward to the upcoming trails.
Fops Alpine Hut
This is where Danny and Claudio recharged their batteries and enjoyed local delicacies, before the Scottish phenomenon sent a "270 Tire Tap" from the terrace. Apart from the UCI Mountain Bike World Championships in September, Arosa Lenzerheide also has a special tour highlight to offer: The "Biketicket 2 RIDE Schwarz" is a beast of a tour and a delightful one at that. With only 700 meters / 2,296 feet of uphill to overcome, mountain bikers can enjoy 6,500 meters / 21,325 feet of downhill. Both the "Biketicket 2 RIDE Schwarz" and "603 Alpen" tours will take you to the Fops Alpine Hut.
For more information about the trails and spots from Home of Trails: http://www.homeoftrails.com/spots
Featured in this Post
Comments