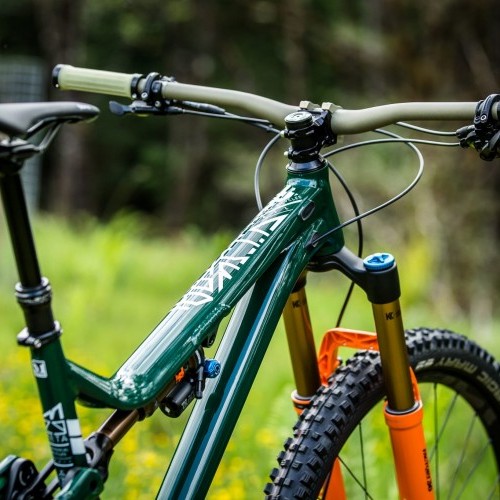 Commencal Meta TR 29 British Edition – Pre-Order It Now!
Wed 4th Jul, 2018 @ 3:30 am
Win a Peaty's Complete Bicycle Cleaning Kit this issue in our FREE subscriber prize draw.
Commencal's eagerly awaited green rocket ship is now available for pre-order. The European bike with a distinctive British racing green paint job is about to drop and we've got the low down on all the info fresh from Commencal themselves. Read on to find out all about it…
Why did we call a bike the Trail?
Simply because it's a bike for real mountain bike trails, not necessarily just for high alpine rides or ski resort lifts. The goal is to enjoy the efficient climbing capabilities, to be able to ride to wherever you're going to have the most fun and then descend safely with maximum smiles!
In 2019, this TR platform has been completely rethought and redesigned. The larger wheels bring more comfort and combined with longer travel suspension plus a new frame geometry, unmatched riding pleasure.
Nimble, playful and fast, it's available to pre-order from today; we present the META TR 29 British Edition!
These colours remind us of the best memories of English motorsport success and our riders from the British Isles are so talented and endearing, we couldn't resist dedicating this limited edition to them.
You will find Reece in this teaser edit above, on holiday in Morzine, the most English of alpine resorts…
We can't wait to see him and the TR in their natural habitat of the UK next!
29'' for the META
Not only did we want to change the geometry for our 2019 frames, we also redesigned our flagship platform to enable big wheels. The structure of the frame has been revised to increase its stiffness due to the greater constraints brought by these bigger wheels. This structural modification has also allowed us to fine-tune the geometry.
Let's just be clear, this increase in stiffness does not work to the detriment of the META's legendary tolerance.
New Rear Triangle
This allows us to use a shorter chain stay than on our 27.5″. The construction means maximised clearance for the tyre and an increase in stiffness via a forged Yoke.
New Seat Stay
Increased tube thickness for better control of rear triangle stiffness.
New Rocker
Bigger bearings for more stiffness and reliability.
New U-Link
Improved junction with the shock for better overall reliability. The dynamic aspect has not been forgotten. The position of the main pivot point changes, with it now positioned lower and further back, it's better suited to the chain rings used on a 29.
Its location also diminishes kickback during suspension travel. The result? A bike that does not tire its rider on long rides and has more grip. The kinematics have been reworked to accept air and coil shocks, both FOX and RockShox models.
Travel: 130mm back
Price:
Europe: 3.999 €
USA: 3,999 USD
Canada: 5,199 CAD
Australia: 5,799 AUD
New Zealand: 6,399 NZD
Featured in this Post
170,846
United States
910,394
Germany
71,283
Comments