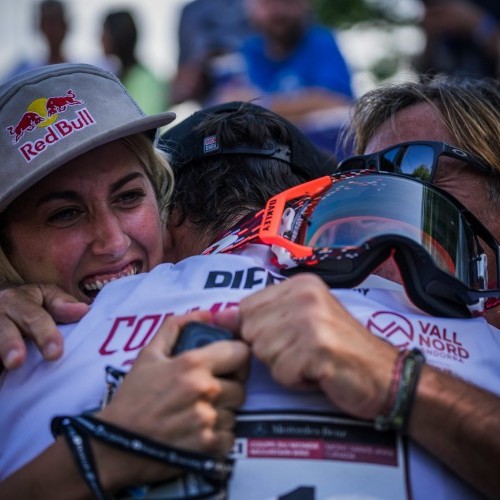 2018 UCI World Cup – Round 6 – Commencal
Sat 18th Aug, 2018 @ 9:30 am
An emotional roller coaster race!
Mont Sainte Anne has always been a crazy race for us. Myriam Nicole and Rémi Thirion have both been injured here over the last few years and this year was another super intense edition for the team. Not the easiest but the best so far!
Late in the morning before his race, we got scared it was Amaury Pierron's turn to be unlucky with MSA! He had a brutal crash on his last training run.
Here's what happened: after sliding down a massive rock, face first, he sat for a long while next to the track, trying to get his mind together after such a big shock. His fingers, elbows, and torso were all bruised and scratched. At this point, we didn't know if he'd be up in the start gate at all that afternoon.
After riding slowly to the pit, he iced his body and try to regain his senses. Then, he went back to the condo, took a cold bath and tried to relax completely until his race. He was in serious pain, and Brieuc, our osteopath, worked on him for an hour before his final run. It certainly paid off…
When we saw him in the start gate for his final run, we didn't even know if he would be capable of making it to the first intermediate time, and, when he showed up at the screen after two minutes on track, we couldn't believe our eyes! He was on fire, pushing seriously hard to get a good result and secure his World Cup title. He crossed the line second with two riders left up top, such a hero! We were absolutely hysterical at the bottom and very proud of him.
"This week was a tough one! I really wanted to do well here to make sure that I had won the overall before getting to La Bresse, the final round. I was seriously shaken up by the crash, but we did everything we had to do before my run. The osteopath, Brieuc, did an amazing job, I gritted my teeth, and it all went well. So yes, it was a complicated weekend but perfect at the same time!"
His 4th place here meant that Amaury won the 2018 Elite Men World Cup Champion! Isn't it crazy? He deserves it so much! It's the first time our team has won that title and it's an amazing feeling!
Watch Amaury's run here!
It's been quite a long time we haven't seen Rémi Thirion pushing how he did! He was battling for the Top 10 at every splits but made a mistake in the last wood section that cost him some time. But what we have to notice is that Rémi's pace was back, and we are sure that he will be committed to showing what he's worth on his home soil in 10 days.
"It was a hard race, technically and physically. I wasn't really happy about my quali (25th), but I knew I had some good lines for finals. I started my race with very good speed, and even though I made a big mistake and lost a couple of seconds, I felt super good, and I think it's the first time this season I have had that feeling. I'm super stoked, and I can't wait to race in La Bresse."
Watch Rémi's run here!
In the Juniors Category, Thibaut Daprela won his fourth World Cup and third in a row, and he's guaranteed to win the overall as well! He gives the team its first Juniors World Cup title as well; it's amazing to make it in his first year and well deserved for such a hard-working kid.
"I'm so happy I won this World Cup plus the overall in my first year junior and with my new team. The week was a bit stressful because this was my goal, but I did it, and it's so cool!"
Myriam Nicole didn't get the comeback she was hoping for. After racing the French Champs, she was hoping for a good fight with her rivals, but it didn't go as expected. She qualified 3rd, quite far back from them, still committed to giving her best for finals, she was in the battle on the top section but couldn't carry her momentum and crashed. She twisted her seat post and couldn't finish her run and had to give up.
"After my crash in Val di Sole, I wanted to be back too fast, but here, I realized I wasn't fully ready yet. During my final run, I managed to be good for one minute, but I stupidly crashed. I'll take the next few days to decide what's the best way for me to come back to my best."
So she's not entirely sure she'll be racing in La Bresse yet because her main goal now is the World Championships and be 100% ready for it mentally and physically. We obviously want the best for her so we'll follow her feelings and support her decision.
The cherry on the cake from this weekend is we also won the Team World Cup title! This accomplishment is the result of a lot of effort, and we have to thank all of our riders, staff, partners, and friends who worked so hard and have supported us for so many years now. This couldn't have happened without you all. THANK YOU!
We are back in France and are getting ready for the next and final World Cup of the year in La Bresse. We can't wait!
Featured in this Post
Comments