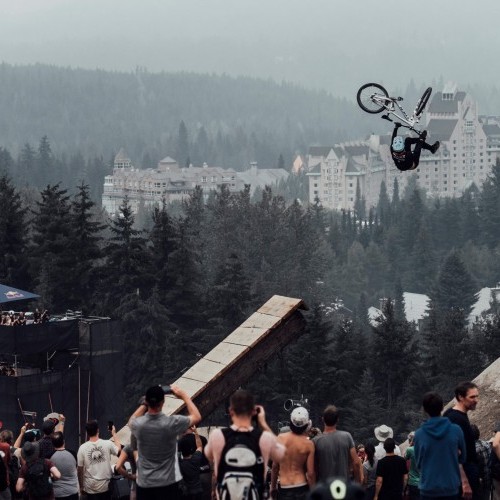 35,000 Watch Nicholi Rogatkin Win Historic Triple Crown of Slopestyle
Mon 20th Aug, 2018 @ 3:30 am
For the first time ever, Crankworx has awarded the Triple Crown after Nicholi Rogatkin's historic win at Red Bull Joyride in front of 35,000 fans in Whistler. Here is all you need to know:
– The first Red Bull Joyride win of Rogatkin's career was also his third victory this season, meaning he is the first rider to ever claim the Triple Crown of Slopestyle.
– To win the Triple Crown, a rider must win three of the four Crankworx stops in a single season. Rogatkin achieved this with wins in Innsbruck, Les Gets and Whistler.
– Red Bull Joyride is the season-defining conclusion of the Crankworx FMBA Slopestyle World Championship. Steeped in 15 years of tradition, this is the most challenging event on the circuit. The best riders in the world bring their A-game interpreting a custom-built course known as the pinnacle of courses for its creative features and smooth ride.
– Rogatkin said: "A Red Bull Joyride win means the world to me. The atmosphere, the riding, everything about this event inspired me to push it and push myself as far as I could go. To take the win here is an absolutely special moment for me, one I'll never forget, and also one that I thought might never happen."
– The American, 22, battled most of the event with Canadian Brett Rheeder, 25. Rogatkin was in first place after his first run which included his signature 1080 linked with a double backflip. Rheeder was on track to challenge for the lead but fell down on the final feature of his first run. It proved too much ground to make up, despite a brilliant second run.
– Rheeder added. "I wish I'd stomped my first run and then had more in the tank for my second run, but I didn't get that today. I'm in one piece. I really had to work for that though."
– Erik Fedko completed the podium, capping off his breakthrough season with his first podium at Red Bull Joyride. After missing the entire season, there was also a notable return from Emil Johansson who took an early lead and ended the event just outside of the podium in fourth.
– Find the full Red Bull Joyride results here.
Featured in this Post
Comments