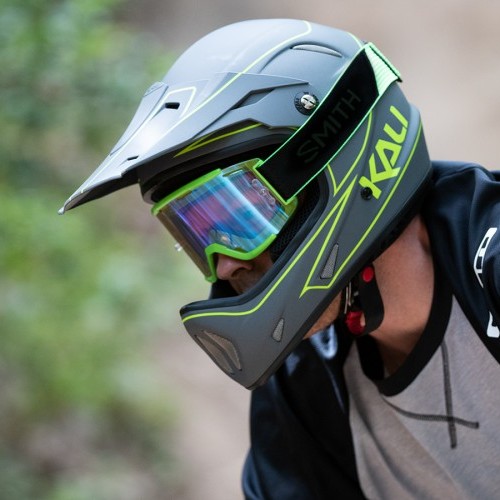 Kali Heads Up – New 2019 Maya 2.0 & Alpine
Thu 23rd Aug, 2018 @ 9:30 pm
Would you rather get hit in the head with a pillow or a fence post? Yeah, that sounds a bit dramatic, but as an approach to helmet design, it makes sense – put the softest stuff possible next to your head. That concept is a driving force at Kali Protectives.
Our Composite Fusion technology allows us to make helmets with the softest EPS foam possible while still passing safety tests. While our Low Density Layer (LDL) padding system puts soft viscoelastic gel pads inside the helmet to protect riders from rotational and low-g linear impact forces.
Today, Kali Protectives is proud to announce the release of two new helmets born from this obsession with putting soft stuff next to your head – the LDL equipped Maya 2.0 enduro half-shell and Alpine full face helmets.
Old Favorites
These new helmets are based on Kali rider favorites – the Maya and the Avatar. The Maya was first introduced in 2015, an early adopter of what are now considered common enduro-inspired features: a low profile (thin) EPS shell, deep rear coverage, and moto-style full coverage visor. The Avatar's Composite Fusion Plus optimized construction made it Kali's lightest and most compact full face helmet weighing in at a feathery 880g's.
Can safe be stylish? We think so. A sphere is the absolute safest shape you can make a helmet. As soon as you add edges to the helmet shell design, you introduce potential catch points and the increased risk of rotational impact forces. The Maya and Alpine helmets have very round profiles for a reason – it is simply a safer design. So we didn't feel the need to change something that already performed so well.
Made Better
In choosing to work with existing successful helmet models, we took the opportunity to make multiple refinements to the construction and finishing of the helmets. We upgraded the pad sets, improved the quality of the shell graphics and finish, developed new more attractive packaging. These multiple small changes add up, resulting in the cleaner and higher quality Maya 2.0 and Alpine.
However, the major upgrade comes from the addition of our LDL padding system. Studies show we can experience a concussion or mild traumatic brain injury (mTBI) at much lower g-forces (74-100g) and that these impacts occur more often (80% of bicycle crashes occur below 100g's).
Low Density Layer (LDL) consists of specially designed viscoelastic gel pads that line the interior of a helmet. These gel pads can compress and shear in all directions, reducing rotational impact forces by 25% and low-g linear forces by 30%.
At Kali, safety is our focus and commitment to every rider. The Maya 2.0 and Alpine are the latest products of our mission use to the most advanced materials and technology available to make the best helmets possible. Available now at your local bike shop.
Lifetime Crash Replacement
All our bicycle helmets, including the Maya 2.0 and Alpine, are covered by our limited Lifetime Crash Replacement Policy. If you damage your helmet in a crash, you can file an LCR claim, and Kali will replace your helmet with one of equal or similar value. You only have to pay the shipping. Terms & condition apply, see our LCR page for details.
Featured in this Post
Comments