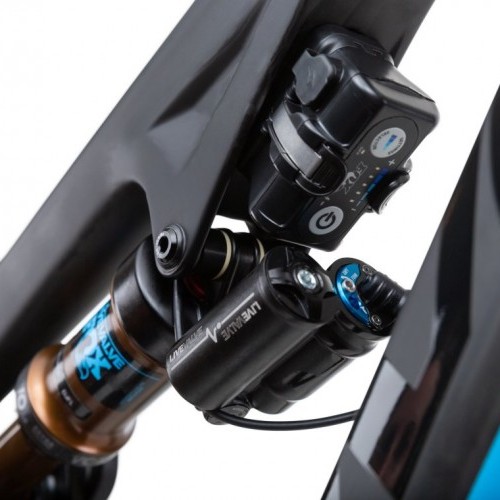 Pivot Mach 5.5 – Fox Live Valve Has Arrived
Thu 30th Aug, 2018 @ 3:30 am
The best just got better! The Pivot Mach 5.5 continues to rack up awards and receive rave reviews from media and owners alike. Widely regarded as the best trail bike on the market today, the Mach 5.5 ups the game with the introduction of the most sophisticated suspension ever developed – Fox Live Valve technology. Fully integrated into the design of the Mach 5.5 frame, the new Fox Live Valve system elevates the Mach 5.5's capabilities even further, redefining boundaries and delivering next level trail bike performance.
We all dream of the bike that climbs like an XC racer yet descends like a DH bike. Live Valve brings that extra level of performance, building on the Mach 5.5's already well-earned reputation as the one bike that can truly do it all. Live Valve senses the terrain beneath your tires and adjusts itself to be in the perfect setting for every trail situation. Incredibly, Live Valve's computer does everything automatically and, in less time, than a blink of the eye – 100 times faster. With Fox Live Valve the dream of perfect suspension for every part of the ride becomes a reality.
Turn it on and Ride
Live Valve is a simple turn on and ride system, but it also has adjustability to suit any rider style or terrain. You can optimize Live Valve settings for a steep, rocky, rooty terrain or add efficiency making the Mach 5.5 a Strava leaderboard hunter on smooth XC rides. With five available settings, Live Valve can be set up for a specific style of riding or just set it in the middle and harness the maximum range of Live Valve's capabilities.  The end result is an incredibly broad spectrum of suspension performance that makes the Mach 5.5 pedal and climb like our Mach 4 yet descend with performance that rivals our longer travel Mach 6. Live Valve takes the Mach 5.5 suspension performance to the next level.
Proving that point was Pivot sponsored racer, Evan Guthrie at the Whistler round of the EWS where he had his best finish ever on a Live valve equipped Mach 5.5 in spite of a rather big crash.  Evan called Live valve "magically transforming" at fast speeds. "I'm used to feeling like a lot of the power I'm laying down is just being absorbed into the bike, but during the race, it felt like I was really going forward," said Guthrie. "The suspension performance for someone like myself who notices the feel when pedaling was substantial."
Featured in this Post

United States
858,978

United States
62,177
Comments