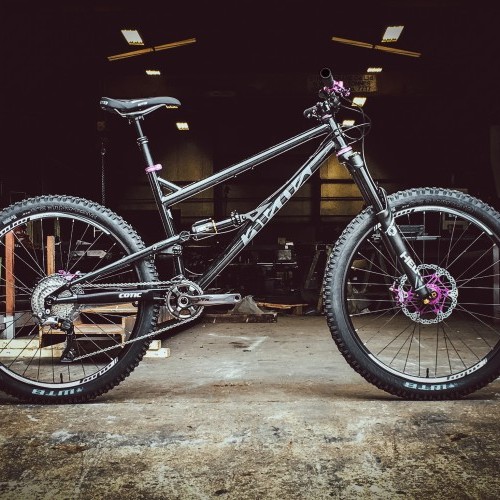 Fighting Cancer With a Rocket
Sun 9th Sep, 2018 @ 6:30 pm
Cancer. The Big C. Given that 1 in 2 of us in the UK will get it in some way, shape or form during our lives, it's pretty likely that you know someone who has been affected by this terrible disease.
In the last year three of Cy's close friends (all in their late 30s or early 40s, rather scarily) have contracted the disease, and whilst their outcomes are looking good, we have also lost dear friends recently and close family too. We are sure we are not that unusual in this.
One of those close friends mentioned is the wife of one of Cy's riding buddies. They've known eachother since university days, over 20 years now, and it was awful knowing what he and his family were going through. Now that his wife's battle is going well, he wanted to give something back for the huge amount of support they received from cancer charities, and also to help push research forward to help fewer people have to go through what he did. It's the same reason Cy has been supporting cancer research since my Mum died of it nearly 19 years ago.
We decided to run a raffle to win an awesome bike.
This is a custom built Cotic Rocket, and once we let our suppliers know what we were up to there stepped in amazing style. It has Cane Creek HELM fork and DB Air IL shock, fully decked out in Hope purple anodised hubs, Tech E4 brakes, headset and seatclamp, XTR M9000 1×11 drivetrain courtesy of Shimano UK, with tyres and saddle from our friends at WTB. This bike is closely related to our Platinum build and would cost over £4600 if you bought it from us.
However, you can get it for considerably less than that!
Every £5 donation buys one ticket to win this amazing Cotic Rocket, in your size. However, the more you give, the more chances you have of winning.
Donate £10 and get 2 chances of winning.
£50 gives you 10 chances of winning.
£100 gets you 20 chances etc.
O'Neal has kindly donated a runners up prize of Element FR Hybrid Jersey and Shorts, as worn by Greg Minnaar during his 2018 World Cup campaign.
All donations go to support the fantastic work done by the World Cancer Research Fund.
IMPORTANT – Please, please, please! When making your entry, do not donate anonymously, and ensure you tick the box that reads "I'm happy to share my contacts with…" This is a legal requirement that allows us to contact you if you win. We will not contact you for any other reason.
Just follow the link to get involved and donate:
https://www.justgiving.com/fundraising/coticrocketraffle
Featured in this Post
Comments