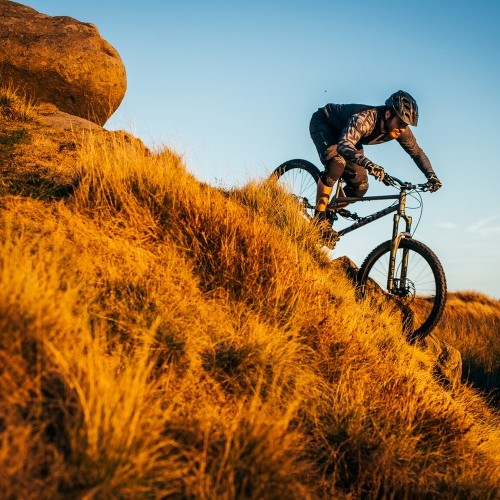 Cotic Launch the New RocketMAX
Fri 5th Oct, 2018 @ 6:30 pm
Here it is, the all new RocketMAX. Our brand new big wheeled enduro bike is here and it is NOT mucking about! The fastest bike in our fleet…..the new Longshot geometry RocketMAX turns the speed up to 11. It's all about the rockiest descents and the steepest technical trails. It's confident and blisteringly quick. This long travel big wheeler is ready for anything.
The RocketMAX is my bike of choice and this has been a very personal project over the last 2 and half years. It has it's own unique version of Longshot geometry, and I have been through many prototypes, many anglesets, many forks, many suspension tunes, and a lot of puzzling to get it where I want it. My goal was to move it away from the FlareMAX trail bike and into a whole new area of capability in terms of speed, composure and confidence on the biggest or steepest terrain.
I have ridden this bike in its various forms around my home on the edge of the Peak District, around the Tweed Valley in Scotland, laps and laps of 'The Loop Of Truth' – my little cover-all-the-bases test section on Houndkirk Moor, Pila in Italy, the old Schladming DH track, raced it with friends, and just given it the workout of its life riding to support the race team at the EWS in Finale. Despite is many guises throughout development one thread runs through all of them – especially the production version – they have incredible composure, confidence and speed in the wildest of situations. I have become a more confident rider and I have so much fun in super steep technical terrain riding this bike. I have been almost track standing on Repeat Offender at Golfie so I can check a blind section, then just dropped in and rode it. Where I have been better able to read the trails, I have ridden with speed and security I still get a buzz from. The precision of the steering, the position on the bike, the control and confidence it breeds means I am simply able to ride faster, steeper, harder trails than I could two years ago. It's a better bike and it makes me a better rider. It's that simple.
Decked out with 150mm of rear travel on our proven droplink suspension platform, and designed around the latest 160mm 29er forks. It's capable of carrying speed through lines you've battled to get through before, and will do so with composure and ease, leaving a big grin on your face. You like steep and techincal? There is pretty much nothing you can't ride down on a RocketMAX. The incredible stability of the long front centre, coupled with the pinpoint precision of the short stem brings you swaggering confidence regardless of the gradient.
It's not all about racing down the hills though; this bike climbs too. More rubber on the ground and bags of support from our progressive droplink suspension help the RocketMAX skip up the most demanding climbs. We design and develop all our bikes in the Peak District, and our team race everywhere from local British races to Enduro World Series, so we know a thing or two about tough, technical climbs and long days in the saddle!
RocketMAX is wild and fast and just so much fun. It's almost like cheating!
If you would like to hear more about how I developed Longshot Geometry, check out the Downtime Podcast Special I did earlier in the year: http://www. downtimepodcast.com/cy-turner/
As with all Cotic bikes, the frame's steel construction is compliant and naturally ground moulding. The RocketMAX uses Reynolds 853 super strong steel, and includes our custom ride tuned Ovalform top tube which helps to deliver sublime trail damping and that signature Cotic feel.
The massively exciting thing we can also announce with this bike is that this is our first model where those beautiful ride qualities are put together in the UK.
We have team up with Five Land Bikes in Scotland to make production front triangles for these bikes. They are then partnered with our proven Taiwan made rear ends, and bridging the gaps are machined parts from Superstar Components made in Lincolnshire. We are assembling the frames right here at our base in the Peak District.
As you may know, we have attempted a UK made frame before in 2013/14. Whilst that didn't work out, the contacts we made and supply chain that we found definitely helped our prototyping and development over the last 3 years. All of the Longshot droplink prototypes have been made in the UK.
Following on from this, Matt and Callum were looking to found a small batch production unit in the UK and we got talking. It fitted really well with what we needed. They are incredible framebuilders first and foremost, and they have also established a paint shop so the frames are finished with painted decals to an incredible standard. We are on a rolling production schedule with them so we should be able to keep more size/colour options in stock more of the time, reduce our overall stockholding, and be more responsive to the buying habits of our customers. There are a lot of positives, and as we grow again it's also great (and sensible) to spread our supplier base. The fact we have been able to do this credibly in the UK is a bonus. It's hugely exciting, but it's also a small first step. We still need and believe in our Taiwanese suppliers, and the Rocket, FlareMAX and all the hardtail and the rest of the range will remain being made in Taiwan.
The bike is available in subtle grey Metal-on-Metal and gorgeous Teal and Tangerine. You can run 29 x 2.6" tyres or 27.5 x 3.0". It's boost spaced, 1x only, integrated chainguide, all modern conveniences.
The frameset pricing starts at £1749 with a custom tuned X Fusion O2 RCX shock, or £1999 with a Cane Creek DB Air IL. There is also a DB Coil IL option.
Bikes start are £2999 for our SLX based Silver build, through our best selling Gold XT and Gold Eagle builds with Cane Creek HELM forks and Hope bits for £4049, and go right up to £5648 for the Platinum build with eeWings ti cranks. HUNT wheels are now available alongside Hope wheels across the range.
We are opening orders today for delivery of first frames on Friday 26th October in the UK. Bikes will be a week or so later, as will international orders. You can buy directly from Cotic to anywhere in the world. Just order online.
https://www.cotic.co.uk/order/framebuilder/rocketMAX/
The bikes will be in demo on the UK fleet from next week so get in touch with demo@cotic.co.uk if you want to have a ride on the RocketMAX.
In a busy year of product launches (this is our 10th new bike in 14 months) what this bike represents makes it one of the most exciting. Some of the most progressive geometry, handling and incredible ride feel you will find anywhere, combined with UK production expertise. It is a unique bike.
Featured in this Post
Comments