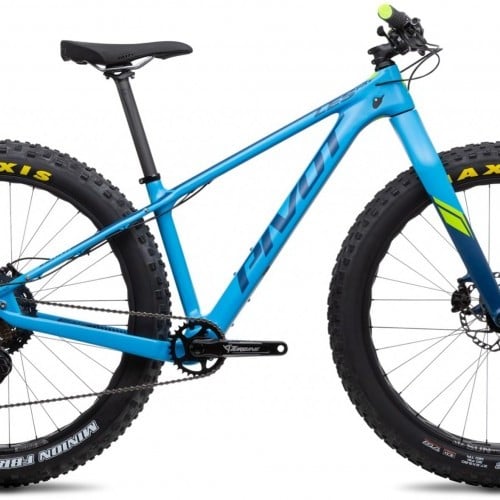 Pivot: Ed Masters Gets LesFat
Tue 13th Nov, 2018 @ 9:30 pm
Grab your mega buckets and your bikes and get out there! Get ready to laugh as Eddie Masters gets LesFat and shows why size is the only thing that really matters.
The LES Fat is back in a big way and just in time for winter. New 27.5" wheel and tire specs along with a new Manitou Mastodon suspension fork option make the LES Fat faster, better handling and more capable than ever for the ultimate in fat bike performance. Under the new Ice Blue paint job lies the most versatile fat bike frame ever developed with its low Q-Factor frame design and massive tire clearance.
Bigger Wheels for Bigger Adventures and Unrivaled Fat Bike Performance
There is nothing quite like the feeling of floating over a thin layer of freshly fallen snow or the sense of adventure you feel exploring miles of canyon sand-washes on a fat bike. Soft conditions and riding where most folks walk may be the stereotypical use of a fat bike, but the fun doesn't end there, not when you're riding a Pivot Les Fat. The fat bike created for year-round riding is back and better than ever with 27.5" wheels, a new suspension fork option, and a new attitude.
Our 27.5" Fat build features Maxxis Minion 3.8" tires mounted on 80mm wide rims for the ultimate in soft surface performance. The shorter sidewall height of 27.5" Fat tires offers improved cornering feel, less weight and the benefits of improved roll-over and momentum carrying characteristics that come with larger diameter wheels.
Pivot also offers the LES Fat with a 27.5+ wheel build option (or as a second wheelset) featuring 50mm wide rims and 3.0" wide Maxxis Chronical tires.  This combination is perfect for the rider looking for a nimble and versatile four-season rig. Manitou's Mastodon fork option provides best in class fat bike suspension for riders who push the edge of fat bike performance and year-round use. The LES Fat frame features internal dropper post routing as well.
The difference between having the greatest adventure of your life and pushing your bike for miles on end can be just a tire size away. Pivot's LES Fat innovative frame design lets it utilize almost any imaginable tire and wheel combination currently offered. Pivot's Patented Swinger II dropouts move up as they move back to simultaneously account for the increase in tire diameter and ride height.
By combining the rear dropout adjustments with multiple lower headset cup options, the LES Fat works with everything from traditional 29×2.4-2.8" trail tires on dirt to the highest volume 5" wide fat bike tires for the softest conditions making it the ultimate four-season fat bike.
Featured in this Post
United States
18,491
144,263
United States
67,153
Comments