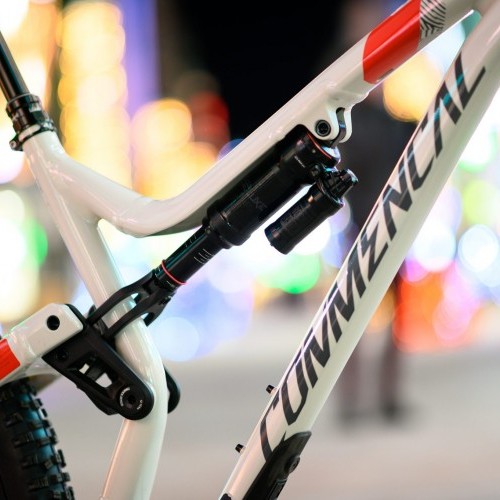 Commencal META AM 29 – SRAM Edition
Fri 21st Dec, 2018 @ 12:30 am
The next in line of long travel, 'Enduro spec' 29ers is here in the shape of Commencal's META AM 29 – SRAM Edition. To give you the spec of this fantastic looking piece of kit here are Commencal to talk concepts and kit…
We are very close to SRAM. They are passionate about racing just like us. Together we took our teams to the top!
The META AM 29 – SRAM Edition is the result of all those years of working together.
All the details of this bike have been reworked. It is both beautiful and powerful.
The META AM 29 could be mistaken for the META AM V4 but almost everything has changed to enhance the 29'' platform. We used all of our experiences from the SUPREME 29 development to find the right recipe to make an equally impressive 29'' enduro bike.
What Didn't Change?
Dropouts. The rear shock and dropout/seat stay axles. The top tube shock mount. The head tube. And that's about it!
The Main Focus
Improve dynamism. Optimise stiffness. Keep a bike easy to handle, compliant and efficient. Improve support and grip. A better finish.
The position of the main pivot point has changed significantly. It allows more dynamism, better pedalling efficiency and a reduction of kickback (loss of chain tension on the pedals).
On long enduro races, saving the rider's energy is always welcome, even for our super fit EWS riders.
We've never specifically tried to make the stiffest bikes on the market. In fact, we feel it's more important to have the right balance between precision, tolerance, dynamism and grip.
However, with the introduction of bigger wheels, we thought it was important to stiffen the frame to keep that balance.
Bigger wheels means more leverage onto the frame and 29'' wheels tend to flex more than 27.5.
The new seat stay shape and its new bridge provide more torsional stiffness. The rocker has larger bearings for more reliability and more rigidity. Its shape contributes to the overall stiffness of the chassis.
Geometry
A lot of work has been done on the frame structure to be able to offer 432mm of chain stay length with 160mm of travel.
This is 6mm less than on our 27.5 frame.
Even with 29'' wheels, we wanted a bike that handles easily and efficiently. To be able to offer 160mm of travel with a 29'' wheel, many seat tube adjustments were necessary. The slack seat tube angle combined with an important offset, allow a steeper effective seat tube angle than on the META AM V4.2.
Every Year We Strive To Refine the Finish On Our Bikes
Some details are more obvious than others…
Cable routing has been improved and does not affect or interfere with the operation of the suspension.
Our new seal design keeps everything tidy.
A waterproof top tube avoids damage to the headset when washing the bike.
The mudguard keeps things clean between the rocker and the frame.
The down tube protector design allows the possibility of adding a second water bottle and/or a tool kit.
Improved assembly quality.
Enduro Bearings (more stiffness and resilience), Teflon Finish Line grease (anti-dust & anti-moisture) and a more efficient thread lock.
Featured in this Post
Comments