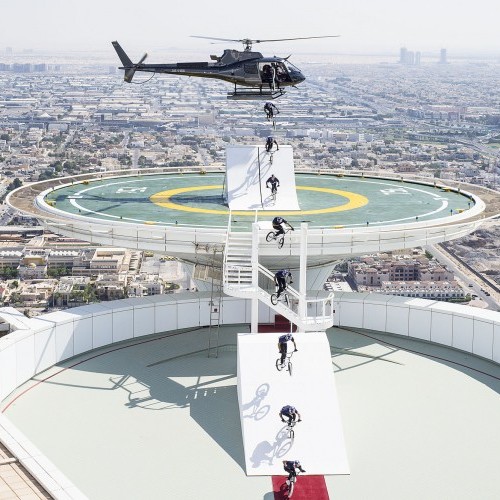 BMX Riding Dubai's Most Famous Landmarks | with Kriss Kyle
Mon 28th Jan, 2019 @ 10:30 am
HOLY ****** ****!!! Remember when Kriss Kyle blew our minds with the insane Kaleidoscope? Well he's just gone and re-blown them with this inspiring sequence of drops, tricks and blatant steeze with a high altitude tour of Dubai's most famous landmarks.
Home to the world's tallest building the Burj Khalifa, Dubai is renowned for its breathtaking skyline. With stunning buildings, huge water parks and bustling souks, a place like this is the ultimate playground for thrill-seekers. Who would have thought that it's also a BMXer's dreamland? That's what Kriss Kyle discovered when he had the opportunity of a lifetime to explore the city by bike, and land tricks you've never seen before. If you've watched the videos about the Burj Al Arab fireworks during the 2019 New Year, then expect even more fireworks here.
What's the best way to conquer a lifelong fear of heights? For Scottish BMX star Kriss Kyle, throwing yourself out of a helicopter is one way of doing it. The unique attempt is the first in riders' latest edit which sees him turn the unique architecture of Dubai into a giant BMX park.
From cavemanning out of a helicopter onto the Burj Al Arab, to tricking it out on some of Dubai's most famous landmarks, with barspins and all sorts of tricks you can imagine (and unimaginable) Kriss captured it all for our eyes to feed on.
Opening with a huge cityscape shot, we see Kriss leaning out of a helicopter as he approaches the iconic Burj Al Arab Jumeirah hotel, one of the world's tallest hotels and most unique buildings. We then see him jumping 14 feet from the helicopter – 720 feet up – and onto a helipad on top of the hotel, before immediately tackling a second equally daring drop and heading into the building itself.
Kriss then makes his way throughout Dubai, which sees him flying down the twisting slides of the Wild Wadi Waterpark, flipping through the grounds of the Burj Khalifa before finally hopping onto a moving boat as he leaves the city behind.
Due to the extreme nature of the stunt, Kriss only had one shot at making the helicopter jump work. Despite practising for months on smaller jumps, factors including wind, thermals and Kriss' crippling fear of heights meant that it was literally down to one take to make it work.
On completing the jump, Kriss said: "We actually planned to film the jump the day before. But due a rare weather system at the time we planned the jump, we were forced to reschedule the attempt to the following day. Sadly that meant for another sleepless night for me! Working on a Red Bull edit always means you get to challenge what's possible and this was no different. I can't thank Dubai Tourism enough for opening their doors and helping us make this film possible."
Shot on location in: #BurjAlArab helipad | #BurjKhalifa | #DubaiMall | #LagunaBeach waterpark | #AlSeef wallride | #DubaiGoldenSouk | #WildWadi waterpark | #DubaiFramek pyramid
Music: Meridian by ODESZA
Featured in this Post
Comments