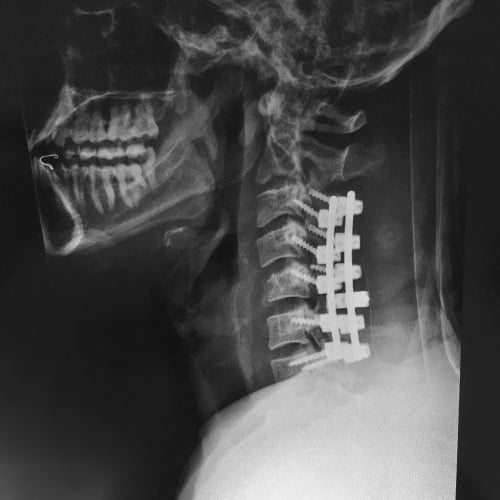 Phil Smage: Chasing 1%
Sat 26th Jan, 2019 @ 9:30 pm
Win a GO3 Camera by Insta360 this issue in our FREE subscriber prize draw.
World Records don't break themselves, but they can break the person attempting to conquer them. Nitro Circus' Phil "Smagical" Smage can attest to this truth. But this isn't the story of a jump gone wrong. This is the story about the power of positive thinking and how Phil came to be riding a bike with his beloved goats just 180 days after hearing the words "incomplete quadriplegic" for the first time.
The joking starts almost immediately, care of a fearful brain seeking solace from the sheer weight of the dark place it's been so casually thrown. In this moment, he knows the truth of it. His body, which should be raising a hurtful noise of holy hell, is eerily mute. "There's no way," he thinks, "that after that many rolls I have no pain."
As he's extracted from the mangled wreckage of the UTV, a world record jump attempt is now behind him, and in front, an uncertain future. His brain serves up the only weapon it can to ease the surrounding tension.
"Hey, somebody toss me a GoPro. I got to film this!" he yells as they load him into the Flight for Life, full-well knowing that he is paralyzed.
Humor. This is the soothing thread twisted throughout his recovery. It knits itself deeply into the fabric of "the new Phil" as people assume the everyday machinations once second nature to him. As they feed him, bathe him, insert catheters, wipe his butt — he can see no other option. "The jokes really began," he says, "when my private parts became public parts."
But is there anything funny about crushed vertebra and a classification of "Incomplete Quadriplegic of the C5?" Perhaps as a contender for the world's worst band name, but as a medical diagnosis, it's kinda grim. "It's such a dark place that something like that takes you," he says, explaining why he's constantly searching for opportunities to hit that chuckle button. "I was like, well, if I'm gonna make it through this, the only way is going to be laughing."
Time to put that "laughter is the best medicine" idiom to the test.
"I was already joking as I was in the Flight for Life. I was also weirdly calm. I told the medic guys that, you know, I was paralyzed, so 'please roll me as gentle as you can.' Weirdly calm, and then cracking jokes."
For every superhero, there's an origin story and, up until the day that changed everything, Phil's read like a dream diary: X-Games snowskating champion, World Record holder — again for snowskating — motocross and trials athlete, all culminating in that dream-come-true job of riding and filming with Travis Pastrana and the Nitro Circus crew. But then, the harshest of edits and a major rewrite. He's knocked back to square one, and with the uncertainty that comes with spinal cord injuries, every day is a blank page Phil has to author himself.
Wrist, ribs, collarbone, and toe — that doesn't sound too bad — but then there's that ol' broken neck. A spinal fusion is deemed the best way forward. "The C-5 vertebrae is the one that impinged the spinal cord — or got jammed into the spinal cord," says Phil, explaining the extent of the fusion. "The C-4 and C-6 were also shattered, so they fused C-3 through C-7." It all makes for an X-ray you can't turn away from.
But Phil is a silver linings guy, and one great thing to come of this has been his Smagical Daily Update on Instagram. The videos started as a way to keep people updated on his condition, with the first one being shot from his hospital bed. Shot specifically to show the world that the rumors of his death were greatly exaggerated. But what these updates have become is something else entirely.
Viewed in one sitting, they serve as a remarkable time capsule of one man's recovery journey, warts and all, that we are voyeuristically allowed to watch. Bad days, good days, one-step-forward-three-steps-back-days (and on some of those days, we're talking literal steps). He talks often of the idea of "the daily 1%" in these videos — an idea borrowed from a post from one of his skating idols, Steve Caballero — and seeks excuses to chase it so he can film it.
"A lot of days," he confesses, "the only thing I'd be able to do that day was film that video."
He sleeps in a La-Z-Boy for three months and wears a neck brace for four. Life is punctuated by a series of firsts — seconds really, since he's relearning how to do the once-mundane tasks he never used to think about. Eating, brushing teeth, writing, swinging an axe, and peeing by himself. He picks things up and puts them down and wraps it up with a "thumbs up," an action that gets better with more hand therapy. He walks with goats — some days they're the only thing they can get him out of that La-Z-Boy — and keeps on going.
But then, on day 180, something truly great happens. On this snowy day — just six months after breaking his neck — Phil Smage lets his beloved goats out of their pen and does what he never thought he'd do again. On that day, he swings his leg over a Turbo Levo mountain bike and Smagical Daily Update goes electric. His first ride is a glorious manifestation of joy and happiness, the thrill of riding and the companionship of goats. It isn't until later — when he's editing the video — that the enormity of that moment hits him.
"I, literally, couldn't stop crying," he says. "My eyes were leaking non-stop. There were moments when I thought that I'd never be back on two wheels again because that's what the doctor is telling you over-and-over, and that sinks in when you're in hospital and not moving anything." The surreal-ness of that moment, of realizing a dream that he never thought possible in such a short timeframe, catches him completely off guard.
"The bike just felt so balanced and I thought I was gonna lose my balance, and just everything about that day was so amazing that I couldn't contain the tears editing that video. It's going to be hard to top that day." He pauses, thinking back. "Peeing by myself, that was pretty big, but that Levo ride is something that I'm gonna remember for the rest of my life, for sure."
He is filled with gratitude — for friends, for family, for his wife, Sarah. He can't say enough good things about Road 2 Recovery "the best foundation in the world" who've helped them navigate the ins-and-outs of financial matters, but also kept Sarah sane through it all. For Travis Pastrana, "such a solid guy," and the Nitro Circus crew. "They've been so supportive through the whole process, not just financially but emotionally. I couldn't…," he hesitates, then laughs. "I couldn't have asked to break my neck with a better group of guys!" But above all, he is determined to be filled with good vibes and positivity about the hand he's been dealt.
"It sounds so generic and cheesy," he says, trying to explain what he hopes people will take from him sharing his recovery odyssey. "I guess it would be that a positive mind and body is going to heal better, and that's just got to be a fact," he says. "The hospital scenario, when you're in there, everything is just such a bummer — it's not a healing scenario. I feel like positivity heals, and I just am living proof that that's true. I know I had a lot of luck, I know I had a lot of support, [and] I know I had a lot of good things happen to make this recovery go as well as it has. But when it comes down to it, I really think staying positive about even bad situations is the biggest thing I've learned through this. The biggest thing I'd like to share with others."
Win a GO3 Camera by Insta360 this issue in our FREE subscriber prize draw.
"As soon as I started making improvements, the number of messages I started getting were in regards to how it was helping motivate people to go after whatever thing [was] happening in their life," he says. "The response has been overwhelmingly positive, and hearing that it helped just kept me pushing harder at what I was working on. I attribute a lot of my recovery [to it] as well, because I am a true believer through this that positivity builds positivity. It really kept me motivated and then in turn it, was motivating so many people. It just can't be a bad thing to come from that much positivity."
"The videos make me search for something throughout the day that I can do that is an improvement from before, or new. And I really think that is one of the key points of why this [recovery] has gone so well. Well, besides just being a miracle."
Spinal injuries never fully heal — Phil knows he will always carry the physicality of that as a reminder — but for now, this is his new origin story to write. His hands continue to act as insolent teens, sometimes doing what he asks while other times completely ignoring his commands. While walking, his balance comes and goes, but seems weirdly fine on a bike or snowskate, which makes him happy. He works on his "pecholes," a term of endearment for the pectoral muscles that have abandoned him, and puzzles over why his back turns on like some crazy furnace from time-to-time. But above all, Phil "Smagical" Smage keeps on going. He keeps doing those updates and laughing whenever he can — he keeps chasing that daily 1 percent.
Keep Going, Phil. You Goat This!
If you would like to donate to Phil's recovery, visit Road 2 Recovery. He has a sweet line of You Goat This shirts and goat stickers (did we mention he kinda likes goats?) available for purchase. He also welcomes verbal support via his Smagical Daily Updates posts on Instagram.
Featured in this Post
3,045,367
1,976,885
Comments