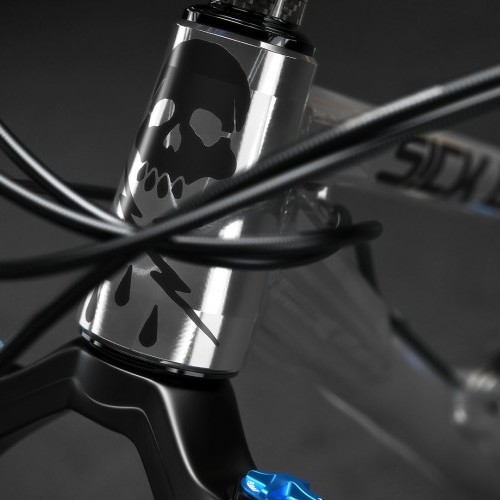 Sick Bicycle Co. – Introducing The Gnarpoon
Tue 1st Jan, 2019 @ 6:30 pm
Sick Bicycle Co. launches crowd-funded Gnarpoon project – a hardcore full suspension mountain bike, made in the USA
More than a year in development, this is the first bike we were supposed to make; the bike that we dreamed of when sitting in our woods at the local trail. With 29" wheels, up to 180mm travel and hand-built in Vermont by legendary frame builder Frank the Welder, it's a simple yet brutal all mountain machine that's ready for anything. You can choose steel or aluminium construction and tailor the build to suit your needs. Trail and enduro? Freeride and bike park? The Gnarpoon will do it all.
The frame is £1895, full builds start from £3499 and we aim to be shipping by March 2019.
We're currently crowdfunding on Indiegogo to make this project a reality – but this is not our first rodeo. We've already successfully put into production various hardtail frames, including the Gnarcissist – which served as a geometry testbed for the Gnarpoon. With the support of progressive riders around the world, we will make this happen.
The Gnarpoon
The Gnarpoon is a frame that's as flexible as you need it to be. Adaptable, versatile and tough, it's the bike we always dreamed of making. Whether you're looking for a big hucking dual crown and coil sprung rig or a nimble and affordable hardcore trail bike, we can offer a build to suit.
None of our other frame projects has caused us this much trouble. We had tightly defined traits that we wanted to extract from this bike. And we wouldn't settle for anything but perfection. We have a workshop full of various Gnarpoons that fell short and, as a result, were take outside and shot. No mercy.
But we finally cracked it – and we're ready to go into production.
Thanks to Frank the Welder's craftsmanship, we're able to offer the Gnarpoon in two flavors of metal: double-butted 4130 chromoly, or 6061-T6 aluminum. Identical in geometry and with the same swingarm, it's your choice entirely. We're big fans of the grip and fatigue-fighting ride that steel full suspension bikes offer, but some riders prefer the precision and hair-trigger response of aluminum. It's all good.
Travel is adjusted via the shock, so if you change your mind down the line you can change your Gnarpoon's build to suit – 160/150 or 180/170; it's up to you. Frame clearances are designed to accommodate 29" or 27.5+ wheel options, so you can run whatever floats your boat.
The geometry? Glad you asked. It's progressive – longer top tube, shorter stem, slacker head angle, steeper seat tube and lower centre of gravity. What this all adds up to is a bike that feels like you're in it, not on it. It's stable, balanced and gives the rider time to react in the most challenging of trail conditions.
Oh, and we've done our best to future-proof it, too. There are no weird standards. The Gnarpoon runs a ZS tapered headset, 31.6mm dropper post, 148mm hub, 73mm threaded BB and ISCG05 chainguide mount. They're tried and tested and we don't expect any of these to change anytime soon. Bearings and fixtures are off-the-shelf, so you won't have any trouble finding (or affording) replacements when it needs a tune-up. And the dropouts are, of course, replaceable. Because, y'know, shit happens.
Frank the Welder
If you rode hardcore in the 2000s, Frank needs no introduction – he was indisputably the go-to fabricator for a number of freeride projects at that time. He's been churning out beautifully sculpted pieces of bicycle frame art from his Vermont workshop for longer than we've been alive. A man who helped shape the industry, we're privileged to have the opportunity to work with him and start building bikes in the USA.
Sick Bicycle Co.
Ever dreamed of building your own bike, just the way you want it? We did too. And then we thought… well, why don't we do that? Having come up with no good reasons not to go ahead, we've arrived at the Gnarpoon by building a series of hardcore hardtail frames for satisfied customers all around the globe. By riders, for riders has beome a cliché. But it's who we are: Jordan, Tim and Lee… three guys developing and building our dream machines.
With thanks to Guillaume Bout for the awesome concept images, and Paul at Rideworks for helping us get ahead of schedule by machining our yokes.
Any questions, feel free to email: gnarpoon@sickbicycle.co
Featured in this Post
United States
910,394
Germany
71,283
Comments