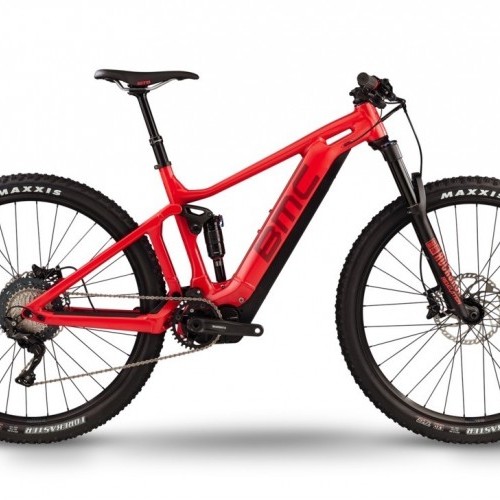 New BMC Speedfox AMPs
Mon 4th Feb, 2019 @ 12:30 pm
BMC welcomes two new e-MTBs into its trail family: the Speedfox AMP FOUR and FIVE.
These trail-ready e-MTBs feature an all-new, lightweight, aluminum frame for the perfect combination of durability and versatility. The e-MTB-tuned APS suspension is engineered to be super-efficient while climbing, yet supple and fully active on singletrack descents to deliver the on-trail performance BMC mountain bikes are known for.
"Advances in hydroforming technology allowed us to create a lightweight, aluminium frame for the new Speedfox AMP," explains Antoine Lyard, MTB Product Manager at BMC. "This development makes amplified riding, how we imagine it, accessible to even more riders. Cutting-edge hydroforming capability ensures seamless battery integration, sharp handling, and a refined, premium BMC look."
Featuring 29″ wheels, 130 millimeters of front and rear travel, and e-MTB-specific geometry, the Speedfox AMP is an ultra-capable machine equipped to deliver a one-of-a-kind trail riding experience. BMC's refined Big Wheel Concept and a comprehensive approach to geometry and component selection, which enhances high-speed handling and control on technical terrain.
Engineered to feel at home on every trail, the Speedfox AMP FOUR and FIVE are equipped for singletrack adventures, long days on the mountain, and just plain fun.
Shimano STEPS E7000
The efficient and quiet Shimano drive unit complements the versatility of the Speedfox AMP. Whether powering up a climb, negotiating tricky turns, or on smooth, flowing trails, the bike's low center of gravity and lightweight feel translate into intuitive handling. The powerful motor engagement is smooth, and the level of assistance can be selected according to your riding style, the gradient of the climbs, and the day's conditions.
Big Wheel Concept
The Big Wheel Concept is aimed at optimizing geometry and cockpit fit to improve the natural qualities of 29″ wheels:
The Speedfox AMP features a slack head angle and a generous reach to improve stability, while short chainstays deliver agile handling.
BMC has optimized the bottom bracket drop for a low and centered riding position, which boosts control and stability at speed.
APS Suspension
BMC engineers have tailored the Advanced Pivot System (APS) suspension for e-MTBs and applied it to the new aluminum Speedfox AMPs. The recalculation of APS kinematics, pivot placement, and leverage ratios combined with an e-specific shock tune to give the Speedfox AMP FOUR and FIVE their trail bike attitude.
Maximized Integration
BMC's uniquely integrated drive unit covers perfectly blend the battery and motor into the alloy frame design. Additionally, integrated speed sensors in the rear triangle make wheel changes quick and easy, while the molded in frame and seatstay protectors keep unwanted noise to a minimum when riding rowdy terrain.
Sizing and models
The new Speedfox AMP FOUR and FIVE are available in sizes small, medium, and large.
Featured in this Post
Comments