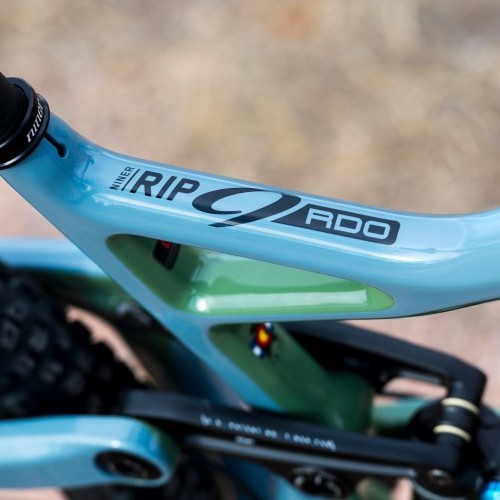 Niner Bikes Unleash 27.5″ and 29″ RIP 9 RDO
Tue 5th Feb, 2019 @ 9:30 am
Let's rip (#eyeroll) this band-aid off right now: the new RIP 9 RDO is available in two different, dedicated, purpose-built platforms for 29er and 27.5-inch wheels. yep, we gone and done did it – a 27.5″ wheel size!
Obviously, it's a WTF moment for Niner, seeing as we're named after the bigger of those two wheel sizes. We've been loud and proud in our support for wagon wheels since our first bike was introduced in 2005.
But after a decade-long commitment to 29er wheels, we have good reasons for expanding our minds (and our rides) to include the 29er's more playful little brother.
Over the years, riders have told us that they love the stable yet supple, consistent and controlled behavior of our CVA suspension. They love the brand. They love the designs.
But they want more standover, less rotating weight, and the fast handling, quick draw agility of 27.5ers. So, they want a Niner, but they actually want a Twenty-Seven- Fiver. But one that's made by Niner. Go figure.
Well, here it is. We built the most badass non-Niner Niner we've ever made.
Why didn't we just make a 29er that also fits 27.5-inch wheels? Because compromises. If we're going to do something so big (or should we say, small?) and something so contrary to our brand history, dammit, we're doing it right. There are inherent compromises in making frames to fit multiple wheel sizes. We'll have none of that.
The 9 things you need to know:
1. 140mm of stable yet supple CVA suspension with 150mm fork travel.
2. Available in dedicated 29er and 27.5er versions. (We know. WTF?)
3. Longer, lower, and slacker than any Niner ever made. 4. Flip chip geometry adjustment for even MORE cowbell.
5. Wider and stiffer Rib Cage main triangle, for precise handling.
6. Durable, long-lasting Enduro Max "Black Oxide" pivot bearings.
7. Clearance for 2.6-inch tires, plus whatever mud they wanna drag along with 'em.
8. Refined suspension curve for sensitive early stroke and supportive mid-stroke.
9. End-to-end, Full Sleeve internal cable guides and factory-installed frame protection.
Two in one geometry? Yeah, we got that. sure, it's longer, lower, and slacker. but more than that, our new rip 9 rdo is the first niner to have adjustable geometry via flip chips in the seat stay pivots. this brings a new layer of "one-bike-wonderful" to an already versatile platform.
The high mode geometry is perfect for the demands of daily trail riding. This RIP 9 launches uphill and over terrain, thanks to supple yet stable CVA suspension and a steeper 75.8-degree seat tube angle. Then turn it around, point it down, and charge with confidence, thanks to the longer reach and slack, 66-degree head tube angle.
Need more cowbell? Low mode brings out the RIP's more aggressive, "Mr. Hyde" persona. By slacking out the head angle by a full degree and lowering the bottom bracket by 7mm, RIP transforms into a virtual second bike that's perfect for chairlift days, shuttle sessions, and secret sidecountry rides with long, rowdy descents.
Geometry details
Adjustable high/low geometry via flip chips in the seat stay pivots.
Slacker head tube angle: 66 degrees (high mode)/65 degrees (low mode)
Steeper seat tube angle: 75.8 degrees (high mode)/75.2 degrees (low mode)
Longer reach
Shortened seat tube by 20mm to accommodate longer, 170mm dropper posts.
20mm lower standover height across all sizes
Lower stack height and shortened head tube to accommodate a wide fit range and riser bars.
Short, 435mm chainstays (29er).
A little less travel, and a lot more bike. with new rib cage struts across the front triangle, flattening of the top and down tubes, widening the main rocker link pivot, and beefing up the rear triangle, the entire bike is stiffer from front to back.
The struts reduce bottom bracket deflection while keeping the upper portion of the front triangle supple and compliant. And the wide, flat surfaces found on Niner's top and downtube help to absorb frontal impacts and vibrations while resisting deflection (twisting) under torsional load.
Result? The classic Holy Grail combination of vertical compliance and lateral stiffness. #cliche #butforrealthistimeweswear.
Also thanks to bulking up the rear triangle, we removed the seatstay bridge in the rocker link. There's now tons of extra room for wider wheel and tire combinations.
What about that travel? 140mm is the new sweet spot for do-it-all trail bikes. Combined with the revised and adjustable geometry, this RIP 9 is stable at speed, confident when chopping through chunder, and precise at picking lines through techy "oh sh*t" chutes.
As well, the RIP 9 RDO V3's pedaling efficiency is increased with the subtle travel reduction and tuning the CVA suspension to ride more in the mid-stroke of the shock.
Frame features and construction details
Rib Cage struts on front triangle add stiffness
Compact, shortened rear triangle with oversized tubes for increased stiffness
Extra wide seat tube rocker link pivot with double-width bearings for torsional rigidity
Sag indicator on the rocker link pivot
Enduro MAX Black Oxide pivot bearings for extreme durability
Massive clearance for 2.6" tires and muddy conditions
Factory installed scuff guards and frame protection in key locations
Full Sleeve internal cable routing from front to back – no fishing required
Fox Live-valve ready
Water bottle mount inside the main frame
73mm threaded bottom bracket with ISCG 05 chain guide mounts
1x – specific
Consistency, confidence, and control: that's CVA. CVA is stable yet supple while climbing and pedaling; sensitive and supportive going downhill; consistent and controlled in every situation.
One thing that has changed in the new RIP 9 is the new, slightly higher overall leverage ratio. Starting off at about 3.0 and ending right around 2.3 for an average of 2.55, the new, higher leverage ratio off the top makes it easier to set the shock in motion and overcome static friction.
At mid-stroke, as the leverage ratio decreases toward the sag point, less rear wheel force is transmitted to the shock. So, the shock holds the rider up in the travel, giving solid mid-stroke support. And at the end stroke, the leverage ratio increases just slightly to overcome the natural progressivity of air springs and give bottomless, smooth response under the biggest hits.
Confidence to drop into the biggest lines, knowing you'll get consistency and control from top to bottom: that's CVA suspension.
CVA Suspension details
Niner's proven patented CVA linkage layout and axle path remains the same
Stable yet supple, consistent and controlled CVA suspension behavior
Lower link under the BB allows for shorter chainstays
Refined leverage ratio curve
More sensitive in the early stroke and more supportive in the mid stroke
Progressive ramp up at end stroke
New 2-piece rocker link
Shorter 210×55 metric rear shock
Stock shock tune includes FOX .4 air volume reducer
44mm offset fork on the 29er, 37mm offset on the 27.5er
Featured in this Post

117,582

United States
910,394

166,909
Comments