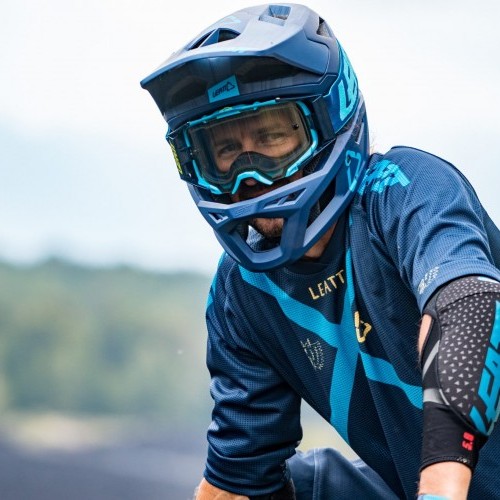 Leatt Introduces New Range of Goggles
Thu 7th Mar, 2019 @ 9:00 am
Leatt, famed for their neck braces, for a while now have been making helmets so it was only a matter of time before they would introduce their own lineup of goggles to compliment their existing product range. We will have some of these goggles into test over the coming weeks and months, for now though check out what Leatt has to say on their new goggles below:
"CAPE TOWN, South Africa (March 7, 2019) – The inventors of the Leatt-Brace® just announced the launch of their brand-new goggle range.
An exciting new addition to Leatt's growing range of products, the Velocity goggles were developed with WideVision anti-glare, anti-fog tech and 2.7mm military spec lenses.
The range consists of three types of goggles, namely the 6.5 Iriz, the 6.5 and the 6.5 Roll-Off goggles. Designed to work in all conditions, they fit well, and the lenses of the goggles are bulletproof tested and certified to: ANSI Z87.1-2015, CE EN 1938 :2010 and Military ballistic standard ((MIL-DTL-43511D), making them super durable.
They are all equipped with a 170° WideVision Anti-Fog, easy clip-in/out lens and a self-draining frame/lens design.
Feature Summary:
Anti-glare, anti-fog tech
Bulletproof tested to military ballistic standards
170° WideVision
Detachable nose piece for multi-purpose/condition usage
Easy clip-in/out lens
Self-draining frame/lens
The 6.5 Iriz is available in six colorways and has an SRP of $89.99/€89.99/£79.99, the 6.5 in seven colors $79.99/€79.99/£72.99, and the Roll-Off in four colors for $99.99/€99.99/£89.99.
There are nine anti-fog lenses ranging from 20-83% Visible Light Transmission (VLT), same fit lens for the entire range, prices starting at $9.99/€9.99/£8.99 – $24.99/€24.99/£22.99.
The mean-looking Leatt bulletproof goggles are made to military specification, tough enough to look the Thrill right in the eye without backing down!"
Full goggle range: Find out more here.
Featured in this Post
Comments