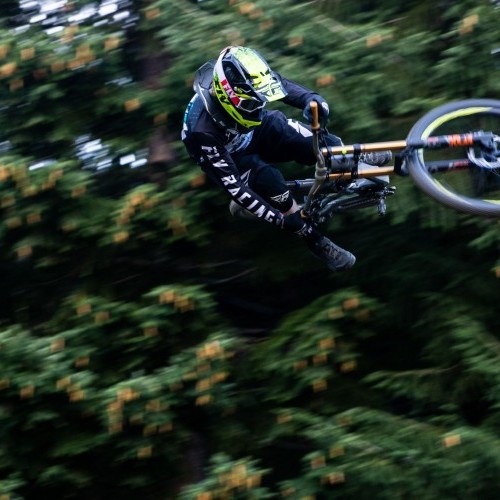 The Evolution of Speed: Pivot Phoenix 29
Tue 19th Mar, 2019 @ 3:30 am
The Phoenix 29 is quite possibly the worst kept secret on the World Cup Downhill circuit.  Riders have been seen testing this ultra-fast unicorn in various incarnations over the last three years at downhill tracks across the globe. A lot goes into developing the fastest bike we've ever made. What starts with engineering ideas and initial concepts, ends at the finish line of the most demanding race courses in the world. Simply put, the stopwatch doesn't lie.
In its very first World Cup outing at Losinj, Pivot Factory Team athlete Eddie Masters piloted the prototype aluminum Phoenix 29 to 8th place in qualification (one of his career-best qualifying finishes) proving what we already felt – it's fast. Really fast. With a solid platform to work from, the team started zeroing in on improvements and tweaks. Some may question our pursuit for perfection, but our athletes see and feel the results. A hundredth of a second here, a tenth there, increased confidence and that feeling of being one with your machine. It all adds up at the finish line.  Even small gains can mean the difference between a top twenty and a podium. Or better yet, a win!
"We were very competitive and fast on the very first prototype," Says Pivot Factory Racing Team athlete Bernard Kerr. "But making some changes along the way has made it even faster." Aluminum prototypes, carbon prototypes, and various linkages are all being tested by the team. If they ask for it, we give it to them. "I can talk to Pivot's engineering team on a daily basis and just text or email whatever I need to work through things," says Kerr. "We've come up with a super-fast bike that I'm stoked to go out there and race on."
The Phoenix 29 is insanely fast, but we're not done yet. A winter's worth of successful testing still needs to be proven on the race course. And we still have a few tricks up our sleeves. For the latest developments on the Phoenix 29 keep an eye on the Pivot Factory Racing Team bikes starting this week at Crankworx Rotorua.
Rest assured, a Phoenix 29 is coming. When? When it's the fastest, most capable World Cup DH bike on the planet.
Featured in this Post
United States
910,394
144,263
United States
67,153
Comments