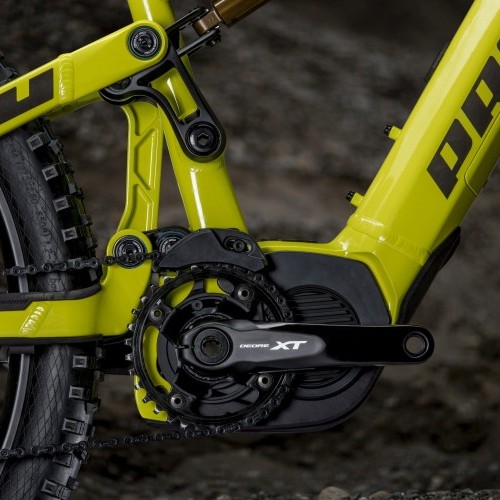 Propain Ekano eMTB
Fri 3rd May, 2019 @ 9:30 pm
Propain on "E"? Yes, we broke away from our conventions and embarked on new paths. Our E-Bike is called Ekano and is probably the most versatile E-MTB on the market. The bike will be available from 15.05.19 in the online shop and will be delivered from September.
Ekano – the electrified version of the Japanese name Kano. His character is described as versatile, adventurous and visionary, just like our new bike. He's rebellious and is fighting against rules and breaks with conventions. We also had to break with several of our conventions before we started with the Ekano project, but once you push the boundaries in your head the fun on this E-MTB is endless.
The versatility of the Ekano is its biggest strength. The bike is completely configurable, and you can choose almost anything according to your riding style. Due to customizable components, wheel size, and suspension travel, the usage spectrum covers everything from All-Mountain to E-Enduro Racing.
Frame Concept
Combined with the complete Drive unit from Shimano, the Ekano is our definition of a perfectand also service-oriented E-MTB.
The clean design combined with the brand-new, integrated Shimano 8035 battery makes conventional E-MTBs with external batteries look like dinosaurs from the past.
The lightweight butted tubing from 6061 and 6066 T6 Alloy makes this bike ride light-footed and agile. The lateral stiffness was changed several times during the development to get the perfect mix between stiffness and flex which is so important for a great downhill performance.
The EKANO is offered in a short travel version with 150/150mm (front/rear) travel and a long travel version with 170/ 165 mm (front/rear) of travel.
Suspension Concept
On the first sight you clearly see that the suspension system of the EKANO differs from all our other bikes. We had to break our conventions here as well. The suspension has been perfectly adapted to the riding characteristics of an e-bike. Nevertheless, all parameters which define the performance of the suspension system were retained in order to maintain the well-known "Propain Feeling".
The suspension system was designed with 30% progression in order to work well with both, air and coil shocks. Regarding anti-squat, we struck a new path and designed the frame with an anti-squat as high as 130% to counteract the compression of the suspension when ascending steep climbs.
Drive Unit
We are the first bike manufacturer which specs the new lightweight integrated Shimano 8035 battery. Combined with the Shimano 8000 motor you'll get a "single-source" drive unit. This entails that a customer can get quick and easy help from any Shimano Service Centre worldwide.
Specs
Like all current models, Propain no longer offers fixed component specifications. We only provide recommendations from Start through Performance up to High End. Detached from fixed specs every customer can configure their bike according to their own needs and riding style.
The price for the Ekano ranges from 4100€ to 6300€.
Geometry
The Crux of an E-Enduro is the balance between the uphill and downhill performance. The combination of a steep seat tube angle, a moderate/long reach and chain stay length, and a slack head angle accomplish this balancing act the best.
The result is a playful bike that also performs on flat single trails, which are going to be a whole new experience with an E-MTB.
Colours
The EKANO comes in three different colours which are Black Matte, Lime Gloss and Oslo-Blue Matte. Like all our other bikes you can combine your favourite frame colour with a large variety of decal colours and matching Sixpack components to build your dream bike.
The EKANO is a Propain MTB through and through, even with "E" inside. It offers all the well known Propain advantages through its online customizing options.
It's probably the most multifarious E-MTB, which shows its strength in all disciplines. How should your Ekano look and feel? At Propain, it's your decision!
Featured in this Post
Comments