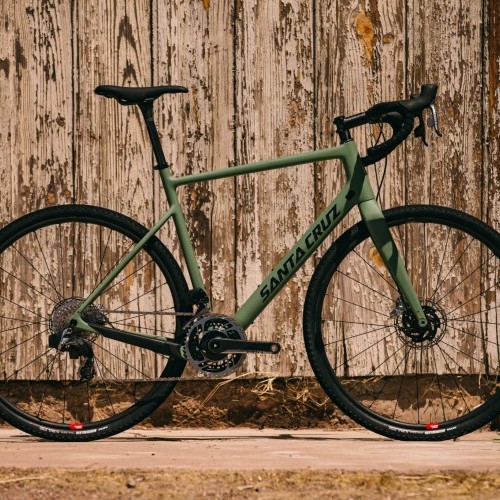 Santa Cruz and Juliana Release Long-Awaited Gravel Bikes
Tue 14th May, 2019 @ 9:30 am
When the Stigmata was resurrected in 2015, we fused a number MTB standards and design features to create our spin on the modern CX bike. Something must have clicked,because within months of launch it raced to victory at the legendary Three Peaks, and has continued to contend at elite cyclocross races around the world.
Nowadays, the internally routed disc brakes, generous tire clearance and thru-axles approach that made the Stigmata famous have become more of a norm, so we took a fresh look at which standards the riders of tomorrow wanted access to today.
The New New
The significantly revised carbon layup borrows knowledge gained from not just the Highball, but also Danny MacAskill's trials bike, to produce a ride so law-abiding you'd think HR had sent it on a compliance training course. Fender mounts add a bit of CYA, and we added three bottle cage mounts so you can carry a bottle and a frame bag at the same time. Tire clearance is even better—up to a 45mm 700c or a 2.1" 650b trye
Geo Tweaks
We've reworked the 52/54cm frames so the Stigmata now comfortably suits riders from 5'3" and up. Different fork offsets—50mm for the 52-54cm sizes, and 45mm for the 56-61cm sizes—help ensure your little piggies don't go to market on the front wheel.
Key Features
700c x 45mm / 650b x 2.1″ tyre clearance27.2 seat post with stealth routing
68mm threaded bottom bracket
12×100 front thru-axle; 142×12 rear thru-axle
Three bottle cage mounts
Fender mounts
Clamp-on FD mount
Santa Cruz Reserve carbon wheel upgrade option
Made for: Gravel, road, and cyclocross
At home on: Tarmac to Singletrack
Sizes: 52, 54, 56, 58, 60
Build Kits & UK RRP:
Rival – £3,599
Ultegra – £4,599
Force AXS – £5,599
Force AXS Reserve – £6,799
RED AXS Reserve – £8,999
Juliana Quincy
You'd be forgiven for thinking a bike with this much soul was named after a Grammy Award winning record producer. But you'd be wrong. This Gravel & Roll Hall of Fame nominee derives its name from a small gold rush town at the heart of our own little dirt road revolution.
You know the kind of roads we're talking about. The ones you get lost and found on. The kind where you don't know quite what kind of bike works best and forces a rethink of your whole darn setup.
Well don't stress—Quincy's on the mixing board and has got the balance just right. The full carbon frame and fork gives where you need it and takes a beating where you need it more. From tarmac to way-off-the-map, this is a robust bike that's comfortable on or off-road all day long.
There's plenty of opportunity to dial in your own personal EQ too. Quincy rocks big 700c or smaller 650b wheels, offering clearance to roll on wide tires on both. Pleasingly simple single-ring drivetrains come standard, but the chassis can be set up with even wider range if desired. Mounts for fenders and three water-bottle cages complete the versatility package.
Like all Julianas, this bike fits a broad range of rider heights and has a geometry that is designed for having fun. Thankfully, cleverly routed hydraulic disc brakes ensure you're in safe hands throughout the process.
And like all Juliana bicycles, the Quincy is spec'd with kits we feel are best suited to potential owners. This includes the Ergon SR10 women's saddle and bar widths matched to frame size for that multi-platinum feel of a tailored cockpit—where comfort's Number 1, and control's so polished it's off the charts.
Key Features
700c x 45mm / 650b x 2.1″ tyre clearance
49cm frame fits riders ~5'0" to ~5'2"
Bar widths sized appropriately – 38cm on size 49 and 40cm on 52 and 54
Ergon SR10 women's saddle
27.2 seat post with stealth routing
68mm threaded BB
Three bottle cage mounts and fender mounts
Clamp-on FD mount
Santa Cruz Reserve carbon wheel upgrade option
Made for: Gravel, road, and cyclocross
At home on: gravel, alllllllll day long
Sizes: 49, 52, 54
Build Kits & UK RRP:
Rival – £3,599
Ultegra – £4,599
Force AXS – £5,599
Force AXS Reserve – £6,799
Featured in this Post
United States
10,771
467,814
166,909
Comments