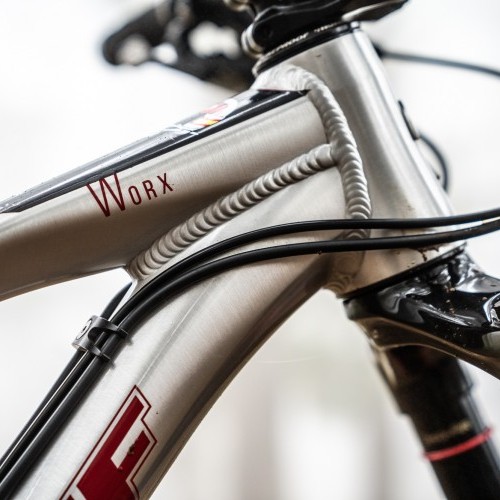 Nukeproof Mega 290 WORX
Tue 14th May, 2019 @ 12:30 am
Win a Peaty's Complete Bicycle Cleaning Kit this issue in our FREE subscriber prize draw.
We all love to see one of our favourite bikes getting the special treatment with a limited run and some custom kit! Since 1999 the infamous Megavalanche race, which starts from the highest point on pic blanc (3300m) above the village of Alpe d'huez has been synonymous with all mountain riding and the highest level of true mountain bike racing.
Conceived originally in 2009 by the development team at Nukeproof in an attempt to build the perfect bike for this exact style of racing, the Mega was born. Now in its 4th evolution, the Mega is podium proven. It has tasted success with numerous national and international race wins to its name.
Designed to excel on the toughest Enduro tracks; the gravity focused specification is designed to descend fast but maintain the pedalling efficiency for all-day epics.
Chassis stiffness
For 2019 nukeproof has focussed on the smallest details in order to improve an already podium proven chassis. Making the decision to commit to a dedicated 1x drivetrain configuration across all models, this enabled its engineers to utilise the space required for a front derailleur to increase the main pivot bearing placement ensuring that maximum stiffness is achieved. This additional stiffness prevents torsional flex under pedalling and helps the chassis track through high speed, rough terrain without compromise.
With stiffness in mind, nukeproof took the time to incorporate the very latest boost 148 rear axle spacing allowing it to spec much stiffer and stronger wheels both front and rear. All 2019 nukeproof Mega models will come with new wider spaced boost wheels and forks enabling the rider to feel even more con- fident on the increased capability of the bike.
Updated race geometry
With the demands of enduro world series racers progressing at a rapid rate, nukeproof looked again at its geometry and saw an opportunity to tailor the frames to suit not only the fastest racers, but the growing tribe of riders that utilise its bikes every weekend whether that be shuttling runs at their fa- vourite bike park, or heading off for an all-day epic in the local hills.
Slightly taller head tube lengths help tailor the cockpit feel to increase rider confidence, and a lengthened top tube on large and extra-large frames should help even the tallest of riders feel at home on the new Mega 290 Pro.
Metric shock sizing
The product development team work extremely closely with nukeproof's suspension partners and spent endless hours working on the perfect shock configura- tion for the new Mega. The perfect partnership between rear shock technology and frame kinematics has always been in the very root of its thought process when developing bikes and the new Mega with its brand new 'metric' shock standard is no different. Designed to work perfectly with both air and coil sprung rear shocks, nukeproof has addressed some of the areas that it felt could be improved on over the previous design such as hardware improvements and higher spec shocks across the board.
The new Mega 290 worx utilises the brand new rockshox super deluxe rear shock and hardware now comprises of a wider spaced 25mmx8mm front mount, with a rocker link mounted bearing system to improve shock sensitivity and reduce the amount of wear through heavy usage. This combination adds even more stiff- ness to the chassis through these more secure fixtures and the 'metric' rear shock system with increased bushing overlap.
Specification
Frame: Nukeproof Mega 290, Triple butted hydroformed Aluminium, brushed finish
Fork: Rockshox Lyrik Ultimate Charger 2 RC 170mm, 51mm offset, debonair, Boxxer red
Shock: Rockshox Super Deluxe Ultimate RCT coil, ml1 custom tune, 210x55mm (medium=400lbs spring/large=450lbs spring/xl=500lbs spring red coil spring)
Front wheel: DT Swiss EX 1501 spline one, 29", 15x110mm
Rear wheel: DT Swiss EX 1501 spline one, 29", xd, 148x12mm
Tyres: Michelin Wild Enduro 29" x 2.4, gum -x ts tlr
Crankset: Sram Descendant carbon eagle 12-speed, 170mm, 30t, b148, dub
Shifter: Sram xo1 eagle 12-speed red
Rear deraileur: Sram xo1 eagle 12-speed red
Chain: Sram GX eagle 12-speed
Cassette: Sram CS XG 1295 eagle 12-speed, 10-50t
Chain guide: MRP AMG v2, 26-32t, iscg-05, black
Brakes: Sram Code R with sintered pads
Front rotor: Sram centreline, 200mm
Rear rotor: Sram centreline, 180mm
Handlebars: Nukeproof Horizon carbon 800mm, 25mm
Stem: Nukeproof Horizon 50mm, Black
SRP: £4499
Available to order through select Nukeproof dealers now, in store Early June 2019
Featured in this Post
Comments