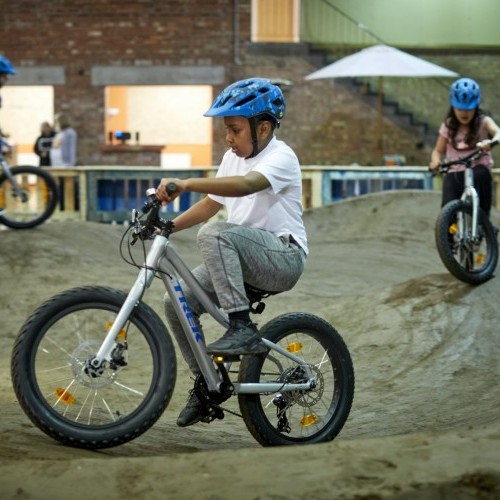 Trek Supports New Dirt Factory Indoor Bike Park
Sat 11th May, 2019 @ 3:30 pm
Bike riders from across Greater Manchester and beyond are set to benefit from a new partnership that will see the latest Trek mountain bikes available for hire and demo at the new Dirt Factory indoor bike park.
Trek Manchester Piccadilly store is partnering with Dirt Factory to support their Pop-Up indoor bike park at Mayfield, starting with a demo day on Saturday 18 May. The event is a chance for riders to test out the latest range of Trek mountain bikes and e-bikes including the Trek Remedy, Slash and Powerfly.
Liam Wild, Store Manager Trek Manchester Piccadilly, said: "We're really pleased to be supporting the Dirt Factory launch and their continuing success. It's been great to see the facility come to life literally from the ground up. For us it's all about sharing the joy of riding a bike and having fun, the Dirt Factory will certainly be a place we can all enjoy, whatever our age or riding ability.
The new Dirt Factory Pop-Up houses a range of exciting bike trails and features, designed for riders of all ages and abilities.Located close to Piccadilly Station, the 25,000sqft indoor bike park enables individuals, friends and groups to ride together, have fun and take their bike skills to the next level.
Trek Manchester Piccadilly store has supplied a fleet of Trek Roscoes mountain bikes that will be available for hire at Dirt Factory. Trek has also donated 36 Bontrager bike helmets to support school and community bike sessions at the Dirt Factory indoor bike park.
Dan Makin, Founder and CEO of Dirt Factory, said:
"We're delighted to be partnering with Trek to give those who ride at Dirt Factory a chance to ride some amazing bikes. Our junior fleet of Roscoe hire bikes will help to inspire the next generation of riders and we've already put them to good use with school and community ride sessions."
Trek are a global manufacturer of bikes, clothing, parts and accessories. For details about the Trek demo day at Dirt Factory on 18 May visit: https://www.facebook.com/TrekManchester/
For more information about the Dirt Factory Pop-Up and to book a session visit: http://dirtfactory.org/
Featured in this Post
Comments