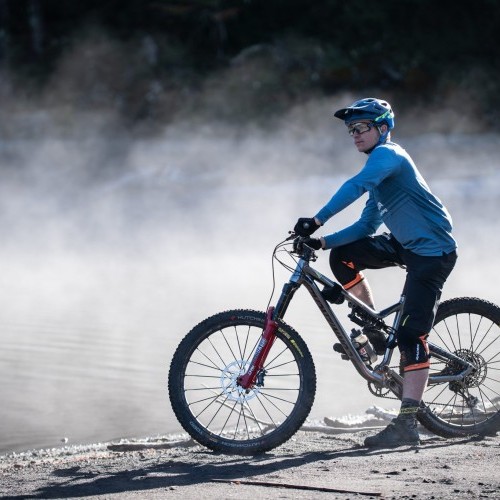 An Amazing Life Lesson in Chile | Mission EP.5 | Kilian Bron
Wed 26th Jun, 2019 @ 9:30 am
Win a Peaty's Complete Bicycle Cleaning Kit this issue in our FREE subscriber prize draw.
After having ridden across the highest dune in the world, a volcano more than 6,000m tall in Peru, the Namibian deserts in Africa and the heart of the Dolomites in Italy, it was time to add something extra to these adventures for Kilian Bron!
Until now, we had concentrated on the diversity of the places, the ways in which we filmed or – for the purists – the ways in which we rode. But there was no reciprocity. We are lucky enough to travel to the four corners of the Earth and it is often difficult to explain, in retrospect, the many life-changing moments and experiences that each destination offers.
It's not just about cycling in unusual places. Through of these latest videos and photos, we can only convey the tiniest percentage of what we have experienced in real life. My eyes have been opened to this by talking about my travels with my family and close friends. I've reached a simple conclusion: it is impossible to truly experience a journey unless you make it in real life. And it's sometimes frustrating to have to keep your memories to yourself, incapable of expressing them.
At the start of 2019, we decided to launch MISSION ŠKODA. It took place over several stages, the first of which was to invite people to apply. The idea? To try to win a trip in Chile with me for the 5th episode of my MISSION web series.
Still in rehabilitation since his accident, Yannis grew up faster than all his other friends. With unusual determination, he progressively regained feeling and stood upright once again after several months.
Personally, and I speak for many other riders, this is something we dread. I've always feared that type of accident, where everything can change in a fraction of a second. However, you can't let yourself get side-tracked by that, by thinking about it too much, but you have to be aware that these accidents happen.
I have to congratulate Yannis for his bravery and mental strength. I was interested in really getting to know him in Chile and I was also under pressure, since I did not understand his capabilities and limits beforehand. But he impressed me and it was often he who taught me the lessons. Thank you, Yannis.
Featured in this Post
100,383
33,724
United States
95,210
Comments