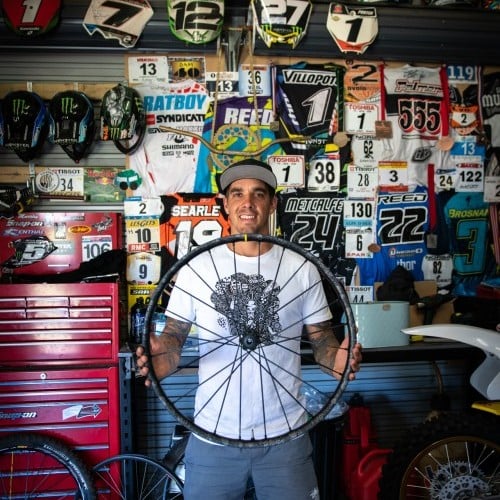 Mavic: Behind Dusted – Sam Hill vs Kilian Bron
Sat 22nd Jun, 2019 @ 3:30 am
Sharing a ride with Sam is always an amazing experience. Kilian Bron had the opportunity to join him at his home for a few weeks, not so far from Perth, WA. In Dusted, they just enjoyed a day sharing some laps on a dusty flow trail around the Murray Valley. Here's Kilian with the tale…
What a feeling to follow him drifting on every corners with incredible ease, as usual… It's disconcerting to see him flying down the trail but that was also a real pleasure to try to catch him up! That's simply the best way to learn to ride!
Sam is a true passionnate. Not only for races, he just likes to ride mountain bikes, and share good times with his friends and family. A humble and discreet legend, already prep'd for the first rounds of the 2019 Enduro World Series.
On my side, I used to spend most of my time in the mountains, discovering new trails all around the world. Even if I'm mostly focused on my original trips and media projects, racing and spending time with the all Intense Mavic Collective team is a good way to challenge myself and see all my friends reunited in the same event.
"It's cool to be able to ride with the people who work at Mavic and enjoy sort of the same passion each other, bounce ideas off each other about product and new products, and what we like and don't like. Just see their excitement to get out on a bike!

"Riding with Kilian and being able to show him some of my local and home trails was an awesome experience and he had no trouble keeping up in the dusty conditions, so yeah it was pretty cool! "

– Sam Hill
In theory, we have two opposite profiles with Sam! But we share the exact same passion for mountain biking. That was the key of success for this little video project and I really appreciate his spirit.
That's actually a short action video before releasing a full inside story about the real Sam Hill. Because there is a real human hidden behind the incredible athlete he is!
Sam showed me his own local trails and in return, he followed me on some skecthy lines. The dam is a good example.
After a litlle warm up on the Dwelling up trails – the same you see in the video – we went to the Mundaring trails for more action. A sunset photo shooting, shared with friends and other good guys.
Thanks Sam for the good times! Thanks Mavic for making it possible!
Credits
Photos & video: @PierreHenni
Article: @KilianBron
Featured in this Post
100,383
Australia
431,585
France
283,489
Comments