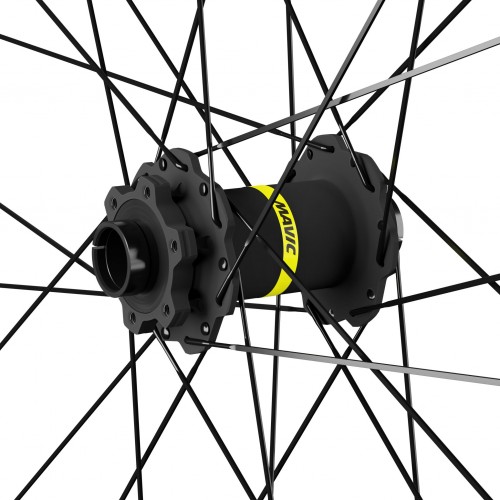 Mavic Release New 2020 Deemax DH Wheels
Wed 17th Jul, 2019 @ 9:30 am
After months of testing at the highest level in both the DH World Cup and the Enduro World Series, Mavic have released their latest update to the classic burly Deemax wheels – enter the new 2020 Mavic Deemax DH wheels!
First things first, Mavic are claiming that the new Deemax rims are much stronger than previous incarnations, in fact the quote from Mavic below shows just how much punishment these wheels get during the course of a World Cup weekend:
"A good DH rim must last at least 6 runs" – Mark Wallace's mechanics (Canyon Factory Team)
With this in mind, Mavic have completely redesigned the Deemax rim. As you can see from the side by side cutaway below, the new rim is more angular in design which helps the rim deal with sharper, heavier impacts better than before. Interesting to note that Mavic have moved back to hooks on the rim to help better seat the tyre, with Mavic claiming this also helps reduce punctures and improves tyre protection
Moving from the rim, both the hubs and the spokes of the new Deemax wheels have been overhauled. For those people out there who've been in that unfortunate position of needing proprietary spokes when out on a riding holiday (and then not being able to find any) you can now rejoice – gone is the straight-pull hub and spokes, J-bend spokes are back!
Not only that, with most DH riders moving towards 7 speed cassettes Mavic took this opportunity to widen the hub flange creating a stiffer wheel
Other updates to the rear hub include the new ID360 ratchet system featuring 9 degree points of engagement (giving a total of 40 points) coupled to new, lower-friction bearings giving riders a much smoother wheel than before.
Key points to note are:
Wheelset weight from 1990g for the pair
28mm internal rim width
UST Tubeless rims
28 spokes front and rear
Full compatibility with 20x110mm, Boost 20/15x110mm, 12×142, 12×148, Superboost12x157,157-7speed, HG / XD / MicroSpline (phew!)
And finally, (and most importantly for some people) these wheels feature Mavic's crash replacement policy:
If you crash and damage your wheel inside the warranty period, Mavic will help you out with a special deal of 40% off a replacement set.
If the wheel needing repair is outside the warranty period, Mavic will update your wheels at a 30% discount.
So overall that's a pretty comprehensive update to an iconic wheelset and will no doubt see them under many riders over the coming season
Featured in this Post
Comments