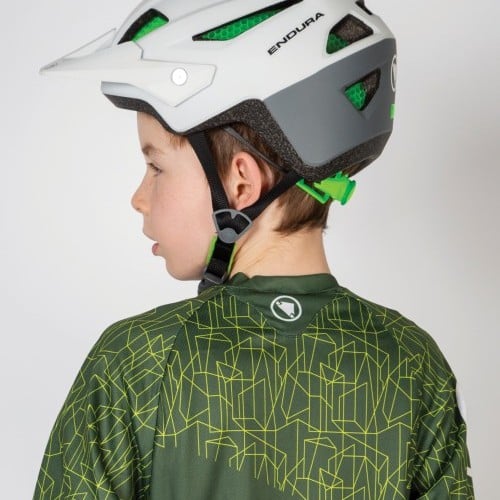 Endura MT500JR Youth Helmet
Fri 2nd Aug, 2019 @ 9:30 am
Danny MacAskill rocks the Endura MT500 Helmet… Now your Little Nippers can too!
Endura present some amazing riding snippets of their clan of Little Nippers nailing jumps and showing off their skillz, kitted out in the latest helmet release for younger MTB riders, the Endura MT500 JR Youth Helmet.  Active in all types of off-road adventures, the Little Nippers form part of Endura's Ground Division grassroots programme that sees riders near you decked out in the finest apparel and accessories. With over 1000 entries answering Endura's call at the start of this year, it was no easy task to select the 9 members of the final crew. Look out for more from the Scottish company's newest recruits as they slay trails and pull skids worldwide.
To ensure that taking risks has never been safer for our young talent, Endura introduces the MT500JR Youth Helmet – the junior version of the award winning adult MTB lid, worn by YouTube sensation Danny MacAskill. This high performance mountain bike helmet exceeds current safety standards, without any weight penalty thanks to the full Koroyd® core which provides advanced, ultralight, breathable protection. The nature of the Koroyd® structure consisting of welded tubes results in increased airflow, further aided by the helmet's construction with large vents including a top "air intake" zone. The one-hand micro-adjustment fit system is super easy to operate and guarantees a secure fit without any wobbling, while the lush, fast-wicking, antibacterial padding adds comfort. A spare set of padding is included. Most importantly, this helmet comes with a colourful sticker set for unique customisation. Stickers everywhere…
Endura's Little Nippers are wearing the MT500JR Youth Helmet while shredding the trails, performing eye-watering jumps, and perfecting their trial skills.
Like all MT500 products, the MT500JR Youth Helmet is backed by Endura's 90 Day Satisfaction Guarantee. The lid is also covered by Endura's Crash Replacement Policy and Endura Product Guarantee. It is certified to CE standard EN1078:2012 + A1:2012
Find the full range of Endura kids clothing, suitable from age 7 upwards, at endurasport.com.
Fri 2nd Aug, 2019 @ 9:30 am
Featured in this Post
1,478,016
77,505
Monaco
2,111
Comments