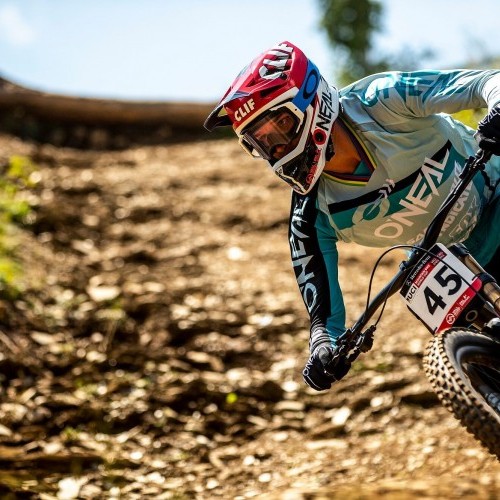 Greg Minnaar To Tour UK with "Size Matters" Stage Talk
Fri 16th Aug, 2019 @ 12:30 am
3x UCi Downhill World Champion, 3x UCi Downhill World Cup Champion, with 21 World Cup race wins and multiple podium positions, Greg Minnaar is unarguably one of the greatest mountain bikers in the history of the sport.
This autumn, presented by Speakers from the Edge, in association with Crank Brothers and Maxxis and supported by Chris King Precision Components, Leighton Vans, Oakley and O'Neal, Greg will tour theatres across the country to deliver a fascinating talk, Size Matters, where he will take audiences on the journey of his incredible, enduring racing career and the story of his life, covering everything from the early days of riding enthusiasm to his rise to the very top, the bikes that helped get him there and the teams behind the legendary rider.
In Size Matters, Greg will also focus on the goings-on behind-the-scenes and efforts in piecing the puzzles – including frames, wheels, suspension set-up – that can be solved to increase the likelihood of reaching the podium, providing a rare opportunity for UK audiences to hear from, and meet, the greatest downhill racer of all time.
Size Matters is touring 18 UK theatres in October 2019, from Inverness to Exeter – one venue, Shrewsbury, is already sold out! For further details on tickets, dates and venues, visit http://www.speakersfromtheedge.com/tours
All images: Sven Martin
Featured in this Post
Comments