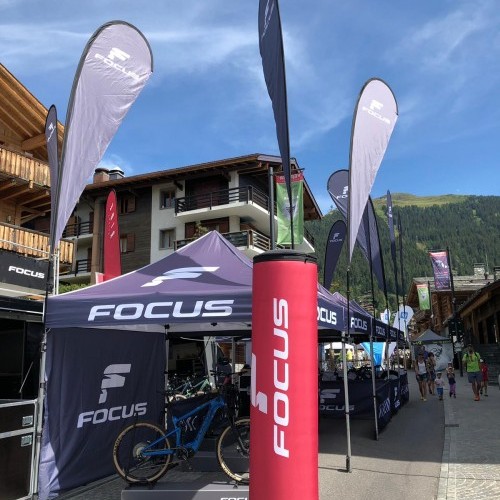 Verbier E-Bike Festival | Day 1
Fri 16th Aug, 2019 @ 9:30 pm
The Verbier E-Bike Festival, featuring many of the leading ebike brands from across the world were all here in attendance and eager to show off their bikes and have us put them through their paces on an array of different courses. The courses ranged from beginner which were mostly on roads, right through to the more advanced routes featuring some very technical uphill challenges and very fun techy descents back down the mountain.
In the morning we registered and made our way down in to the village to chose from a huge selection of bikes and gear to test. Once we had checked out the different bike brands and decided on the first one to test we went off following the very well organised signs and the huge variety of trails on offer here. Firstly climbing up the roads and then descents back down on blue, red or black routes. The black routes take you right up the mountain on trails that just would not be possible on a standard bike and even had me out of breath on an ebike! Then descent down through some fairly technical descent with epic views! Once you have gotten to the bottom, it's very simple to go grab a different bike and off again to test it and try a different route.
After lunch it was time to see the end of the E- tour du mont blanc, which had been a gruelling race with plenty of mechanicals which had meant the finish time was later than expected. In the end the final winners were Florian Golay (CH), Verbier local and VTTAE LAPIERRE team member who won the race alongside his teammate Olivier Grossrieder (CH) with a time of 13 hours, 19 minutes and 24 seconds. This race had not been as easy as people think with it being an ebike race. Far from it! The figures speak for themselves with 300km (260km of single track) long, 3 countries crossed, 12 000m of climbing, and 16 000m descent. With plenty of mechanicals to throw in the mix, this had been a truly epic race and one that us mortals would not have finished.
Once we had finished seeing the end of the race we had a quick meeting with the Bosch guys to show us their new Performance line CX motor, which is an impressive 48% smaller than the previous model and uses the new E-mtb mode which can change between tour and turbo mode depending on the pressure you put in. This made the uphill battles a breeze and the Bosch guys had us riding up some seriously steep tracks to really show what the motor could do.
After a huge day's riding it was back to the village for food and drink. The festival guys have been very accommodating and have organised a bbq for everybody this evening. Then it's time for an early night before we do it all again tomorrow!
Featured in this Post
Switzerland
51,068
Switzerland
6,881
Comments