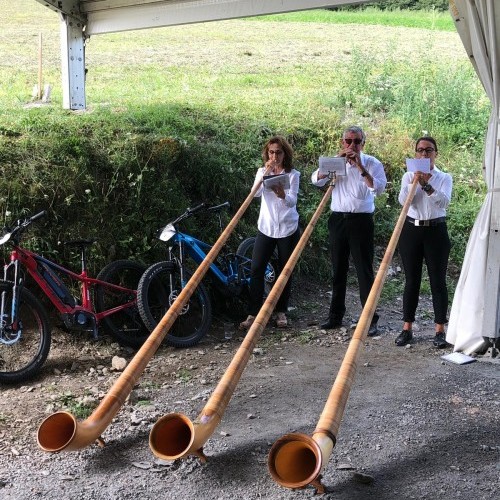 Verbier E-Bike Festival | Day 2
Sun 18th Aug, 2019 @ 9:30 am
Our second day here at Verbier e-bike festival was a more relaxed one as we soaked up the local gastronomy and culture on the rando gourmande. This is a bike trail that takes on 5 stops and is suitable for all levels of cyclists and of course is done on an ebike of your choice from the rental station at the start of this guided tour. The trails are a mix of road and gravel paths, but do feature some fairly technical red sections for the more confident riders out there, if they wish to try it. But you can stay on the normal trail if you wish.
The first stop on our route was the Four Benal de Versegeres for our breakfast. Here they served us traditional oven baked bread with a selection of jam, honey and locally made juice. Despite already having breakfast in our hotel, we happily ate our way through this beautifully made food before getting back on the bikes to head over to the next stop.
We climbed up to the Chez Eddy a Bruson restaurant only to be greeted by the sounds of music from a local band playing the traditional alpine horn! Once inside the marquee we were offered a plate and watched as the chef carved some cheese from the raclette on to our plate. Safe to say I was drooling at this point and it did not take me long to eat this stunning cheese, vegetables and of course some wine to wash it down with!
There was a lot of climbing to be done after this, but the Trek Powerfly 7 and Haibike Xduro 7.5 made short work of this and we were soon up the top of the next mountain and in the queue for some pork, vegetables and yes, more wine at Couvert de Charancon which was in the heart of the Jorasse forest and was a truly stunning area with epic views.
The next two stops were for dessert and beer with a lot more climbing through beautiful scenery and a few nice red routed trails to make the transitions a bit more interesting. For dessert we had some pastries before heading off to the Brasserie de Volleges to sample some locally brewed beer. I had worked up a real thirst at this point so the beer did not take long to down.
Once back at the Verbier E-bike festival it was time for some more e-bike testing before they closed for the day. We had another 3 hours testing some of the bikes we had not had chance to test yesterday and followed some more of the black graded trails up in to the Verbier mountains, before heading back down in to the village.
The party atmosphere is still in full swing here with the bike brands, participants and locals all drinking, eating and having a great time together. This has been a great event and well worth visiting next year for anyone considering it. There are many more activities to take part in here either during the event or afterwards and of course the bikepark is here also, so well worth the trip here!
Featured in this Post
Switzerland
51,068
Switzerland
6,881
Comments