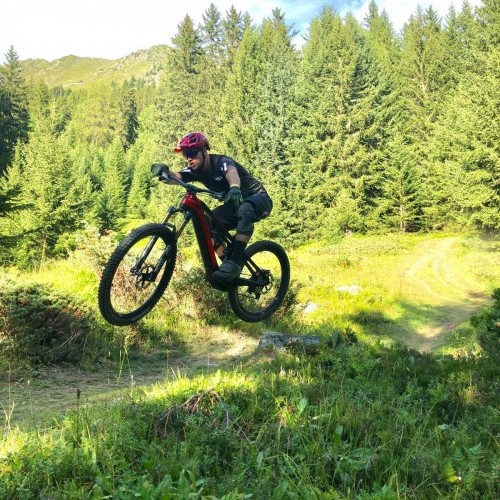 Verbier E-Bike Festival | Day 3
Sun 18th Aug, 2019 @ 9:30 pm
Mitch, our man on the ground in Verbier for this years Verbier E-Bike Festival has been out and about again today for the final day of the event. Here's what went down…
Today was the last day of the e-bike festival, but the atmosphere was still in full flow with plenty of new people showing up and wanting to test e-bikes. We managed to test a few more and try some of the endless amount of trails here on offer at Verbier. It is so well organised and signposted that even climbing up to the highest peak, you still don't get lost or lose your bearings, as you will always find some signs explaining where to go. The views at the top are truly stunning also, as you look out over Verbier and the surrounding areas before descending back down. It really is impressive that this is the first year they have run this event, as you would think they had been doing it for much longer with how well organised it is.
In the afternoon it was time to pick up my downhill bike as I had the pleasure of riding with world cup rider Jerome Caroli, who showed me around the bike park and everything it had to offer. I was truly in awe of this guy and how fast he was on his local trails. He explained that these trails are so well looked after and maintained and it really does show as despite a festival being on and them having a busy summer, the trails were still in great condition and so much fun to ride! The weather was also perfect with the sun blazing and the trails completely dry, in some cases too dry as we blew berms up with huge clouds of dust!
For lunch we stopped at the Criox-de-coeur restaurant which is also know as the 'Altitude restaurant' and has incredible views of Mont Blanc and Grand Combin to name but a few. This was well worth the trek on the dh bike as the food was great along with the stunning views.
Once lunch was finished, we headed down the back of the valley and headed down the flow line which was lots of fun and took us back down towards Verbier where we linked back on to the main trails and had some more fun riding the bike park. We came across lots of riders on e-bikes, who where trekking up high on the black trails and still enjoying the e-bike festival. It was incredible how in tune the bike park and festival was with everyone riding around in perfect harmony with no signs of frustration or anger. It really is a great environment and the best I've witnessed.
Once we had finished on the bike park, it was time to head back to town for a beer and soak up the end of the festival. Brands where still working hard, talking to participants and having fun before they had to pack up and head home after a very busy few days. So much hard work has gone into this event and I cannot stress just how much fun I have had here and how many new friends I have made!
Featured in this Post
Switzerland
51,068
Switzerland
6,881
Comments