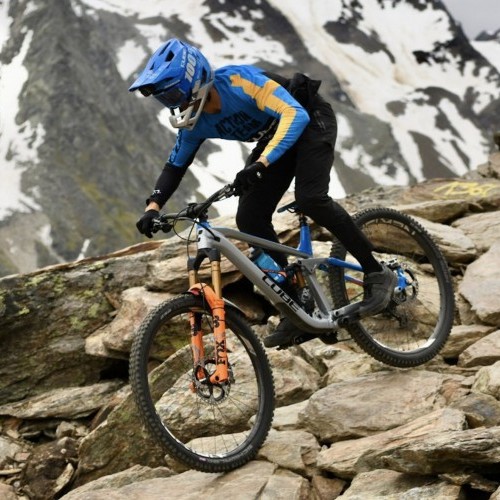 Cube Product Launch 2021 (E-)MTB
Thu 27th Aug, 2020 @ 9:30 am
2021, an exciting mountain bike year for CUBE. They have cleaned up the hardtail series and are introducing some captivating colours for their successful full suspensions series. And we can see even more developments on the E-mountain bike side.
The real eyecatcher of the CUBE 2021 E-mountain bike collection is the Stereo Hybrid 160 SLT. This is an endurance full-suspension E-mountain bike made entirely out of carbon (yes, that includes the rear end). This is the high-end model of the CUBE Hybrid mountain bike series. The carbon frame isn't the only new thing; the stem and spacers have also been redesigned by the German brand.
We can see even more developments across the entire CUBE E-mountain bike range. The bikes have a cleaner look and feel because all batteries are now positioned inside the frames (also known as the intube frames). Bike commuters can now turn their E-mountain bikes into fully equipped models by easily mounting mudguards, lighting and luggage carriers. The CUBE E-mountain bikes have become even more family-friendly, and can now safely be ridden with a trailer attached (except the carbon models). The Hybrid full-suspension Stereo models have a higher system weight, which is, of course, ideal for the heavier riders among us.
There are even more exciting developments in the CUBE Hybrid full-suspension Stereo series. Riders who are interested in the Stereo Hybrid 140 or 160 models can now choose between two different Bosch displays (Kiox and Nyon). The more performance-oriented models of the Stereo Hybrid 140 and 160 have thinner tires that provide better feedback for the rider.
CUBE has cleaned up its E-hardtail segment, which results in a comprehensive model selection for the Reaction Hybrid series. These models have also been upgraded with a new intube frame, stem and spacers.
Although E-mountain bikes are becoming increasingly popular, CUBE also continues to excel in the non-electric mountain bike department. They have also cleaned up their Reaction hardtail series, which means that there are now two Reaction aluminium models, the Pro and TM. They also introduce a new Aim model, the EX. This model will be available in two beautiful colours.
The CUBE 2021 full suspension segment continues to be a successful formula. This year we see models with captivating colours and slightly futuristic details. Examples of this are the AMS 100 C: 68 SLT 29 with a prizm black detail, the desert'n'grey Stereo 170 Race 29, and the new ActionTeam version of the Stereo 150.
E-Full Suspension – CUBE Stereo Hybrid 160 SLT
Our highly regarded Stereo Hybrid 160 carbon frame just got even better. Crafted from our premium C:62 carbon material and featuring a full carbon rear end that's 25% lighter than before, the new Stereo Hybrid 160 C:62 SLT has all the performance advantages of our 160mm hybrid enduro model in a more agile package. We even integrated the speed sensor into the rear dropout, for cleaner looks and to help keep it out of harm's way.
The Stereo Hybrid 160 HPC SLT combines everything we know about hybrid enduro bikes in the ultimate performance machine. Sram's wireless AXS technology delivers precise, rapid shifts across the entire range of the wide-ratio 12-speed cassette – and wireless control of the Reverb AXS dropper post, too. Bosch's fourth-generation CX drive unit now serves up 85Nm of torque via a powerful 625Wh battery and sophisticated bar-mount controller. Newmen Advanced carbon wheels shod with Schwalbe Magic Mary and Big Betty SuperTrail 2.4in tyres are brought to a halt by Magura's four-piston, two-piece disc MT7 hydraulic brakes. And a Fox 38 Float Factory fork and Float DPX2 Factory shock tame any trail.
For more information on the E-Full Suspension – CUBE Stereo Hybrid 160 SLT, please click here.
E-Hardtail – Reaction Hybrid PRO 625 29
You'll barely notice the Reaction Hybrid's high-capacity Bosch Powertube battery and sophisticated, fourth-generation CX motor, so sleek is its frame design. But you'll notice the power. Our Agile Ride Geometry and 1.5in head tube deliver impeccable handling, wherever you ride. Internally routed cables reduce maintenance and keep gear shifts clean and precise. A trapeze option means there's a Reaction Hybrid to suit everyone, and the Allroad version adds a full complement of practical accessories so your weekend bike can be your everyday bike, too. There's even routing for a stealth dropper post upgrade, so your Reaction Hybrid can stay with you as your riding skills develop.
Want to get more out of the trails that you ride? The Reaction Hybrid Pro's fourth-generation Bosch CX drive unit, Purion controller and high-capacity Powertube battery will surpass your expectations. Combined with Sram's legendary Eagle 1×12 transmission – including a wide-ranging 11-50 cassette – it's your ticket to exploring further, higher and more often than before. Powerful Shimano hydraulic disc brakes and grippy Schwalbe tyres put you firmly in control, and a Suntour fork with 100mm travel and lockout takes the sting out of the trail. What's stopping you?
For more information on the E-Hardtail – Cube Reaction Hybrid PRO 625 29, please click here.
Hardtail – AIM EX
You want a bike that responds quickly, safely and intuitively. That's why the Aim's top and down tubes have complex profiles – to ensure that it steers accurately and accelerates effortlessly. Built with 6061 aluminium using our Advanced Mechanical Forming process, it's your guarantee of a lightweight, comfortable and durable frame. Internally routed cables keep your gears running smoothly with reduced maintenance, and Agile Ride Geometry delivers assured, nimble handling to put a smile on your face, every time. There's even rack and guard mounts, too, for added versatility.
Taking its inspiration from racing, the Aim EX's pared-down looks hide a versatile, modern and easy-to-live-with mountain bike. Its 2×9 transmission offers a wide gear range and incredibly smooth-shifting, while Shimano hydraulic disc brakes and grippy, comfortable Schwalbe tyres ensure you're always in full control. The Suntour suspension fork serves up 100mm of bump-smoothing travel, and there's a remote lockout for climbs and smoother roads.
For more information on the Cube AIM EX, please click here.
Hardtail – Aluminium Reaction Models
With the Reaction Pro, we wanted the perfect blend of function, reliability and performance. So we started with Shimano's SLX and XT components for the 1×12 transmission because they offer a huge range and an unparalleled reputation for precision. We added Shimano XT hydraulic disc brakes for superb all-weather stopping performance, whether you're out in the hills or battling across town. And finished with the RockShox Judy Silver air fork, which combines easy adjustability with trail-smoothing alacrity.
With its 29er wheels and an X-Fusion RC32 fork boasting 130mm of smooth, easily adjustable travel, you can tell right away that the Reaction TM is a bike that's up for a challenge. The Newmen cockpit with 760mm handlebar gives you the control you need to take on the toughest trails, while powerful Magura MT Thirty hydraulic disc brakes ensure you're always on top of your speed. Sram's simple, reliable and wide-ranging 1×12 transmission puts the right gear for any situation within easy reach, and we even fitted a dropper post, so you're ready for those pulse-quickening line choices.
For more information on the Hardtail – Aluminium Reaction Models, please click here.
Full Suspension –Â AMS 100 C:68 SLT 29
We cut no corners in pursuit of our quest to build the lightest, stiffest and fastest full suspension frame possible. Our premium C:68 carbon – combined with our Advanced Twin Mold technology – gives the perfect blend of strength, stiffness and weight. The Boost 148 rear end and tapered head tube make the most of the frame's inherent efficiency. And details like internal cable routing and hidden bolts and pivots are the icing on a, particularly elegant cake. It looks fast because it is.
There's nowhere left to hide. Our AMS 100 C:68 SLT 29 represents the best of everything, all in the pursuit of helping you to ride faster. Sram's XX1 Eagle AXS takes 12-speed shifting precision to a new, wireless level of accuracy. Sram Level Ultimate Rainbow hydraulic disc brakes combine with the light, strong Newmen Advanced wheelset and tenaciously grippy Schwalbe tyres to deliver peerless stopping control. And Fox's remote lever, Kashima-equipped Fox 32 Float Factory fork and Float DPS Factory EVOL shock deliver sublime comfort and control, whatever the racecourse or trail throws your way.
For more information on the AMS 100 C:68 SLT 29, please click here.
Full Suspension –Â STEREO 170 RACE 29
Big wheels, big travel: it's a design conundrum that's defeated many. But not us. The Stereo 170 29's frame is based on our proven four-bar suspension design and Agile Trail Geometry, for superb suspension performance and dependable handling. The short linkage and covered bearings contribute to its precision and low-maintenance requirements. And hydroformed tubes and internally routed cables mean that it looks as good as it rides. It'll redefine your expectations of what a big-travel, big-wheeled bike can do.
People who tell you that you can't have it all? They're wrong. The Stereo 170 Race 29's precise handling and boulder-swallowing suspension performance starts with Fox's stiff, accurate 38 Performance fork and Float X2 Performance shock. Mountain-taming ability is handled by Sram's new Eagle GX 1×12 gears with 52-tooth sprocket, combined with Magura's powerful MT5 hydraulic disc brakes. A Newmen Evolution 29er wheelset is wrapped with grippy Maxxis Assegai and Minion DHR II tyres. And there's a dropper post too, for ultimate control.
For more information on the STEREO 170 RACE 29, please click here.
Full Suspension – STEREO 150 C:62 SL 29 ActionTeam Edition
Team riders need a bike they can rely on. That's why, with the Stereo 150 C:62 SL, we started with Fox's superb 36 Factory GRIP2 fork and Float DPX2 Factory shock with Kashima coating. Newmen's new Evolution wheelset features a three-pawl freehub design for better power delivery. Super-reliable and accurate 1×12 Shimano XT gears work with grippy Schwalbe Magic Mary and Big Betty 2.4in tyres to keep you rolling. And the powerful Shimano XT hydraulic disc brakes with oversize front rotor are there to help keep you riding flat out, safely. Throw in a CUBE dropper post, and our work here is done. Yours has just begun…
Form or function? With the Stereo 150 C:62, you can have both. The clean lines, neat rocker cover and trunnion-mount shock are designed to combine efficiency, stability and intuitive handling. Our C:62 carbon is light, tough and builds into a stiff, efficient frame. Boost 148 rear axle spacing works with the tapered head tube and oversized down tube to deliver superb steering precision and pedal input. We fitted ISCG05 tabs for a chain guide, while short chainstays ensure agile handling and efficient climbing.
For more information on the STEREO 150 C:62 SL 29 ActionTeam Edition, please click here.
Want to know more about CUBE (E-)mountain bikes? Click here.
Featured in this Post
Comments