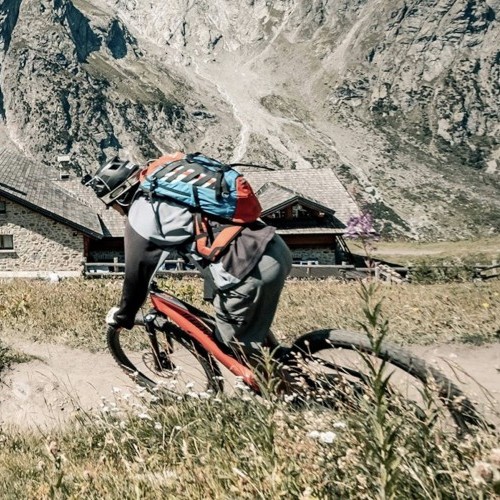 E-Bike World Tour Launch Announced For 2021
Tue 18th Aug, 2020 @ 9:30 am
E-bikes have become a popular solution for developing summer tourism in the mountains. It's a fantastic opportunity for resorts aiming to promote year-round tourism. Organised in Verbier since 2019, the second edition of the Verbier E-Bike Festival opened its doors to the public yesterday in the resort located in the Valais canton and has already proven the potential of this new sporting discipline. Numerous resorts have expressed their wish to organise similar events. This interest has made the E-Bike World Tour possible: a series of international festivals to promote and grow e-biking as a sport with three destinations planned for 2021 and five in 2022. The resort of Flachau, in Salzburgerland, Austria, will inaugurate the series at the end of June 2021. One month later, fans of the sport will gather in Tignes-Val d'Isère, France, with a third date in Verbier in mid-August.
"With the Verbier E-Bike Festival, the Val de Bagnes is positioned to become capital of e-biking and we are extremely happy that like we do, our friends from Flachau and Tignes-Val d'Isère believe in the future success of e-biking on an international scale. The Commune de Bagnes is very enthusiastic about launching a grand international E-Bike event!" Eloi Rossier, President of the Commune de Bagnes

"Cycling and events have always been an important part of tourism in Flachau. As the mayor, I am therefore particularly delighted that a stop of the big E-Bike World Tour is planned in Flachau. We will support this great opportunity for our summer tourism in every way and I am already looking forward to welcoming numerous amateur and professional athletes in Flachau."  Thomas Oberreiter, Mayor of Flachau

"The Tignes area is very pleased to be preparing to host, in partnership with Val d'Isère, the 2021 E-Bike World Tour; an event that is looking towards the future, that is ambitious, innovative and reconciles sporting and family activities with respect for the environment" Serge Revial, Mayor of Tignes

"Above and beyond winter sports, especially taking into account the changing climate, we believe that e-biking, which allows one and all to discover the charm of our mountains is an incredible opportunity: Val d'Isère and Tignes are working hand in hand to welcome a stage of the E-Bike World Tour." Patrick Martin, Mayor of Val D'Isère
In the same way as the original festival in Verbier, these events are designed to be accessible to people of all ages and skill levels. A broad offering of activities and animations will satisfy the large audiences expected to attend. It's also an opportunity to promote soft mobility and get mountain resorts involved in ecological transition.
An Epic Race Series Reserved For The World's E-bike Elite
The organisers of the Freeride World Tour imagined a format similar to that of their winter tour, meaning, a spot at the final in Verbier needs to be earned: competitors will have to earn their place on the E-Tour du Mont-Blanc that starts in Verbier. A qualification system will put into place for elite competitors on the first two stages taking place in Flachau and Tignes-Val d'Isère. Following the first two competitions and the already mythic Verbier event, an overall ranking will determine the winners of the E-Bike World Tour.
"The cycling community is big, but it's often focused on classic cycling. The Freeride World Tour organisers with their experience from the winter events are bringing something new, something different. I think this is the way to show the world what we can do on e-bikes. I'm stoked to see how things are developing" Marco-Aurelio Fontana (ITA) 2012 London Olympic Games Medalist.
"This is amazing, I love adventures, I love long days on the saddle, and I love to ride technical terrain. The E-Tour du Mont-Blanc 2019 was one of the highlights of my whole career and to imagine it's going to be a series like that is exciting for me, and I'm already looking forward to being part of it and to write history." Nathalie Schneitter (SUI) UCI E-MTB world champion & E-TMB 2019 winner
"It's super exciting to see the way that e-biking is developing. This format is the most exciting as it takes the whole adventure style of riding, which would be far more difficult on a normal bike. We're going to 3 cool venues; I'm excited" Tracy Moseley, (UK) 3 x World Enduro Champion & E-TMB 2019 winner.
"The kick-off event was brilliant last year, and a world tour is a must-have. If the elite format is going to be anything like the previous two years, it will be a true spectacle, with the most skilled and technical riders all involved in these races only adds to the excitement. With every race worth even more will only motivate us further to maintain our performance throughout the tour. The industry is going to love it because e-biking is booming." Christoph Sauser (SUI), 2004 and 2005 overall world cup winner, 2008 UCI Cross Country World Champion and Sydney Olympics in 2000 medalist.
The goal of the tour is to become a worldwide reference for e-bikers and the industry.
"Launching the E-Bike World Tour in the premium destinations of Flachau, Tignes, Val d'Isère and Verbier is a dream that has come true. Together, we will offer an excellent experience to all participants and a major platform for the cycling industry. The revolution has begun!" Nicolas Hale-Woods, E-Bike World Tour & Freeride World Tour CEO.
More information and the complete event calendar coming soon on all VEBF social media channels as well as http://www.ebikeworldtour.com.
Featured in this Post

Switzerland
2,791
Comments