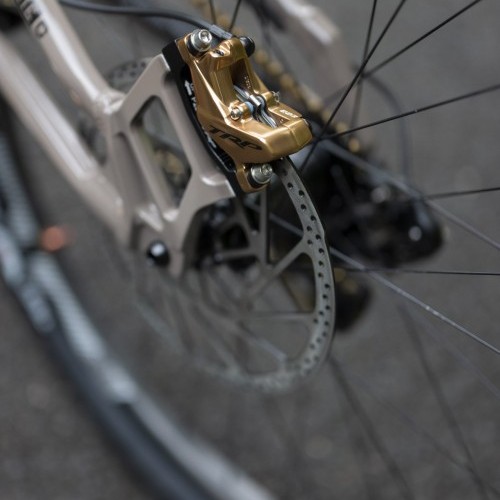 Need More Bling In Your Life? Try TRP And Their New Gold Edition DH-R Evo Brakes
Fri 23rd Oct, 2020 @ 9:30 pm
Revealed at this years World Champs in Leogang, TRP surprised their athletes with these super bling Gold Edition versions of their DH-R Evo brakes. Full press release below:
Known for being the one momentous race of the season, the 2020 DH World Championships might just become the only race for many Athletes this season. This shapes Leogang, Austria as the prized venue to dream about gold.
Adding to the special occasion with custom bikes and custom parts, TRP is bringing a special golden edition of its DH-R EVO brakes for their sponsored athletes. The discussion for customizing parts started early this year at test-camps before the proposed season even got underway.
"We picked up a great deal of excitement from our teams about special colors. So we gave gold a try since all our teams are running golden suspension." – Colin Esquibel, the TRP R&D Test Engineer
With the Golden DH-R EVO, the function and features are 100% the same as the Silver DH-R EVO that was launched in May of this year. This ensures the same power, the same modulation, and the same 223/2.3 mm rotor, now with a custom World Championship color fit for any dream build.
The best part! TRP will make these Special Edition Gold DH-R EVO brakes available for sale to all customers at the same time the athletes are celebrating their World Championship success, on Monday October 12th.
UK pricing will be £210 per brake with 2.3mm rotors between £30-£40 for six bolt pattern depending on size. For more info, visit http://trpcycling.com
Key features of the DH-R Evo brakes:
New brake pads said to increase heat stability along with a shorter bed-in period
New mineral oil that's not only easier to bleed but offers increased heat stability up to 230ºC
New 2.3mm thick rotors complete with a 223 option for ultimate stopping power
E-Caliper which helps with quicker bleeding
New CNC adapters
Ergonomic lever blades
New 5mm brake hose which is stiffer, increasing braking performance
New 9mm lever piston helps for more power, less arm pump!
Featured in this Post
Comments