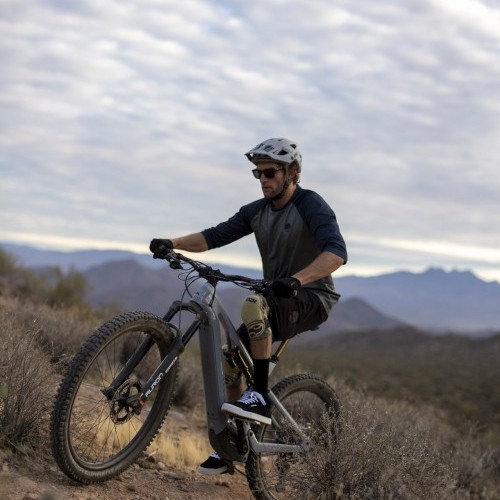 Freeride Legend Paul Basagoitia Now Riding For the Canyon Cllctv On Canyon e-MTBs
Fri 26th Mar, 2021 @ 9:30 am
Freeride Legend Paul Basagoitia Now Riding For the Canyon Cllctv On Canyon e-MTBs
The 34 year old freeride legend has recently announced that he is now riding Canyon E-MTBs and joining the Canyon CLLCTV team, exciting times ahead!
"The Canyon CLLCTV is a strong community, like a big family of mountain bikers," explains Canyon Brand Manager MTB Kerstin Kaufmann. "We are extremely proud to have an absolute legend like Paul join us as a Canyon brand ambassador. It is impressive and inspiring to see how he won the battle to get back on the bike. We look forward to supporting him in his future endeavours." Paul's passion for the sport has not wavered. Even though – or maybe because – mountain biking has been at the centre of the greatest achievements as well as the worst setback in his life.
Today, more than five years have passed since the accident, and he is back on the bike. And while he still walks with a stick, Paul is perfectly at home in the saddle. "The e-bike has literally given me a second chance in life," says Paul. "If it wasn't for this technology, I wouldn't have the freedom to go ride with my buddies and explore new zones." Where constant competition used to be his main motivation, he now finds the greatest joy on longer and longer trail rides, when he can truly feel his legs and exert himself. Recently, he has been exploring the trails around his winter home in Scottsdale, Arizona, on his Canyon Spectral:ON.
"I'm really happy with how the bike is performing. The whole mullet set up is new to me and I love how snappy it is for an e-bike," Paul enthuses about his new e-MTB."I'm very blessed to have come this far in the last five years! I still have the same motivation and drive to keep getting better. I set goals and I don't give up until I reach them! It's important to progress in all elements in life whether it's health, wealth, relationships, in your career, etc. If I can progress in all those elements I'll be one happy guy!"

Paul Bas
Featured in this Post
Comments