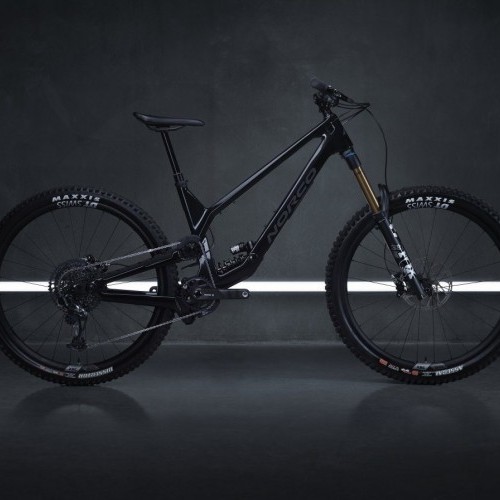 New 2022 Norco Range | One Bike To Rule Them All?
Wed 23rd Jun, 2021 @ 6:30 pm
That's right, the new 2022 Norco Range is here and there's some bold claims surrounding it! This full-carbon, 170mm travel 29er enduro sled complete with high-pivot suspension certainly looks the part and for those aspiring enduro racers out there, this could certainly be just the ticket! Full press release from Norco below:
Win a GO3 Camera by Insta360 this issue in our FREE subscriber prize draw.
Following months of speculation, Norco Bikes has just introduced their new full-carbon Range and it's available now at select Norco dealers in Canada and the US.
Engineered from the ground up to be the fastest bike on the Enduro World Series, the new Range is also the most anticipated bike the British Columbia company has ever produced for Big Mountain riders craving speed on steep, technical backwoods trails.
"When we set out to build a new Range, we made a list of exactly what we wanted the bike to be able to do, and this ticks off all those boxes," said Jim Jamieson, Norco's Senior Product Manager of the team who developed the Range.

"We wanted to build the fastest bike we could for Enduro racing, and this bike's definitely it – and everything that makes it fast in races, makes it perfect for those high speed, rowdy days in the woods with your buddies."
First introduced into the brand's lineup in 2012, the original Range pre-dated Enduro racing, but embodied everything the emerging sport demanded – mid-travel suspension, efficient pedalling, and stable, high speed agility on challenging trails.
10 years later, the 29-inch wheel Range is pure race – employing an entirely new take on Enduro geometry developed using Norco's proprietary Ride Aligned™ Design System in a whole new way; creating unique rear centre lengths, seat tube angles and head tube angles for each frame size to account for the unique demands of different size riders.
Ride Aligned™ also played a pivotal role in the development of the Range's all-new High Virtual Pivot suspension design, which provides 170mm of travel with a rearward axle path to maintain momentum on rough trails. By positioning suspension mass low in the frame, the High Virtual Pivot design combines high speed stability and agility with balanced support front and rear, which remains fully active under braking and is precisely tunable for any rider using the Ride Aligned™ Setup Guide.
The new suspension design also features a strategically-positioned idler to control anti-squat for ultra-efficient pedalling, drastically reducing rider fatigue over the course of a long day in the saddle. Engineered in four frame sizes from S to XL, Range is available in three complete models and as a Frame Kit. Prices start from $3799 USD ($4499 CAD) for the frame, the C3 model at $5599 USD ($6799 CAD), C2 at $6999 USD ($8399 CAD) and the top spec C1 at $8999 USD ($10999 CAD). European pricing to follow.
Key Features:
Intended for enduro and big mountain riding
Full carbon frame with 170mm travel, designed around a 170mm travel fork too
1 wheelsize (29″) and 4 sizes available from Small to XL
Will accommodate a 2.5″ tyre out back
Short seat tube for long travel dropper post compatibility
Plenty of room in the front triangle to allow space for a 750mm water bottle
Integrated accessory mount
There will be 3 bikes available, the Range C3, C2 and the range-topping C1 model. Full bike specs and geo below:
Norco Range C1, $8999 USD ($10999 CAD)
Norco Range C2 $6999 USD ($8399 CAD)
Norco Range C3 $5599 USD ($6799 CAD)
2022 Norco Range geometry:
For more information and to find your local Norco dealer, be sure to head on over to norco.com
Featured in this Post
Comments