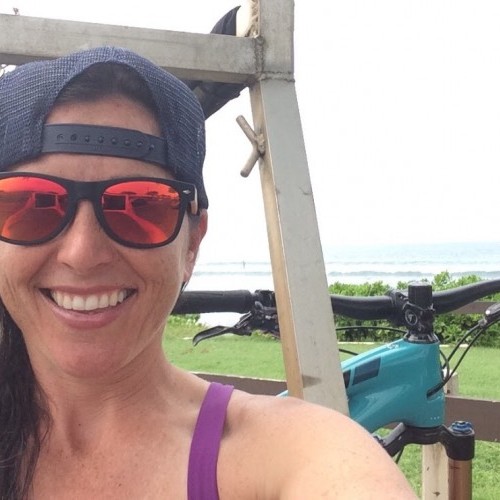 A Ride with Purpose: Leap2Fly
Features / Sat 13th Oct, 2018 @ 9:30 am
Christian Little shares a bit of her adventures on two wheels along with the miracles, hardship, and growth on and off the bike while in New Zealand and North America in "A Ride with Purpose: Leap2fly" to hopefully encourage and inspire others along the journey of biking and life.
It was just two years ago that Christian was taking on the impossible climbing through the European Alps on her bike with her best friend in honor of her friends mom that had been diagnosed with cancer. The 10 day purpose drive ride through (France, Switzerland, and Italy) the alps was a route they pioneered as they went that took them over a glacier next to the Matterhorn with the goal of climbing mountains in honor of her friends mom and to hopefully encourage and inspire others going through a hardship. It was an impossible mission as Christian had just been in bed for nearly 6 months leading up to the trip with a broken back, spinal cord injury, and trauma induced adrenal fatigue/nervous system shut down due to tomahawking off a mountain and nearly dying while living in New Zealand.
Join us as she shares her adventures on two wheels through New Zealand, the European Alps, Colorado, Jackson Hole, and British Columbia, and the journey of continued growth on and off the bike as she "rides with purpose" following her near death experience and recovery from a broken back and spinal cord injury. She hopes sharing a bit of her journey over the last 2 years through her lens encourages and inspires you along your adventurous journey.
New Zealand
Christian Little was living and racing mountain bikes in New Zealand when she was faced with death in the remote backcountry wilderness of the South Island of New Zealand in March, 2016. She tomahawked off the mountain further than one survives just 30k into the mountain bike ride. She had to rock climb out as it was too far down to get help, raining, and starting to get dark with the unbearable pain from a broken back and spinal cord injury. Then, she used every bit of momentum to bike with her friend to the hut 5k away and was heli-evacuated out of the extremely remote backcountry New Zealand mountain top in March of 2016. As her road to recovery was a very long and hard one, she kept a positive perspective throughout and used the experience to grow immensely. Christian is a physiotherapist for elite athletes which was helpful in her personal rehabilitation. Through the hardest time in her life, her faith carried her through and the miracle of surviving made her realize part of her purpose going forward was to encourage, inspire, and positively impact others lives through the outdoors and mountain biking. Then she started a purpose driven MTB retreat and guiding business, Leap2fly. She also decided to return to New Zealand for the 2018 summer season and go back to the trail to hopefully finish it in one piece this time. She was unsure of what she would experience, but knew it would be healing to return to this significant place.
Challenged on multiple levels
The way my injury happened actually is part of what kept me going. Towards the end of my mountain bike race season in New Zealand I was riding the longest bit of single track in NZ which was truly backcountry riding hours from civilization. I was training for an adventure race with a 40lb pack on my back and after climbing the remote mountains for 5 hours my friend and I hit a narrow section of the trail that had a sheer drop off. I hit a rock just right flinging me off the side of the mountain resulting in me tomahawking to what should have been my death crushing my back in several places resulting in a spinal cord injury, but then a miracle happened. As I got a glimpse of what was below mid flip I realized I could not see the bottom of the mountain and it was not level out to slow me down, so in that moment I was at peace knowing I was dying. Then I felt Gods power in all things and all around me just stop me and lay me down gently on the side of the mountain.
While I sat there in anguish with pain I was okay simply because I realized I was saved for a purpose. As it was raining and getting dark my body did not have long before it would shut down, so I looked above realizing I had fallen further than one survives and that I would need to rock climb back up even though my legs were not working very well, yet I knew I was meant to survive at this point and climbed up to wait for my friend. She helped me get my bike the last 30 feet up to the trail and then I used whatever momentum I had left to pedal to the hut 5k away. Then I was heli evacuated out that night and released soon after to hitch hike with our bikes back 8 hours to our van as they missed several fractures and did not provide me with proper pain management and another day before returning back to Wanaka, NZ where I had been living. Once I finally laid down my body shut down and I was in bed most of the time for the next 6 months. I would lay their in tears asking God to work in and through me in this time and grow from this time in the ways he desired for me. I put my trust and hope in him with each step and would wake up choosing to be grateful rather than choosing despair as I knew this miracle of life and the growth through this hardship was not only for my own life, but to eventually somehow get to a place where I could encourage others through my story and help others in their journey too.
The recovery journey. Will you bike again?
I really struggled with patience with myself, but had to learn a great deal of patients through this and continuing to work on the kindness to self as I am very hard on myself! Every day I was faced with a choice. Would I be grateful for what I was able to do OR would I be frustrated and depressed for what I could not do. I would start every day choosing to be grateful that I could use my legs to walk and that I was still alive for a purpose. When you lay in bed for most of 6 months you have a choice to grow or spiral into the darkness of depression with all the unknowns ahead in such a long period of waiting, pain you are in with a broken back, and emotional hardship with a nervous system that is shut down leaving you without any energy. I was completely broken in every way and even my best friend was not their for me, yet God was their to help me through. I completely surrendered myself to growth with God and whatever he may have ahead in complete faith and trust asked him to help me through. Lots of tears and time alone with God for those 6 months.
I had been asked whether I would return to biking a lot. For me personally, I found so much joy in mountain biking and was not going to let fear of getting injured again get in the way of experiencing something that brought me such joy. Adventuring is a part of who I am and adventuring on two wheels is my favorite way to explore, so to stop biking would mean I would not be living my life to the fullest and simply quitting when life got tough. It was not easy as those outside my mountain biking community did not support my return to mountain biking, so I had to move forward with what I knew in my heart I was to do and not rely on others opinions. I did end up having to work through PTSD which I did through slowly easing back into riding versus growing frustrated when I couldn't ride something I once was able to ride. I also was in bed for most of the day for almost 6 months as my nervous system shut down from the trauma my body sustained and being faced with death, suffering a broken back and spinal cord injury that left me with balance and strength deficits in my core and legs unable to get out of bed for months without using my arms to pick my legs up and slowly walking as if I were 90 years old for months. It was a really discouraging time and a daily choice to follow the light or the darkness ahead. I truly have tried to approach every day by following the light, yet absolutely you have to be real with yourself in the journey of tough moments to work through them so you don't run from them and rise above them, so you can truly "leap to fly." Doesn't mean it's smooth flying from there, but you will never find out or truly soar if your fear debilitates you or you run from facing the hard stuff in life.
Holding Hope: Purpose-Driven Ride in the European Alps
Christian's best friends mom got diagnosed with cancer and she was doing her best to support her friend while in bed recovering from her injuries. Christian and her friend Bri realized they would like to support Bri's mom and others going through cancer as well as the hardship of overcoming mountains in life by coming up with the hardest route. They ended up pioneering a route through the European Alps, 3 countries: Chamonix, Switzerland, and Italy. Leading up to the ride IMB chatted with Christian and her friend, article here, videos here.
Embarking on this journey was thought to be impossible by those in Christian's life as she had just been in bed almost 6 months with nervous system shut down and broken back that was healing, having to lift legs to get out of bed as they didn't work well. A few weeks prior to leaving for the Alps her nervous system was still so depleted that walking a flight of stairs was so tiring she would have to go take a nap for several hours. Yet, Christian says, "There are times in life where you are faced with fear and the unknown, and at the same time faith and hope. A moment where dark and light meet and you have a choice of which direction you will go. The fear and despair try to creep in while at the same time a glimpse of dreams, passion, and purpose ahead. In this moment God laid it on my heart to go to the Alps and that he would give me the strength to do it and the purpose for going was to positively impact lives far greater than just supporting my friend and her mom by climbing the impossible." Just before their departure to the Alps Christian's nervous system cleared and she had energy again and her broken back healed enabling her to start moving her back again. Yet she was not conditioned for this as she still had been in bed for 6 months leading up to the Alps and was still recovering from a spinal cord injury with strength and balance deficits in her core and legs. It was by faith she knew she was to go and they embarked on a 10 day journey through the alps. Full story here Holding Hope: a Purpose-Driven Ride through the Alps
Not only did they make it, but through the journey Leap2fly was born atop the Alps, as Christian realized part of her purpose going forward would be to offer support, encouragement, inspiration, and connection in the outdoors through mountain bike retreats in the most epic locations around the world. Creating epic adventures while providing participants the opportunity to truly embrace "leaping 2 fly" on the bike and in their life going forward.
So did you soar from there in biking and life?
Riding through the European Alps in honor of my best friends mom who was diagnosed with cancer was one of the most impactful rides of my life as I was able to ride again so soon after my injury (not on my own strength, but that of God as I was still in bed a few weeks prior) while supporting my friend and her mom as we pioneers our own route through the Alps. It was on top of the Alps that Leap2fly was born. As the thought of moving forward with my purpose in life began to be revealed as I was to support, encourage, and inspire others in life through mountain biking in breathtaking places such as the Alps. I realized the positive impact the experience had on me and I wanted to share it with others. However, soon after I lost my best friend as she ran from the hard times just when I thought we would be by each others side through it all to reach the blessings ahead.
My savings had dried up from being out of work from my first injury and I was in a state of physical and emotional trauma from it all. When I thought I had gone through the hardest time in my life it just got harder and I wondered why I survive my fall in New Zealand. I thought I had this purpose ahead, yet I was all of a sudden alone and broken without a home and those closest to me where not there for me through it. I only had God and He is what helped me through the hardest of times. Through this time my faith sustained me and grew choosing to take a step each day into the light and hope ahead. I realized that I could harden my heart or move forward in love and to ensure I continue to love and support others even if I did not experience it. I will be honest with you and let you know the heartbreak with my friend just completely crushed me and left me traumatized for over a year even when I worked through counseling and relied on God to help me learn and grow from the hardest time in my life. I share this to be honest, real, and vulnerable with you in hopes that it may resonate with some of you and that my journey may encourage you or inspire you to not give up.
I did get back on a bike again and have since started Leap2fly to encourage, inspire, and positively impact others lives. It brings me so much joy when I see participants sharing the stoke and laughing while growing on and off the bike together in epic mountain bike locations just as I had envisioned. I am inspired by the lives that are impacted and the light and joy that radiates from each person over the course of the retreats. They share the stoke and support each other along the way to the very top. Sure participants leave retreats improving in their riding skills and we stop to session things, but its about so much more than that. it's about building each other up and encouraging each other to grow on and off the bike. You see if I had given up, then I would never see these lives impacted. I would not have returned to New Zealand to ride the trail I fell on and experience joy and peace there, I would not have spent a few weeks riding with friends in some of the most breathtaking and terrain I have ever rode in British Columbia this summer. If I give up now, then I will not live life to the fullest to embrace Gods best ahead. Parts of the journey can be really hard, but don't give up and please don't loose hope or let fear win. Taking that leap into the unknown and embracing your fears is not easy and doesn't always work out, but the only way you will ever find out is if you truly leap. You were meant to fly!
Return to New Zealand, summer 2018
Christian Little returned to Old Ghost Road Trail in the remote back country wilderness of the South Island of New Zealand after she nearly died their 2 years ago. She tomahawked off the mountain further than one survives. She decided to return to New Zealand for the 2018 summer season and go back to the Old Ghost Road trail to hopefully finish it in one piece this time. She was unsure of what she would experience, but knew it would be healing to return to this significant place.
Upon her return to the Old Ghost Road trail Christian took a moment to reflect on the significance of these mountains as she survived the impossible. A miracle! Amongst the giant mountains and sheer drop offs, she was overwhelmed with gratitude and humbled to be alive to take in the moment and feel a sense of purpose ahead. Leap2fly is a big part of that purpose going forward.
Christian and her fellow MTB coaching bud from Colorado, Uri chose to take their time with the 2 days of riding and stay at huts along the way so they could soak in each moment of the journey and beauty all around. As they biked along, Christian had a perma-smile on her face as ferns brushed her arms and face as they whipped around a turn with the splashing of water on their legs from the water crossings. Sounds of the birds chirping and quiet, vast surroundings of mountains upon mountains all around deep in the backcountry. Biking amongst the clouds while breathing in the crisp fresh mountain jungle air. She cherished each moment as she encountered the most diverse vegetation around. From rainforests, waterfalls, and river rapids to grassy mountain tops above the clouds.
She wasn't sure what the journey would entail as she embarked on a mountain bike mission where she nearly died, but she knew she needed to face the trail again. She was so grateful she took the leap into the unknown and embraced the journey. It was a mountain bike mission filled with deep significance, joy, and peace as she faced the trail that she nearly lost her life to. She reflected on how significant the fall had been as it lead to a depth of growth and one long journey of suffering and healing over the past 2 years. She took in the moments of adventuring on two wheels through breathtaking scenery filled with gratitude, joy, and peace. By facing her hard times, obstacles, suffering, pain, fears and hardship head on through the journey and on the trail, she experienced true growth and freedom. She hopes to encourage others to grow on and off the bike by sharing her story.
New Zealand Round 2
It can be bit of an adjustment to return to your country after being gone for several months and turned out to be a mix of emotions returning for Christian after such quality healing time and adventures in New Zealand for round 2 there. She had a lot of time to reflect on her own while there, but also explored with new and old friends adventuring New Zealand again by surfing and mountain biking the beautiful country while even dabbling in some less familiar sports such as pack rafter rapids, SUP surfing, orienteering through the jungle, and island hopping by ocean kayak. She really tried to make the most of her time in the South Pacific.
Even managed to squeeze a cheap ticket and trip over to Samoa to moto around the Islands exploring, cracking open fresh coconuts, and surfing while getting immersed with the locals and their culture.
Returning to New Zealand was a healing time as her prior time in NZ was cut short back in 2016 due to suffering and broken back and spinal cord injury. Being back in the raw, wild, and remote areas of the mountains and beaches adventuring around New Zealand again after she had gone through so much physical and emotional trauma and healing since her last time in New Zealand. This time in New Zealand brought a peaceful and loving connection with God in his creation as her healing continued in New Zealand round 2. Being able to return to the trail she fell on was a very special experience.
Back in North America
Fast forward to begin back in the states following New Zealand summer 2018. She felt her healing had made huge progress while in New Zealand, yet still was having a hard time with the loss of her best friend as she was still hopeful and still has not given up hope on her friend so they can one day reach restoration. She had to work through the heartbreak as she thought they were going to support each other through the tough times to reach the best of times again, but instead she ran. Christian has really had to work on not letting this suck her joy and move forward with or without her best friend by her side in life. Moving forward one step at a time. Get back to living life to fullest and full of joy after it was unfortunately taken from her for far to long. Christian shares, "Trauma is rough and takes time to get through, so I encourages you to love and support others out there in the journey of life. I encourage you to live life to the fullest, live it well, leap2fly, don't give up, and let your light shine. Adventures awaits!" In the midst of working through her hardship and healing she has so much to be grateful for…
Riding with Purpose
When Christian returned from New Zealand she did not know what was ahead other than her plan to continue riding with purpose. Riding with purpose signifies mountain biking for a bigger purpose than herself. Her faith is what has inspired and gave her hope through the toughest of times and has given her purpose to ride on. Also, a big part of why she feels she survived the fall in New Zealand is for the purpose of inspiring, encouraging, and positively impacting others lives through the outdoors and biking. Specifically she returned to North America to continue growing Leap2fly in Colorado and expand into Canada, so she could continue to see lives positively impacted through mountain bike retreats.
Leap2Fly
Leap2fly is a mountain bike retreat business that offers retreats in Colorado, British Columbia, and New Zealand. Christian started Leap2fly to support, encourage, inspire, and empower growth on and off the bike by providing an opportunity to connect with yourself, others, and the outdoors in some of the most epic mountain bike locations she has rode in the world. Her goal is for every person who comes to adventure with use on a retreat to leave not only stoked at an epic experience with lots of hi fives and laughs with new friends, but to feel it was a life changing experience for them that they truly embraced "Leaping to fly" on and off the bike.
The ability to ride with purpose and use my bike as a vehicle to positively impact lives through Leap2fly. She loves to help people overcome an obstacle whether that is an improvement in a skill or overcoming a mental block with fear or even working through something more serious such as PTSD to see them finish the day with a huge grin on their face and completely stoked with biking and what they accomplished. Love being a part of bringing stoke to someones life, so even better when they let you know later that the skills work significantly helped them with confidence and ability to ride things they never thought they could in their riding and/or racing season. Whether she is mountain bike coaching or guiding she simply love taking in the moment being appreciative to share the experience with others riding such beautiful places. Adventuring on two wheels is the best way to roll. She loves the exhilaration of movement and speed, the stoke shared with friends and the community around biking, the ability to adventure and explore new trails around the world, the challenge of it as she is always learning and growing, and the ability to ride with purpose and use her bike as a vehicle to impact lives through Leap2fly.
Recent Leap2fly MTB Retreats
Ladies shared stoke and supported each other in the midst of riding some of the most epic trails in Crested Butte. Leap2fly retreats started the morning with yoga and yummy food and embarked each day on an epic adventure into the backcountry high alpine mountains of Crested Butte. Sharing the amazing trails and taking in the moments of breathtaking beauty with the ladies was such a special experience. Each day provided an opportunity for participants to truly embrace "Leaping to fly" while they grew on and off the bike together over the weekend. So many laughs and smiles from stoke where shared and each lady left encouraged, inspired, and positively impacted.
What's ahead for Leap2fly
Leap2fly offers ladyshred retreats as well as co ed retreats, but absolutely there is something uniquely awesome about women supporting and encouraging each other at the ladyshreder retreats.
Coaches Christian, Lindsey, and Ren hugging at Durango Retreat as they share a moment supporting each other on the trail
Just finished up a Leap2fly Ladyshred MTB Retreat in Durango in partnership with friend Lindsey Richter, founder of Liv Ladies AllRides kicking off the first day with a skills clinic at Purgatory Resort, which was hugely impactful to the ladies growth over the weekend. Christian is keen to continue collaborating with friends in the bike industry to offer the highest quality experience of growth on and off the bike around the globe.
Sharing skills and applying in Durango and in high alpine over weekend while soaking in the big mountains, fall colors, stoke, laughs, and growth on and off the bike together. Photo: Fabio Grasso
She is also in the process of planning for a mountain bike adventure retreat in New Zealand for the NZ summer that will include epic mountain biking as well as surfing. Next year more Colorado MTB retreats in Crested Butte and Durango and expanding into Canada. Also, starting a Racer Retreat for those interesting in Enduro racing or progressing in racing in partnership with Anne Galyean who was the first and only female on Yeti's factory team.
Summer adventures in North America
In the journey of life and biking you will be faced with obstacles at times that seem impossible, but you have a choice to take a step forward into the light in faith with gratitude, hope, and willingness to work through the hard stuff to get to the good stuff while not giving up, avoiding, or running as we will never experience living life to the fullest if we never take that leap and learn to truly fly. If Christian had given up along the way she would never experience: having a positive impact in lives through Leap2fly, returning to NZ to experience peace and joy on the trail she fell on or have the opportunity to share the journey encouraging others, or overcoming PTSD and injuries to ride all these places over the summer here in North America healthy and full of gratitude with a huge smile. Most importantly she never gave up hope on "A Ride with Purpose" which represents so much more than riding a bike as it's about riding with a bigger purpose for Christian. For her personally it's about her relationship with God and how her faith has helped her through the journey and how she hopes to encourage others in the journey of life on and off the bike.
Win a Peaty's Complete Bicycle Cleaning Kit this issue in our FREE subscriber prize draw.
As we head into fall we are in the midst of changing seasons. May you embrace the beautiful journey and find peace and joy beyond what you thought possible as you take in the light moments along the way. Don't give up along the way and believe in the light, love, and purpose ahead. Hope my personal journey brings you encouragement and inspires you to Leap2fly in your life. You're on your way. Adventure awaits! Enjoy the ride!
Gotta Leap2Fly
She really value living this short life to the fullest and encouraging others in their journey in biking and life. Mountain biking has opened up a whole new world to Christian with adventures, friendships, and travel around the world that she loves to share with others. What truly inspired her to start leap2fly is encouraging others to "leap to fly" in biking and life to live it the the fullest. You've got one life. Live it well! Let your light shine!
Christian hopes to encourage others to grow on and off the bike by sharing her story and providing MTB retreats and guiding in the mountains of Colorado, Canada, and New Zealand with Leap2fly.
Follow her mountain bike retreats at http://www.leap2fly.com
Instagram: @leap2fly and @christian_little
Sat 13th Oct, 2018 @ 9:30 am
Christian can't get enough of the world on two wheels and has travelled extensively to compete in mountain bike races at the highest level. Committed to adventure, the MTB community and its culture, Christian is as likely to be found exploring unknown trails as she is raising money for charity.
Featured in this Post
Comments