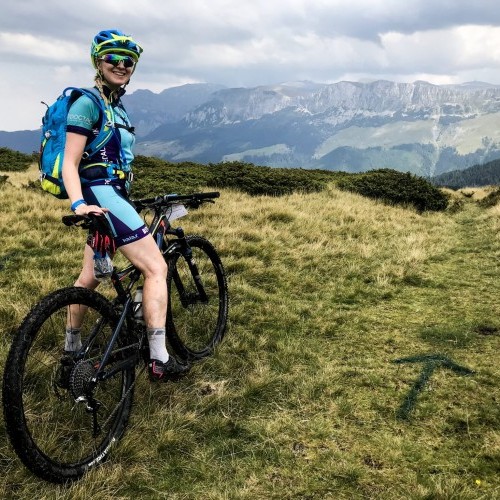 Carpathian MTB Epic 2018 – Challenging and EPIC!
Features / Fri 7th Sep, 2018 @ 9:30 am
130 participants from 25 countries descended on the resort of Fundata in the heart of the Carpathian Mountains, for what was to be an epic adventure, where joy and pain would be felt in equal measures during this challenging race. IMB sent its battle-hardened endurance athlete, Hannah Attenburrow to investigate…
The Carpathian MTB Epic is the first multi-stage competition in Romania. The four day event started with a fast and technical Prologue, which determined the start order and then only the next day the first Stage of Carpathian MTB Epic 2018, was upon us!
The start was a hive of activity. Rollers buzzing, drones above, capturing every moment and anxious riders getting into their starting boxes. Silence fell as the heart beat timer started the count down. The loud horn started the race and the sounds of clicking pedals and gear shifts filled the air, as the riders charged out of the race village towards the first day's adventure.
The first stage was 60 km, on the steep and rugged edges of the Southern Carpathians. Now 60km is not that far, but add in 2,700m elevation and it's a whole different beast and far removed from the training rides my legs had been on around the South Downs.
Stage One
The challenging Queens Stage combined exhausting climbs and fast descents, reaching some spectacular view points on the way. The course weaved through extraordinary scenery climbing up on to a ridge line, then traversed through the beautiful mountains. It was so still and silent all I could hear was my heart beating loudly in my chest.
The afternoon brought thunder storms and this added to the challenge on both the up and downhill, especially when it came to the "hike-a-bike" sections, as grip on the wet washed out grass in mountain bike shoes proved tricky to master!
The final descent of the day was spectacular. After negotiating our way to a large rock face, we rode through the middle and out into the valley. The trail then descended steeply through boulder fields, where good line choice was the aim of the game to keep the bike rubber side down.
Back in the woods was more familiar weaving through the trees, watching out for roots and holding on for dear life when it got super steep, in more than one place!
At points the descents would seem gradual and then turn steep and committing 100% was the only way to make it down safely. On more than one occasion I had to have a little 'chat' with myself about staying focused on the job in hand, in order to keep the bike moving.
After a rollercoaster ride stage one was complete, what would two and three bring?
Stage Two
With Stage One in the bag, the start line for Stage two was full of stories and wounds telling the tale of just how epic a challenge we had been through. Several riders not even making it to the start box.
Sadly the demanding climbs had not got easier overnight, as we rode out of Fundata taking the same start up to 12km as stage one. Climbing past the feed zone, another hard slog to the top was rewarded with astonishing views. The vast wilderness stretched out in every direction, un-touched by humans, rugged and wild.
Now for the descent! The start was a grassy meadow, with a twist as it was basically a vertical drop, opting for two feet was just as hard as two wheels! My bike slid to the side and skidded down the hill. Once past the rather daunting top section, the climb entered the woods and became a whole world of fun. Loose earth, roots and switch backs made for technical riding. Keeping my eyes up and picking lines carefully I swept through the forest, my 29'er making easy progress down the mountain side.
The fun was over far too quick. A long an arduous gravel road climb took you straight from glory and back to the pain cave for what seemed like hours. This was however a good opportunity to refuel, so as I rode I munched on a Science in Sport banana fudge bar, I can recommend this tasty energy treat.
As I edged nearer the top the rumbles of thunder seemed to be getting closer and the sky had turned from bright blue to an ominous dark grey.
Finally seeing the red tent of the all too familiar feed zone, I had made it to 25km in 3 hours 21 mins and passed the cut off for continuing into the most technical section of the course. As I started to climb the weather snarled, thunder and lightning seemed to be surrounding me and the rain was coming down like I was riding under Niagara Falls. Reaching the woods I slipped off the path and hurt my ankle, it wasn't that bad, but in that moment I decided that my head had to rule and to turn round and back to safety. Reaching the red tent I was surprised how far I had actually climbed. Not stopping at the feed zone I continued on through the rain and wind, feeling so cold I just kept pushing, not noticing the time tick by.
Every cyclist knows that feeling of 'hitting the wall', I hit it and crashed through the other side. Each pedal stroke after passing the 10KM hurt and it took all my attention just to push the pedals round. I felt mentally and physically drained but wasn't sure why. I kept telling myself it's only 10KM I can do this, but my body seemed to have given up.
Back in the race village after a warm shower and dinner I realised I hadn't eaten since passing that red tent again, which explains why my body crumbled when I needed it the most.
Day three would be different, I promised myself that as I switched off the light that evening.
Stage 3
The final stage of this incredible adventure was upon me too quickly. Standing at the start line my body was relieved to only have a day of crazy climbs to go, but my heart and soul wanted more! The Carpathian MTB Epic had been a rollercoaster ride from day one and I didn't want this surge of adrenaline to end.
The final day saw competitors in the 1-day-epic join us at the start line for a shorter 40km loop, This was an appealing idea, just 40km instead of 60km…
For the first time in the race we headed out of the arena and into new territory, battling a grassy off camber field with ruts and divots the size of my front wheel it was tricky to navigate. After this exhausting singeltrack, we were greeted with a "hike-a-bike" section. I won't miss these! At the top I had a decision to make 40km or 60km? It wasn't hard really, it had to be 60km.
I felt a buzz and new lease of life as my bike ate up the miles. The trails were testing with so much packed into 60km riding through lush green forests, over tiny bridges, through rivers and vast ravines with the sound of the water echoing all around.
Once we climbed out of the ravine the descent down was really problematic, almost like riding in a river bed of boulders, my arms were getting a serious workout as I rumbled through the rocks.
After this long descent and feeling thoroughly shaken, the feed zone was a welcome break before the climb, which took us to the steepest downhill I've ever come across, channeling (badly) my inner Rachel Atherton. I rode the first 20m before grabbing a tree in order to stop. Walking my bike was as hard as riding, to keep it going slow enough for me to slide my feet forwards the breaks had to be locked out, which made the bike skid sideways.
After battling gravity through the wood the bottom was in sight and the course started to climb again.
After hitting the wall on the previous day my nutrition strategy on this final day was working, every 40 minutes EAT. I pushed myself hard and could maintain a steady pace. The last 5km were tough, following the same course as stage two. It felt a really long way, but finally the white arch was in view and I just had one more climb to make and then it would be the home straight.
Rolling over the finish line the Carpathian MTB Epic had picked up the mountain biking 'rule book' and thrown out all the aces. This race had been packed with features and thrills a massive adventure which pushed my mountain bike skills to the max and challenged what I thought my body was capable of. As it turned out, I exceeded my own expectations of myself both physically and psychologically. Turns out it was more capable than I thought!
My top tips for anyone thinking of giving the Carpathian MTB Epic a go:
Training – You need at least five months focused training on hills and increasing your endurance. Get in those hill reps and ride technical singletrack in Wales to iron out your skills.
Nutrition – get your food and hydration plan sorted each day pre-race and stick to it, whether it's raining or not
Weather – It rained every day but was also super-hot! P20 is great long lasting sun protection and a good lightweight rain coast is essential
Flying – I flew with BA so my bike was my luggage, no issue son the way out but on the way back the Bucharest airport wanted to charge me 100 Euros for my bag being over weight
Bike – A dropper post would be good and a spare set of brake pads, I went through one set in a day
Follow my latest adventures here: http://www.beyondthemud.co.uk and http://www.instagram.com/beyondthemud/
Photos by Hannah Attenburrow and MPG Romania
Fri 7th Sep, 2018 @ 9:30 am
I am an avid endurance mountain biker, mountain bike coach, advocate for womens cycling and blogger. Based in Hampshire I have incredible trails of the Surrey Hills and South Downs right on my doorstep perfect for long days in the saddle exploring. Endurance is my thing and I love to push my body to see how far I can go. I enjoy inspiring others through coaching and blogging to reach their own potential and go on adventures. I've raced across the UK at Elite level in XC as well as Stage Races abroad and 24/12 hour solo competitions.
Featured in this Post
Comments