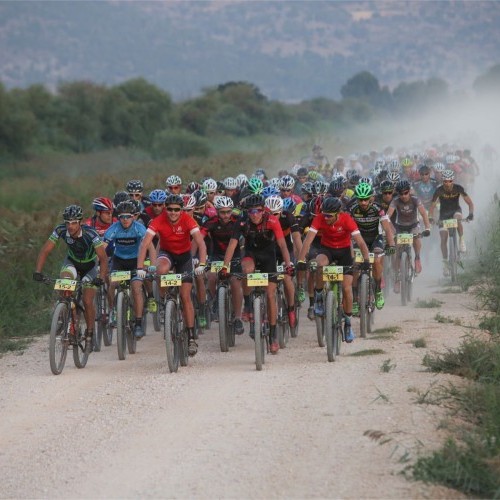 Playtika Epic Israel: Stage Racing The Holy Land
Features / Sat 15th Oct, 2016 @ 9:30 pm
History, conflict, incredible terrain and some damn fine riding. IMB's resident mile crusher and lover of a good sufferfest, Cat Sutherland, took a trip to Israel to get a handle on what it's like to go racing in The Holy Land.
In its forth year, the Playtika Epic Israel is a 265 kilometer mountain bike stage race that's worthy of a date in the diary – not just for the quality of the ride – but as a treat for your taste buds! A melting pot of cultures and cuisines, if you're as keen on your food as you are on your riding, add it to your bucket list. I'd been recommended Israel as an emerging mountain bike destination and it didn't disappoint.
Hosted by both Playtica Epic Israel and The Ministry of Tourism, my partner and I joined a party of eager riders and journalists from around the globe to take part in this fast-growing stage race, which was this year, held in the Israeli occupied region of the Golan Heights. In the days leading up, we were whisked around the significant cities, including Tel Aviv and Jerusalem, coupled with a fascinating insight into the wonders of the various religious worlds.
The morning before the race, we made a historical last stop to the city of Akko, stuffed ourselves for the final time with local fare and set off towards the Gallion hotel, which was to be our race base for the remainder of the week. After registering, building bikes and laying out kit ahead of the brutally early kick off, we enjoyed a social evening then made for bed. As 4:45 am struck, the alarm buzzed in my ear. I jumped out of bed, feeling ready for the 98km of sun scorching trail riding and excited to get back on my beloved bike. Breakfast was almost overwhelming at that hour of the day; we packed in Shakshouka, fresh bread and veggies, a few shots of coffee for added kick, then grabbed our gear and moved to the start line.
Once 7 am arrived we charged off on a flat and fast start on tarmac that broke on to dusty dirt road in no time. Heart rates pounding, Ico and I settled into a pack of riders and picked our way up the field. I was feeling strong and motivated to get in a good position, also knowing that the tighter trails would be torture should we be held behind. We rode like this for a short time, until we hit a mass of riders trying to get their way down a very narrow bank and through a tunnel. At this point some of the riders got a little irked, with some teams pushing through the bushes. We just went with the flow and got out when we could. As we rode through the rocky valley, my lack of hardtail riding was apparent, my poor backside feeling every bump! We both love this kind of riding though and made some good time and mixed pair places, keeping speed as the bowling ball sized rocks tried to knock us down. Some unsuspecting hikers moved off the path to let us through and we stopped only to sort my seat post, which was coming a little loose. After the first 10km or so, the climbing began and we enjoyed a reasonably technical ride, with steep sections that kept us focused. The first day is literally up the mountain and down the other side, neither of us finding it particularly steep, just constant and unyielding.
Tiring legs were rewarded with a fast and flowing downhill through singletrack, with both of us pushing the pace and trying to work our way around the slower riders. Luckily we made most of the 20km uninterrupted and had huge smiles fill our faces as the tracks flowed continuously. At the bottom of the trail, we had to be content with dirt road to take us back to base, yet this time it was almost 20km of flat riding with winds that were severe and gathering pace. Ico wasn't feeling great at this point and we had to back down. Without a pack of riders to draft it would be tricky to keep pushing on and his lack of nutrition and hydration was playing havoc. We rolled in for the last few kilometers, satisfied to have completed our first big day.
Our second day on the bike would take us to much rougher ground as the technical climbing came into play. Again this suited our strengths. Out on the same road as day one – this time with a 6.30 am start due to the 110km distance – once more we tucked in to a pack of steady riders and made our way on to the basalt boulder field ascent. We powered our way up through riders preferring to walk or avoid the wet mud. We gained quite a few places here too, despite getting a knock and smashing my ankle. A body check let me know it wasn't too serious and adrenaline and drive took over.
Whilst the climbing is never too high in terms of altitude, today's stage was the sting in the tail with some defiant sections that left most of the field hiking with their bikes. Once at the top of the mighty climb, we were only a short distance from the feed station, so we threw back some GU gels, pretzels and bananas. Within seconds Ico took off on his Trigger, flying like a missile down the rocky paths. We still had a short climb to do through the Odem Forest until he could completely let loose, but once he was there, he flew. The last feed station was 30 km away from the finish and although we were on flat ground, this section saw us weave through small towns, back roads and even pass through a raft-guiding outfit – with customary cheers in Hebrew of course. A short, enforced river crossing cooled us down and cleared the dust from our bikes and bodies. Luckily we got into a pack with some eager riders shortly afterwards and they rhythmically led us down the final few kilometers of the day. Without this aid, it's a tough end to an already brutal day of beating heat and bumpy riding. The last section was a true test of mental strength as they served up an out and back to add on kilometres and by the time we arrived over the line, the beer was needed!
Standing off the bike, as my veins stopped pumping, my ankle began to scream. I'd actually forgotten about the earlier bashing, but it was back with a vengeance. Luckily with medical intervention and sweet-talking them to let me keep my place, we were set to go for the following final day.
I arrived at the start for the final day of riding, the body beginning to feel it but sad to know it was coming to an end. At 58km it's a shorter affair but in my mind, the most challenging. Sure, the third day is always a killer as your body is somewhere between sore, tired and getting accustomed to the riding. Dust and dirt was flying and the first 10 km, which throws some mean and punchy climbs to kick you down. I loved this though and again we gained a strong position as we worked our way further up the field. Ico was at full gas this time, so it was my turn to stare at his behind as we flowed through more singletrack trails until the first feed station. I was on an instant sugar hit only and sucked down various flavours of GU gel and nostalgic jelly sweets before taking off up the road climb. There are still some hefty ascents involved and whilst they are tarmac in the main, you're biting your bars on most of them. There's little let up either and as we climbed further most riders were again reduced to a walk and a push of their bikes as the terrain was terribly loose. Heat was also not helping and the sun gods had thrown some extra rays at us for good measure!  At this point though, it's worth to look out over the Hahula valley, which was stunning and delivered the best views of the race.
My head was down and focusing for the most part though, until some revelrous supporters stood at the top of one road climb, brandishing bottles of beer! Nimi, one of the race organisers who I'd been in contact with, chased me with a cup of beer and playfully insisting I have some. Once I qualified it was him, I took a few sips and actually started to pick up pace! After the final feed station there's still work to do. Winding through the Kfar Giladi, we loved the route and with additional riders on that day too, I was chatting and laughing most of the way. In the final stages, you'll welcome a dropper post as it gets insanely steep, sketchy and mighty loose! We were in a tag team with another mixed pair, a fantastic female downhiller who was helping push my limits and ride the rough stuff. We finished the day with a sprint for the line and once off the bikes, groups of riders cheering each other one final time before moving on for a well-earned beer to battle the beating sun!
Epic Israel was a true eye opener to the terrain on offer in Israel, so distant to my usual trails. As a place steeped in history and conflict, it really is a fascinating change to the usual destinations that spring to mind for stage racing and well worthy of a visit so long as you take time to eat your weight back in Israeli delights!
Sat 15th Oct, 2016 @ 9:30 pm
Having worked in the outdoor, cycling and running industry for the last 10 years, I'm never far from my bike, a pair of running shoes or my trusty kayak! Based in Kendal, a small outdoor town in the The Lake District, I've incredible trails on the doorstep and it's the perfect playground for adventure. As a mountain biker at heart, I'm most drawn to endurance and love nothing better than hours in the saddle, preferably somewhere far-flung with good coffee at the finish. I've raced in South Africa, Spain, France, Israel and Canada and so I'm never far from my passport or my bike bag!
Featured in this Post
Comments