Strength In Numbers – Official Trailer
Viewed at a distance, the world of mountain biking is a network of seemingly similar but disconnected communities. Freeride. Downhill. Big Mountain. All Mountain. Dirt Jump. Slopestyle. A sport of individuals, equally defined by their many differences, as the common threads that bind. And while our story doesn't follow a straight line, we all end up in the same place. Tire to ground, foot to pedal, hand to bar – communities drawn together by trails of dirt.
Win a GO3 Camera by Insta360 this issue in our FREE subscriber prize draw.
A new action sport documentary, Strength in Numbers is a rally call to connect all mountain bikers, regardless of location or language or discipline. The film captures a true way of life, from the world's best pros to those who are just learning to love the sport. Shot over two years in some of mountain biking's most iconic locations, Anthill's signature style combines compelling stories with core action to create a shared experience that unites all riders. Come join us!
The world premiere of Strength in Numbers will be on April 20, 2012 in Monterey, CA during the Sea Otter Classic, followed by cinematic events all over the world. On May 24, Strength in Numbers will be available for all to experience with the free online premiere on redbull.com/bike and will be released afterwards on DVD+BluRay and iTunes worldwide. Finally, the entire film will be streamed online for free in autumn 2012. Ultimately, the film's mission is to inspire and show how we are all part of one global community who love to ride.

Featuring: Graham Agassiz, Gee Atherton, Adam Billinghurst, Matt Hunter, Cam McCaul, Anthony Messere, Brandon Semenuk, Wade Simmons, Andrew Shandro, Rene Wildhaber and Thomas Vanderham. With appearances from: Rachel Atherton, Steve Smith, Aaron Gwin, Ryan Howard, Tracy Moseley, Tyler McCaul, Steve Peat, Greg Watts and Alex Reveles.
Locations: Aptos California, Whistler BC, Fort William Scotland, Green River Utah, Nepal, Kamloops BC, Verbier Switzerland, Vancouver BC.
Strength in Numbers is produced, written, directed and edited by Anthill Films in co-production with Red Bull Media House. Presented by Shimano and Trek in association with Contour HD, Clif Bar, Pinkbike.com and PRO Components. Additional support for the film is provided by the Whistler Mountain Bike Park, Kona, Toyota Trucks, Scion, Oakley, Easton, Evoc, Big Mountain Adventures, Verbier St. Bernard and Ride Nepal.
anthillfilms.com/strengthinnumbers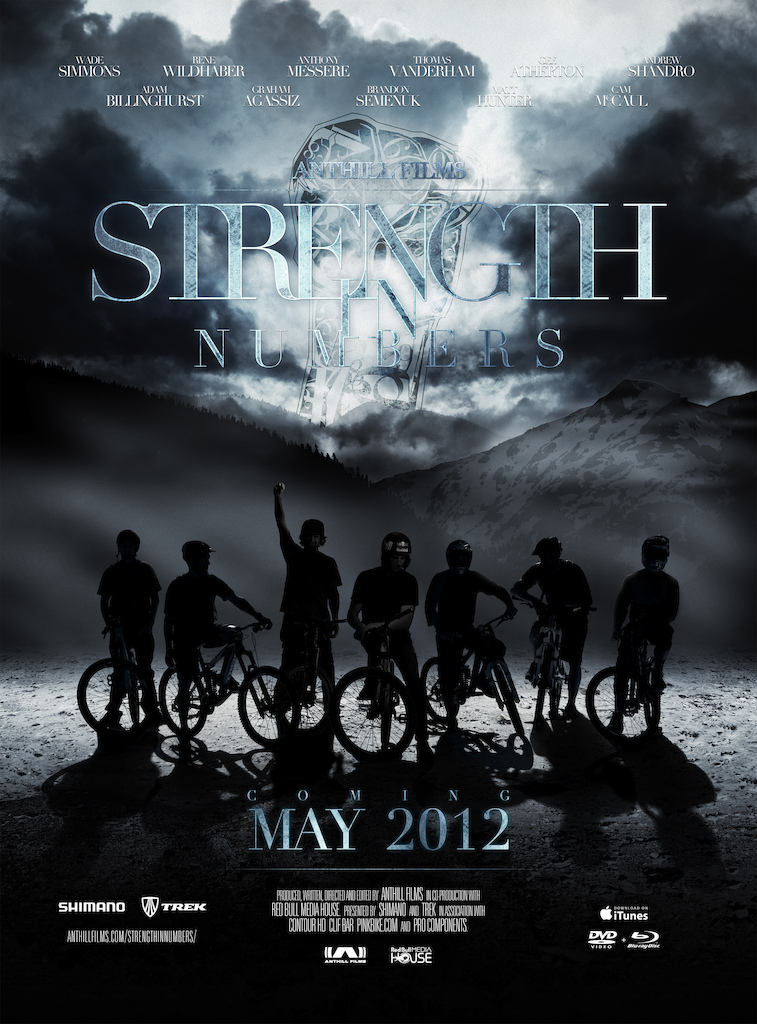 Support the filmers and buy your DVD + Blu-Ray combo pack today
Thu 5th Apr, 2012 @ 2:04 pm
Comments