Aaron Gwin and Rachel Atherton Win in Val Di Sole!
Aaron Gwin has just blown the competition out the water, winning the second round of the UCI Downhill World Cup by nearly eight seconds. Gwin is now tied with Greg Minnaar, who finished second today, in the overall standings. In the women's race Rachel Atherton made an incredible return to World Cup racing winning the women's race on her new GT Fury.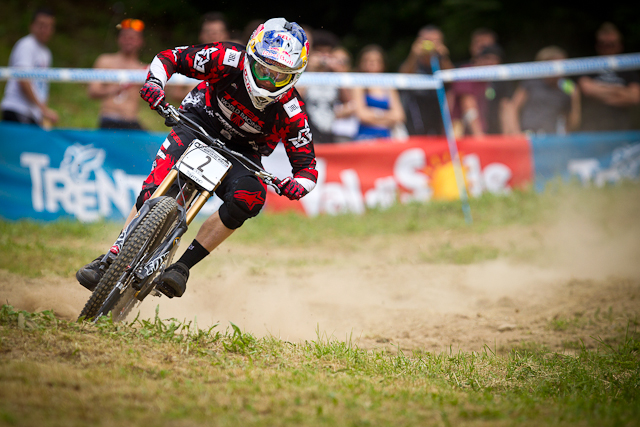 In fact it was a great day for the GT team, with every member of the team earning a podium finish. It's crazy think it's four years ago since Gee Atherton won the World Champs here back in 2008, and today, having only been off crutches for a few weeks, Gee finished in third. Adopted brother Marc Beaumont is no stranger to success here himself, winning here in 2010, and today he stepped onto the podium again with a fourth place finish.
Loic Bruni had a fantastic race run with a time that would have seen the junior rider qualifying second. Richie Rude, another junior rider also had a brilliant race, only his second at World Cup level, oozing speed and style but unfortunately lost time dabbing his foot and finished 21st.
Devinci rider Steve Smith hasn't really had much luck on this course, breaking his foot here at the final race of the year last season, and broke his hand here in practice. Smith opted to skip qualifying, not a problem for the top 20 protected rider, and raced today with his hand taped up and knocked Loic off the hot seat, and ended up finishing tenth.
Danny Hart just missed out on a podium spot to Cameron Cole in his first World Cup race this year after breaking his arm at the World Champs. Josh Bryceland was on a great run until his foot bounced off his pedal, and spun his bike into a nasty crash. New father Sam Hill made a return to form with his typical loose style seeing him finishing seventh.
Gee Atherton was already up on current leader Cameron Cole by three and a half seconds at the first split, lost time in the lower section but had done enough early on to take the hot seat. As usual Minnar's smooth style saw him so composed and unphased by anything the course threw at him and he crossed the line half a second up on gee.
But Gwin somehow managed to find time where nowhere else could and just like he did in qualifying, finished over seven seconds ahead of the rest of the field. Gwin said: "It was a good solid run. I felt good here all weekend so all I had to do was put everything together. I just tried to focus on riding and not that it was a race run".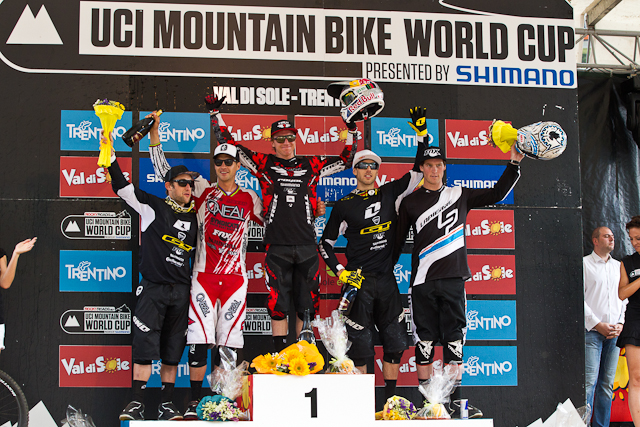 Elite Men's Top Five
1 Aaron Gwin 3:10.577
2 Greg Minnaar 3:18.427
3 Gee Atherton 3:18.970
4 Marc Beaumont 3:19.514
5 Cameron Cole 3:20.320
In the women's race Rachel Atherton, Myriam Nicole and Emmeline Ragot looked to be in a different league to all the other riders, and their times proved it. Tracey Hannah admitted that the course didn't suit her riding style, and Manon Carpenter had to sit this race out with a shoulder injury.Rachel came back to World Cup racing with a bang, taking the win with a comfortable four and a half second lead over Myriam Nicole.
Elite Women's Top Five
1 Rachel Atherton 3:49.438
2 Myriam Nicole 3:53.921
3 Emmeline Ragot 3:57.519
4 Florian Pugin 4:04.822
5 Morgane Charre 4:09.737
Sun 3rd Jun, 2012 @ 4:05 pm
Featured in this Post
Comments