WTB's new offerings for 2014
Wilderness Trail Bikes (WTB) announced two new tread patterns and a new range of rims to its list of offerings for 2014 – the Vigilante tire, the BeeLine tire and the KOM family of rims.
The Vigilante
The Vigilante tire will feature large, square-edged knobs, a 2.3-inch width, and availability in 26", 650b, and 29" wheel sizes.
The Vigilante tire has been created to address the needs of Team WTB riders competing in European enduro events, often subjecting their bikes and tires to grueling rocky conditions at break-neck speeds. Thicker casings, lower durometer tactile rubber compounds, and tuned rebound characteristics are showcased in order to tackle overly demanding conditions.
"Vigilante is the do everything choice from running all day to battling in the muck," said Mark Slate, WTB's vice president of Product Development. "Outperforming the competition is what tires from WTB are all about. How you feel riding is what defines us. Vigilante is that tire that always works wherever you ride. Justice for all."
The Vigilante tire uses an open tread pattern to excel in rocky, root-laden, and mud-infested terrain. Feedback from team riders resulted in a pattern designed to handle all conditions thrown at them during a race. A 2.3", 57mm casing provides a big enough footprint to ensure traction while not penalizing riders and racers during uphill transit stages before timed downhills. Heavily reinforced side knobs eliminate flex as the tire is pushed to extreme lean angles while cornering.
The Vigilante tire will be available in Team Issue versions for 26" and 650b riders looking for added protection and capability during descending endeavors. 29" riders looking to push the envelope will have an AM TCS offering featuring Inner Peace sidewall protection as well as Dual DNA rubber. All wheel sizes will get lightweight TCS offerings for those looking to save weight and spare punishment.
Team Issue tires feature Gravity DNA – a 45a durometer sticky top layer over a 60a durometer firmer base providing terrain conformity along with a base defending against hard hits and helping prescribe rebound characteristics. Additionally, Team Issue tires use Enduro Casings, which employ both Inner Peace, a wedge- shaped strip of reinforcing rubber between casing plies, and Silver Lining, a cut-resistant woven nylon layer stretching from bead to tread. Together, these create unrivaled sidewall protection with tuned and conforming rubber.
WTB Vigilante tires will be available worldwide starting July of 2013. 26" Vigilantes will retail for $64.95, 650bs for $67.95, and 29" Vigilantes for $69.95.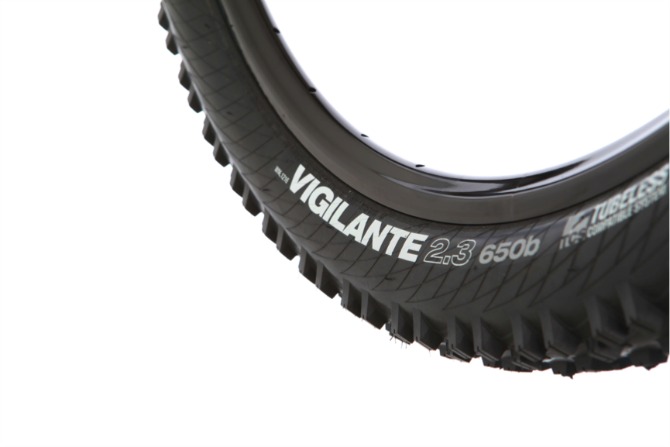 The BeeLine
The cycling industry is teeming with teen angst over the burgeoning All Mountain 650b push and is chest deep wading through new, chunky tread patterns. WTB's answer comes in the form of a lighter weight, high volume, 2.2 650b trail tire, cleverly named the BeeLine.
The BeeLine has a rounded profile, 54mm casing, and an even dispersal of low, square-edged blocks with slight ramping on the center knobs. This is a tire designed for those who want to ride quickly yet don't want to be slowed down by the weight of a big blocky tire – people placing a priority on rolling resistance yet still looking for consistency and lateral grip.
It is safe to say that 650b has seen a lot of push from the All Mountain camp as many bicycle brands are touting complete bikes sporting between 140 and 160mm of travel. However, Nino Shurter of Team Scott-Swisspower questioned this trend with a first-place finish in 2012's first UCI World Cup Race in Pietermaritzburg, South Africa aboard a 17.4 lb Scott Scale carbon hardtail with 650b wheels. The BeeLine 2.2 fits in between the two camps, allowing riders a less polarizing option well suited for trail duties.
"The original tread design for the Bee Line was derived from the WTB NineLine 29×2.0," explained Jason Moeschler, head of WTB's OEM Sales. "We could see that the mass of 650b bikes would be in the Trail to All Mountain slot, so we hedged our bet, and expanded the width to 2.2 for 650b, along with some adjustments to the tread, making it work better for the smaller wheel size. What you end up with is a tire that could work as an XC race tread for the masses, all the way to a fast rolling AM tire for the faster, cleaner Enduro tracks."
The BeeLine 2.2 will be available in TCS featuring WTB's lightweight casing. Additionally, the Bee Line will feature WTB's Dual DNA Compound rubber matching 50a durometer softer side knobs to 60a durometer faster rolling, longer lasting center tread. The tire tips the scales at 740g and is the third tread pattern to WTB's 650b family, following the Wolverine and recently released Vigilante tire.
WTB BeeLine 2.2 650b will be available worldwide starting July of 2013. They will retail for $67.95.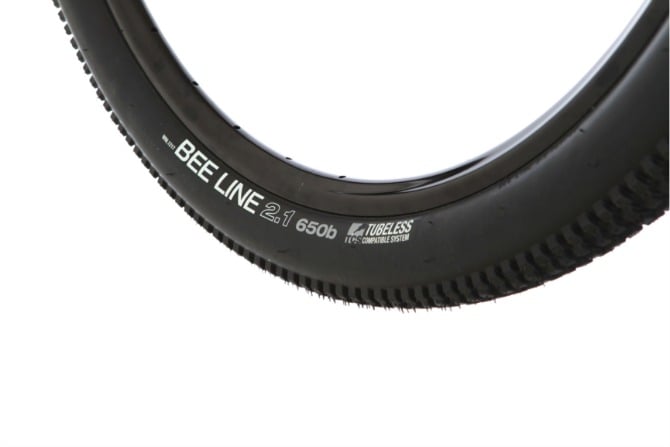 The KOM
To support the new range of tires WTB also released a new rim family, dubbed the KOM, for 2014 expanding their TCS rim assortment to three families composed of 16 individual rim offerings. The KOM rims feature a 23mm inner-rim width and 28mm outer, WTB's proprietary WT69 Aluminum Alloy,
4D-angled drilling, and carbon weights at an Aluminum budget in 26", 650b, and 29" sizes.
Like the new Vigilante tire, KOM rims have spent plenty of development time underneath Team WTB riders Mark Weir, Jason Moeschler, and Ben Cruz during the 2012 season dominated by enduro race events. Enduro racing's emphasis on speed descending yet requirement for an untimed, pedaled ascent, has created a need for rims that save one's legs uphill, yet provide a wide enough profile for aggressive, all-out descending. WTB's KOM rims fill this need and bring professional, race quality rims to the discerning general public heavily influenced by carbon marketing.
"KOM rims give you an All Mountain profile and stability at a low cross-country weight," explains Chris Feucht, WTB's Product Manager. "It's kind of an anomaly, KOMs have an amazing width-to-weight ratio that rivals carbon without having any rider weight limits, like many other light-weight aluminum rims."
KOM rim weights are on par with carbon rims of the same width. To put things into perspective, a KOM i23 (the i23 stands for internal 23mm) in 29" flavoring tips the scales at a mere 426 grams. 650b KOM i23s weigh in at a scant 401g while 26", still proving to be the favored wheel size by most enduro racers, squeak past at a low 385g of rotational weight.
WTB attributes these head-scratching, second-glance worthy weights to further advancements made in WT69 Alloy capabilities. WT69 Alloy is 20% stronger than 6000-series Aluminum, allowing for such scant weights without any loss to overall rim strength. 4D drilling – aligning the spoke hole departure angle to that of the hub flange, further reduces overall weight by eliminating the need for eyelets. WTB's product development team found that rim and wheel longevity increased significantly using 4D drilling due to the elimination of lateral loads placed on the spoke head and nipple junction, traditionally the most common area of spoke failure.
WTB KOM rims will be available worldwide starting mid-June of 2013. 26" KOM i23 rims will retail for $94.95, 650b for $97.95, and 29" KOM i23s for $99.95.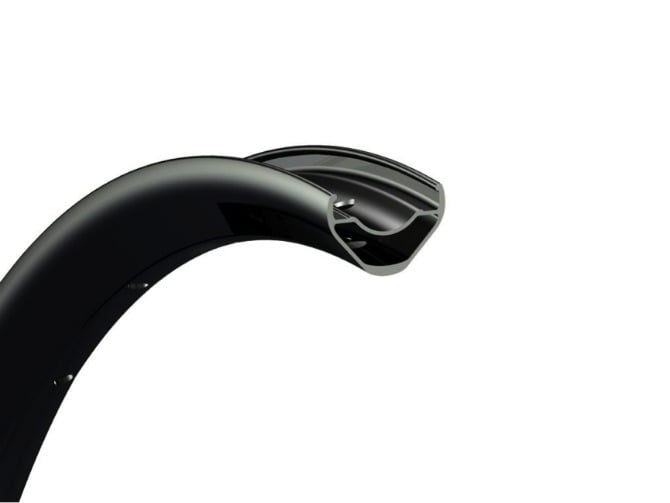 Featured in this Post
Comments