Santa Cruz and the Syndicate flying in to TweedLove Bike Festival
TweedLove Bike Festival organisers are very excited to announce Santa Cruz and the Syndicate will be rolling into town for this year's festival.
Santa Cruz has chosen the UK's biggest bike festival to stage a world exclusive product launch – which will take place just before the TweedLove closing party on Saturday, June 1 in Peebles.
It's not just the big launch that's tempted the team to the Tweed Valley though. Santa Cruz team and staff members will also be taking part in some of TweedLove's ten days of bike events, with the Californians' head honcho Rob Roskopp and colleagues signed up for the Glentress Seven – the popular seven-hour trail race that provides one of festival's headline events.
The action then moves to Peebles, where the product launch will form part of An Evening with Santa Cruz – a chance to get up close and personal with the people behind the iconic brand. As well as getting a world exclusive look at their new product, the evening will feature a question and answer session with downhill legend Steve Peat, Santa Cruz CEO Rob Roskopp, Head of Engineering (and internet sensation) Joe Graney and other key people involved with the launch. Steve will also be on hand for a short signing session after the event.
Tickets for the event are completely free, and will be available on a first come first served basis through the TweedLove website. Tickets will go live at 7pm on Sunday, May 26 and as numbers are very limited, you're going to have to get in quick if you want to witness what is sure to be an incredible event.
The launch will be followed by the TweedLove after party – a chance to unwind after ten days and twenty five events of the UK's best biking. DJ Lenny Love of Vegas fame will be on the decks, and there'll be a barbecue, hog roast and courtyard bar to whet the appetite and help forget the pain in your legs.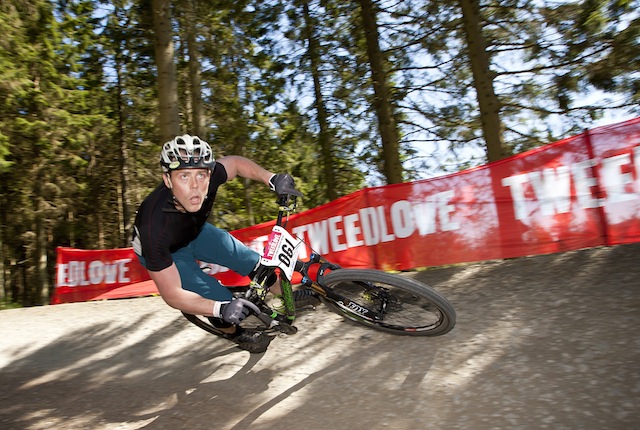 TweedLove organiser, Neil Dalgleish said: "We couldn't be happier that Santa Cruz have chosen TweedLove for this product launch. TweedLove is now the biggest bike festival in the UK so it seems fitting to welcome arguably the world's best team to come and take part.
"The product launch is a world exclusive – it's going to blow people away. And not only that, there'll then be a rare chance to speak to the key people involved and discover the story behind the product. To finish ten days and 25 events of world class cycling with a night in the company of Steve Peat, Josh Bryceland, Rob Roskopp, Joe Graney – and who knows who else might show up now – what more could you ask for? Well actually, you could ask to see a stacked field of the world's best downhill riders the next day, and you'd get it, at the BDS taking place five minutes down the road in Innerleithen on Sunday. It's just so cool."
Rob Roskopp from Santa Cruz added: "The riding I've experienced in Scotland is some of the best in the world. From the events, to the trails, to the people who are out there riding them every day, it's an honour to have a major Santa Cruz launch be a part of it. We filmed the launch video up in the West Highlands a few weeks ago, and can't wait to share the results at TweedLove and Fort William."
Featured in this Post
263,729
489,752
467,814
Comments