Anthill Films Presents: NotBad – FREE Online Premiere
On Monday, July 29th starting at 10:00am PST (7:00pm CET) Anthill Films will broadcast the online premiere of their new short film NotBad, to the world. This will be a FREE premiere event, where the film will available to watch for a limited time.
NotBad is what happens when you take some of the world's best mountain bike filmmakers and stick them with some of the world's best riders for 30 days straight in Queenstown, New Zealand. The 30-minute film brings a fun vibe to mountain biking, where people don't take themselves too seriously. At the end of the day, NotBad is about putting a smile on your face and getting stoked to go outside and ride your bike.
Visit anthillfilms.com/notbad from 10:00am – 11:59pm on July 29th to check out the film. If you like what you see you can support the filmmakers by downloading NotBad in all of its full 1080p high definition glory on iTunes stores worldwide.
Show times by city:
Vancouver: 10:00am July 29 – 12:00am July 30
New York: 1:00pm July 29 – 3:00am July 30
London: 6:00pm July 29 – 8:00am July 30
Paris: 7:00pm July 29 – 9:00am July 30
Moscow: 9:00pm July 29 – 11:00am July 30
Tokyo: 2:00am – 4:00pm July 30
Sydney: 3:00am – 5:00pm July 30
Auckland: 5:00am – 7:00pm July 30
After the live online premiere, there will still be many ways to see the film. Screening events are happening worldwide and NotBad will be available for download on all iTunes stores on July 29. The film will also be available on other digital channels and on a limited edition DVD+BluRay shortly after the exclusive iTunes release.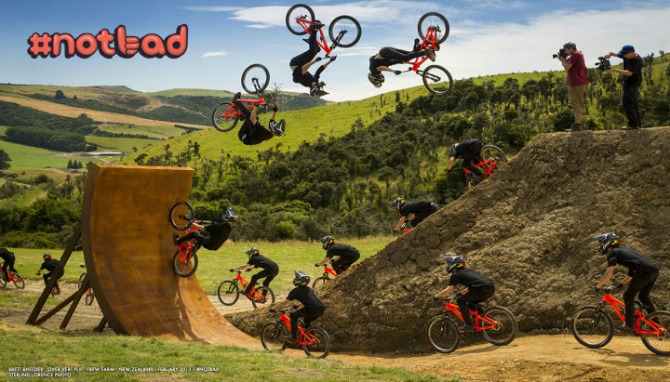 For more information visit: anthillfilms.com/notbad
Comments