The sixth stage of the BC Bike Race presented by Shimano was Industry Day and riding anonymously amongst the riders were Olympians, bicycle industry insiders who make the products that people are riding, and young talent, all given a chance to enjoy the most popular stage with the racers. At the finish line the festival atmosphere was high with a Kids Race presented by Shimano and cheers were erupting for the 2-10 year-old kids 115 deep on one side, the racers on the other, and Brett Tippie telling jokes while holding random contests to give away Shimano components. Squamish has become one of the riders' favorite days of the BCBR with it's amazing network of trails and the high standard the town sets to achieve what a mountain bike town can be. Nestled below forested peaks, granite walls, and showered in sunshine with thermal winds being pulled up from the sea towards Whistler, base camp of the BCBR is a perfect place to enjoy some peace or a party before the finish in Whistler.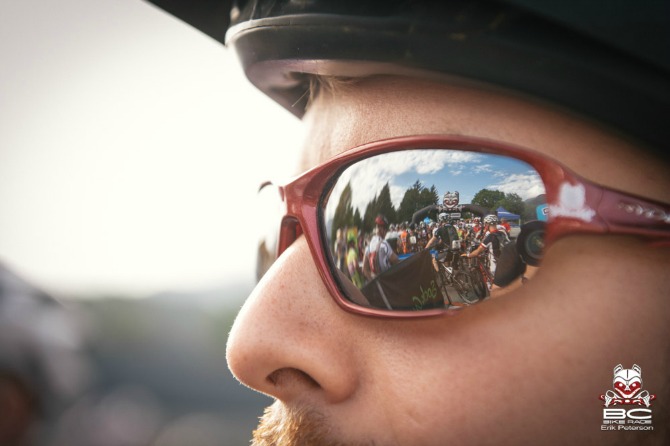 Open Mens
Hadely Wins, Sneddon Defends, Kindree Sick
It was a day of breakthrough riding and upsetting finishes as Matt Hadley (Xprezo) took his first stage of the week while Neil Kindree (Specialized Corsa) left the race with a stomach bug that started the night before. Today's weather was warm at 26c but the cool breeze and low humidity kept riders comfortable throughout the day. Kindree made the first attack on the opening road climbs and only Kris Sneddon (Kona) could follow the two accelerations initially. A small group of riders including Hadely, Spencer Paxson (Kona), Erik Skovgaard (Racing29ers), Guido Thaler (Craft Rocky Mountain), and Michael Robinson (Peak2Peak Racing) bridged back up on the next climb. On the climb to Half Nelson, Neil and Kindree separated again and dropped into the most famous trail of Squamish with a 30 second lead on the group. Hadley took the opportunity to attack and caught both riders before the bottom.
On the next climb towards the first enduro stage Hadley attacked again to get into the trail first and never looked back. He had 30 seconds by the bottom and never saw another rider on the day.
"Today was awesome. It's so much fun out there. There is a ton of technical singletrack and that's why I like to ride my bike." Hadley
For Kris Sneddon it was kind of a let down to not have the excitement of a close race to enjoy. "It's a shame he had to drop out. I hate to win or lose to mechanicals of the bike or body." It was a good race and both racers had shown a lot of heart matching each other's accelerations over five days.
Of note was Spencer Paxson's fourth 3rd place place finish of the race. With Kindree out he now moves up to 2nd overall on the podium while Skovgaard now holds onto the third position after starting the week with a 7th place. Both riders have shown incredible perseverance going into the final day.
Women's Open
How long will Kim Hurst (Mud Cycles) ache over the repeated days of loosing by two or three minutes knowing that probably the only thing holding her back from the top step was another year of technical riding practice. Every climb she was able to challenge or drop Wendy Simms (Kona) the day's winner only to be chased down in the trails. It's a testament to Simms' consistency to have no long mechanicals in six days of racing. Trish Grajczyk (Deadgoat Racing) also had minimal gaps each day that could have been erased with a burped tire or broken chain. All three riders had incredibly consistent rides up to Squamish. Whistler is another day but it's short enough to generally have minimal effect on the overall.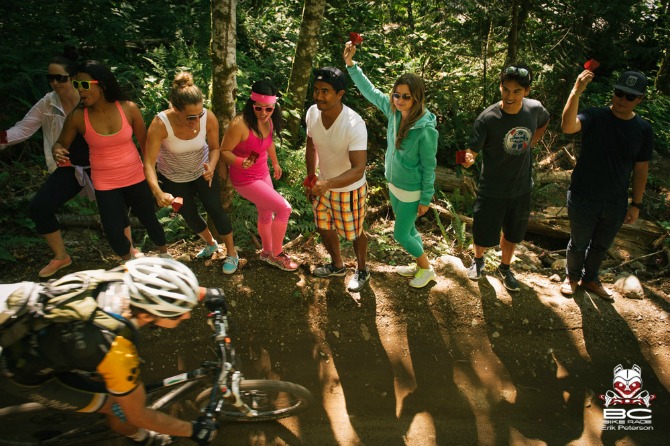 Men's Open Duo
Kevin Calhoun and Greg Day of Rocky Mountain Bicycles left no doubt to their dominance over Greg's home trails. "We were racing on all the trails I train on. The power house plunge, we had a couple guys on our tails, the second we were in there they were gone. It's not that technical, but knowing the lines in that trail is so helpful. Today we rode right by my house."
Tech support from Shimano and Fox Shox
Not everyone has the good fortune of escaping mechanicals during the race and on course were several resources for riders to turn towards. Bike Ambassadors were on the trails and Fox Shox was with the race for the first time this year but it was Shimano who brought neutral support for the 4th year in a row. They have been a long time sponsor of the race but this year is the first time their North American Sports Marketing Manager, Greg Hammond has seen what happens on the ground at the BCBR. "I'm just amazed at the logistical marvel the BC Bike Race is, I mean the vibe is cool, the racing is spectacular, everybody around here is smiling, people are happy. This is a world class event. It rivals any event in the world." Shimano has been coming to the race for years with neutral support and every stage they have been set up at Aid Station 2 saving the racers with mechanical support and even a fleet of neutral bikes to get people to finish. "People have spent so much time and money getting here we want to make sure they get a second chance if something goes wrong." Ben Pye, Shimano Regional Rep.
Darren Garrison of Fox Racing Shox is here for the first time with support for the racers and he was blown away by the event. "It's impressive. How all the logistics are organized, ferries, setup and tear down. It's smoother than I would have expected it to go. Next year we will bring two people. I'm swamped."
This year was also the first year for the BCBR Bike Ambassadors. A team of 11 dressed in the red BCBR Enduro jersey and wearing Red POC Helmets were on course every day to assist riders with everything from derailleurs to hugs or to take care of any medical issues. They split up between waves and worked in teams. Some riders were treated to on-course skills work from Endless Biking owners Darren Butler and Kelli Sherbinin, or motivation from race co-founder Dean Payne. "Each member of the team probably saved on average three peoples rides a day. That's over 30 riders a day we help have a good day that might have otherwise been ruined." Butler.
Yoga on the Lululemon Lawn
Another new addition to this year's BC Bike Race was legendary trials rider Ryan Leech leading yoga sessions sponsored by Lululemon at the end of each day. Over 240 people showed on day one to take a moment to recover after long days in the saddle. Sessions were usually held in the shade on the periphery of base camp each afternoon but a couple were organized on ferry rides.
Leech also rode the race to increase his understanding of what the riders would be going through each day. "I actually had no idea physically how beat up I'd feel doing the races and where my energy levels would be at. I'm trying to offer everyone an experience that get's them out of the race mode, the "what's next" mode, because this whole week is very much about what's next. This pace is exhausting, even the post ride can be tiring if we're not careful. If we can just kinda press the reset button for half an hour to allow recovery to happen, the bodies will repair and recover just a little more easily."
Whistler
The final day at Whistler is short at 25km but it still packs a punch with 775m of climbing. A big opening climb takes riders to the top of Crank it Up in the Whistler Bike Park, a true bike park style course with big berms and jumps if riders have the energy to take them. The race will move into some of the less well known trails of the town before finishing up in the Olympic village. If riders are in a tight race for GC this is their last chance to make a move stick.
Featured in this Post
Comments